TOEFL or IELTS for UK | A brief
There is no difference between TOEFL and IELTS in terms of understanding the aim. Both examinations are intended to assess your command of the English language and skill set. Furthermore, the formatting and questions in both are essentially comparable. So, what is the difference between TOEFL and IELTS? This blog typically includes which language test, TOEFL or IELTS for the UK, is best.
Which is better, IELTS or TOEFL?
Before you begin preparing for any of them, you should consider the following:
Preference- Both scores are accepted by over 9000 universities worldwide. However, IELTS is commonly accepted by universities in the United Kingdom and Australia, while TOEFL is extensively accepted in the United States.
Procedure- IELTS is taken on paper or a computer, but TOEFL is only on a computer. Determine which one is best suited to your writing/typing speed.
Planning- For IELTS, you can divide the portions and administer the exams over a few weeks. For the TOEFL, you must complete the entire exam in one sitting.
The validity period for TOEFL and IELTS
The validity of TOEFL or IELTS for UK certifications lasts two years following the test date, regardless of whether you want to study abroad or decide to use them for immigration.
The price is around the same.
Over 1,100 venues in 140 countries offer the International English Language Testing System (IELTS).
You can take the TOEFL exam from anywhere in the world.
IELTS has 48 exam dates each year, while TOEFL has 50.
Both test results are released around two weeks after the test date.
Depending on the university, course, or program level, there could be different minimum score requirements for TOEFL or IELTS for the UK. Most UK colleges require test scores from the GMAT, GRE, or MAT for admission to graduate-level programs. Test results from the UKCAT, LNAT and other exams are also necessary for undergraduate applications.
International students can benefit greatly by submitting subject-specific exams. Their chances of being admitted to the UK will increase in addition to having a stronger profile. By reading on, you can learn more about the tests needed to study in the UK, the courses they apply to, and the minimum marks needed to get into the best UK institutions.
Also read, 10 best cities to work in the UK!
A brief list of universities to study in the UK
Most UK institutions require applicants to have at least a B2 level English language proficiency. International students can take exams with a minimum validity of 2 years, such as the IELTS, TOEFL, PTE, or ISE. According to the program level, the following table displays the minimal IELTS scores needed at top universities in the UK-
| | | |
| --- | --- | --- |
| Name of the institution | Bachelors- IELTS requirement) | Masters- IELTS requirement |
| Oxford university | 7.0 | 7.0 |
| University of Cambridge | 7.0 | 7.0 |
| Imperial college | 6.0 | 6.0 |
| University college london | 5.5 | 5.5 |
| London School of Economics and Political Science | 7.0 | 7.0 |
| University of Edinburgh | 6.5 | 6.5 |
| King's college london | 6.0 | 6.0 |
| University of manchester | 5.5 | 5.5 |
| University of Glasgow | 6.5 | 6.5 |
| University of Warwick | 5.5 | 5.5 |
| Durham University | 6.5 | 6.5 |
| University of Bristol | 6.0 | 6.0 |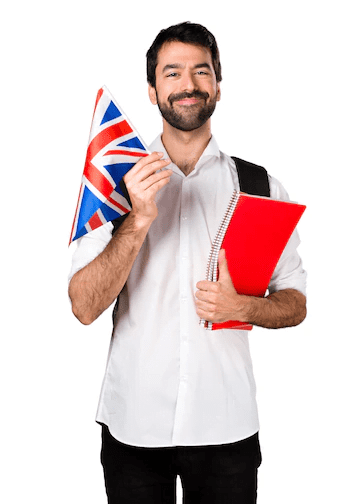 A closer look at IELTS
Many UK universities and colleges choose the IELTS test as part of the ELP and the UK immigration and Visa criteria. It costs Indian students between 15,500 and 15,750 INR. A minimum score of 4.0 to 5.5 is needed to qualify for a student visa in the UK.
However, each university may have minimum IELTS score criteria greater than their visa requirements. The minimum IELTS score required for admission to prestigious universities like Oxford and Cambridge is reported to be between 7.0 and 7.5, with an average score of 6.0.
A closer look at TOEFL
The TOEFL is typically used as an alternative to IELTS results in the UK. Although IELTS is widely favored in the UK, students who did not show up for the test may want to try taking the TOEFL exam. International students can apply for a Tier 4 visa by submitting their TOEFL scores. The TOEFL exam costs 167 GBP in the UK (15,611 INR). The UK Home Office's TOEFL iBT criteria for the visa and immigration process are listed below-
Overall Score: 72
Reading: 18
Listening: 17
Writing: 17
Speaking: 20
Top universities require between a 100 and a 110 on the TOEFL. The minimum necessary score may be less than 70 at lower-rated universities.
Key takeaways
All British universities and institutions accept IELTS Academic results. It means you might be eligible to submit your IELTS Academic score instead of taking the IELTS for UKVI (Academic) test.
The UK Visas and Immigration (UKVI) accepts IELTS Academic, IELTS General Training, and IELTS Life Skills as evidence of English language ability for persons intending to live, work, and study in the UK.
Like this blog? Also, read- US English vs. UK English.
FAQ's
Question 1. IELTS vs. TOEFL, which is preferred in the UK?
Answer. IELTS is generally recommended if you're applying to an institution in the British Commonwealth. Colleges frequently accept either score regardless of the testing requirements' stated criteria.
Question 2. What IELTS is accepted in the UK?
Answer. For anyone looking to live, work, or study in the UK, the UK Visas, and Immigration (UKVI) accepts the IELTS Academic, IELTS General Training, and IELTS Life Skills as evidence of English ability.
Question 3. How long is the validity of your certificate?
Answer. The validity of IELTS certifications is two years. Your certificate must be current on the day you take the PLAB part 1 exam if you're taking the test. When we approve your application, your license to practice must still be in effect if you request registration.