Embarking on the journey to prepare for the IELTS exam can seem daunting, particularly when the goal is not just to pass but to excel. A skill often overlooked in this process is critical thinking. According to a study by Insight Assessment, critical thinking skills are paramount to achieving high scores in English language proficiency tests like the IELTS. Incorporating critical thinking can be a game-changer in your IELTS preparation. So, let's dive in and explore how you can develop and leverage this skill for success in IELTS.
Importance of critical thinking in IELTS
First and foremost, it is pertinent to ask – what is critical thinking? It is the ability to analyze information objectively and make a reasoned judgment. In the IELTS exam, you need to demonstrate this ability across four areas: listening, reading, writing, and speaking. Critical thinking enables you to understand and interpret the context better, provide logical answers, and construct coherent arguments, which are vital in achieving a high band score.
Developing critical thinking skills for IELTS
To cultivate your critical thinking skills, here are a few effective practices-
Practice active reading and listening: Merely reading or listening passively is not enough. Actively engage with the material by questioning, challenging, and forming opinions. Practice identifying main ideas, supporting evidence, and implicit meanings.
Sharpen your analytical skills: The IELTS writing section requires the ability to analyze different perspectives and present a well-structured argument. Hone your analytical skills by critically examining various viewpoints on a given topic. Practice writing essays that compare and contrast these viewpoints, emphasizing logical reasoning and evidence-based conclusions.
Learn to synthesize information: This involves combining information from different sources to form a new understanding. This critical thinking skill is especially useful in the speaking section.
Constant practice: Like any other skill, critical thinking needs practice. Engage in activities that involve problem-solving and decision-making.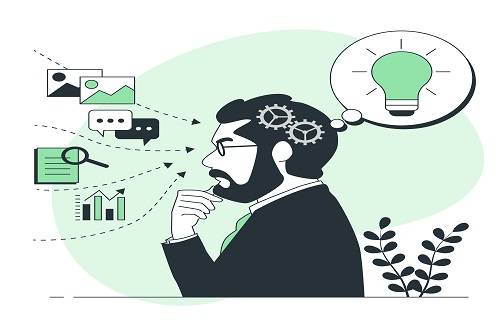 Incorporating critical thinking in each IELTS section
It is crucial to learn how to apply critical thinking skills effectively in each section of the IELTS exam.
Listening section
The listening section demands the application of critical thinking to comprehend the context and identify key points. For instance, attentive listening can help you recognize cues such as the use of contrasting words like "but" to introduce a contradiction. By spotting these cues, you can grasp the main idea and navigate through the audio with greater accuracy.
Reading section
Critical thinking plays a pivotal role in the reading section. Here, you must evaluate arguments, identify implications, and make inferences. Enhance your critical thinking abilities by engaging with editorial articles that present various viewpoints. Practice comprehending the author's stance, arguments, and supporting evidence. This exercise will sharpen your ability to critically analyze written material and extract valuable insights.
Writing section
The writing section necessitates the generation of ideas, the structuring of arguments, and the making of logical conclusions. To excel in this section, it is essential to critically evaluate different viewpoints and express your thoughts coherently. For instance, consider a question such as "Some people believe that unpaid community service should be a compulsory part of high school programs. To what extent do you agree or disagree?" To provide a well-constructed response, you must critically assess multiple perspectives, support your opinion with sound reasoning, and articulate your arguments effectively.
Speaking section
In the speaking section, logical responses and clear explanations are key. Strengthen your critical thinking skills by engaging in discussions on diverse topics with friends or teachers. Practice providing well-reasoned and articulate answers, ensuring that your opinions are supported by evidence and conveyed with clarity.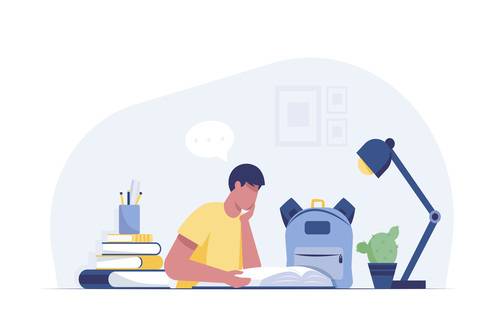 Critical thinking exercises for IELTS preparation
There are many exercises to help develop and hone your critical thinking skills. Here are a few to get you started-
Brainstorming sessions: Gather a group of friends and hold a brainstorming session on various topics. This can help generate a wide range of ideas and perspectives, thereby enhancing your ability to think critically.
Critical reading: Choose an article or a piece of text and make a habit of asking questions like "What is the author's argument?", "What evidence is being provided?" and "What are the implications of this?".
Critical writing: Write essays on various topics and invite feedback. This can help you learn how to structure your arguments better and express your thoughts more coherently.
Debating: Participating in debates allows you to consider multiple perspectives, an essential part of critical thinking. Remember, improving critical thinking skills is not a one-time task but a continuous journey. Persistence and patience are your best allies here.
Using tools and resources to enhance critical thinking skills
In addition to exercises and activities, several tools and resources can boost your critical thinking skills and, thus, your IELTS performance.
Critical thinking books: Several authors have extensively written on critical thinking. Notable ones among them are "Thinking, Fast and Slow" by Daniel Kahneman and "Critical Thinking: Your Guide to Effective Argument, Successful Analysis, and Independent Study" by Tom Chatfield. These books provide valuable insights into understanding and improving critical thinking skills.
Online courses: There are numerous online platforms that offer courses on critical thinking. For instance, Coursera's "Critical Thinking Skills for University Success" and FutureLearn's "Improve your Critical Thinking Skills" are renowned for their structured approach to cultivating critical thinking skills.
Mobile apps: Apps like Elevate and Lumosity offer brain training exercises that help enhance cognitive abilities, including critical thinking. They provide a fun, engaging way to regularly practice and improve your skills.
Podcasts and videos: Engaging with thought-provoking content such as TED Talks, critical thinking podcasts, and debates on YouTube can help you develop a critical perspective. They offer a variety of perspectives on different subjects, promoting broader thinking and encouraging intellectual curiosity.
Critical thinking and long-term success
The relevance of critical thinking skills goes beyond IELTS. They are considered vital for academic success and highly sought after in the workplace. A survey by the World Economic Forum predicted that critical thinking and problem-solving will be among the top three skills in demand by 2025 (World Economic Forum, 2020).
Developing these skills also significantly contributes to personal growth. They help improve decision-making, foster open-mindedness, and enhance problem-solving capabilities. Therefore, nurturing critical thinking skills not only aids in achieving a high IELTS score but also prepares you for future challenges.
Key takeaways
Critical thinking skills play an essential role in achieving high IELTS scores, significantly impacting contextual understanding, providing logical answers, and constructing coherent arguments.
Applying these skills in each IELTS section—listening, reading, writing, speaking—and practicing exercises such as brainstorming, critical reading and writing, and debating can markedly enhance critical thinking abilities.
Utilizing resources like critical thinking books, online courses, mobile apps, and multimedia content supports skill enhancement.
The importance of critical thinking extends beyond IELTS preparation to academic success, career advancement, and personal growth.
We hope this blog helped you better understand the role of critical thinking in the IELTS examination. If you need further help with your test preparation, then feel free to reach out to us!
Liked this blog? Read more: Learn the best ways to improve your knowledge of general studies
FAQs
Q1. Are there any recommended online resources or books to help improve critical thinking skills for the IELTS exam?
Answer: Yes, there are several online resources and books that can aid in improving critical thinking skills for the IELTS exam. Websites like Khan Academy, Critical Thinking Web, and the British Council's LearnEnglish website offer valuable resources and exercises. Books such as "Critical Thinking Skills for Dummies" by Martin Cohen and "Thinking Skills: Critical Thinking and Problem Solving" by John Butterworth and Geoff Thwaites are also recommended for further study.
Q2. Can critical thinking skills be improved through self-study?
Answer: Yes, critical thinking skills can be improved through self-study. Engage in activities such as reading, writing, listening to podcasts, and participating in online forums that require critical analysis and evaluation of information. Seek out resources and practice exercises specifically designed to enhance critical thinking skills for the IELTS exam.
Q3. How long does it take to develop strong critical thinking skills for the IELTS exam?
Answer: Developing strong critical thinking skills is a continuous process that requires consistent practice and effort. The timeline varies for each individual, depending on their starting point and dedication to improving their skills. With regular practice and focused effort, progress can be made over time.