Introduction to best IELTS books
Are you eyeing a top score in the IELTS exam this year? Whether you are a first-time test-taker or aiming for that elusive band 9, the right IELTS book can be your secret weapon. Choosing the best resources can be overwhelming in a sea of IELTS study material. In this article, we will help you understand the impact of IELTS books on your preparation and suggest some study materials to help you boost your overall score.
Why books are still essential in today's digital world
In today's digitally dominated world, it is common to underestimate the value of a physical IELTS book. However, traditional books offer unique advantages for focused and effective IELTS preparation. Here is a closer look at some key reasons why IELTS books should not be overlooked.
Unmatched focus that only books can offer
Books offer an environment where you can delve deeply into your IELTS study material without the distractions common to online platforms. Notifications and pop-ups are frequent distractions when studying online, which can break your concentration. In contrast, a book provides an immersive, uninterrupted learning experience. This allows you to absorb complex details and intricate strategies that can be critical to achieving a high IELTS score.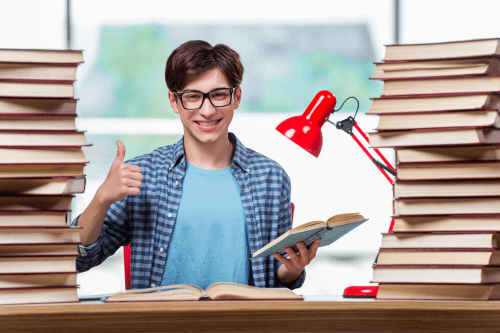 Take your learning anywhere with portability of books
While online resources require a stable internet connection, an IELTS book is accessible anywhere and at any time. Whether you find yourself in a place with no Wi-Fi, such as during a commute, or simply prefer to study in a quiet park, a book ensures you have your study material at hand. This level of portability makes it easy to use every available minute effectively.
Books are resourceful
IELTS books often come as complete packages. Unlike online resources that may offer only one or two elements of the exam, books usually cover all four IELTS modules – Reading, Writing, Listening, and Speaking. Furthermore, they often include additional resources like CDs for listening practice and sample answer sheets for writing tasks. This makes them a one-stop shop for all your IELTS preparation needs.
The Credibility of Books in the Digital Age
The reliability of your study material is crucial. While the internet is flooded with various IELTS resources, not all of them are credible. IELTS books, especially those from reputed publishers, guarantee accurate and reliable content. Authored by experts in the field, these books align closely with the actual exam, providing you with a realistic understanding of what to expect.
The structured learning journey only books can provide
Online resources are often fragmented and may require you to jump between different websites and formats, making systematic studying difficult. In contrast, a good IELTS book follows a structured approach, progressing logically from beginner levels to more advanced topics. This ensures that your preparation is as seamless and effective as possible.
Complementary to online resources
While books offer many benefits, they are most effective when used in conjunction with online resources. For example, you can use a book for in-depth study and practice and supplement it with free online quizzes and video tutorials. This balanced approach ensures a comprehensive and effective study plan.
The enduring value of IELTS books in your preparation strategy cannot be overstated. Despite the plethora of online resources available, books offer focused, portable, and credible avenues for study.
Types of IELTS books
Preparing for the IELTS exam? The right book can be a game-changer. From comprehensive guides to focused practice books, we'll explore the types that best fit your needs.
Official IELTS books
If you're seeking the most dependable IELTS study material, start with the official books. The IELTS exam's designers develop these and provide information about the test's structure, question kinds, and other topics.
Skill-focused books
These books cater to specific skills like listening, speaking, reading, or writing. They offer targeted exercises and tips for improvement.
Practice test books
Consistent practice is key, and these IELTS books offer a series of practice tests to help you familiarize yourself with the exam format.
Top recommended IELTS books for 2023
In a competitive educational landscape, the value of the right IELTS book cannot be overstated. Let's delve deeper into why these books and free study materials are particularly beneficial for your IELTS preparation journey in 2023.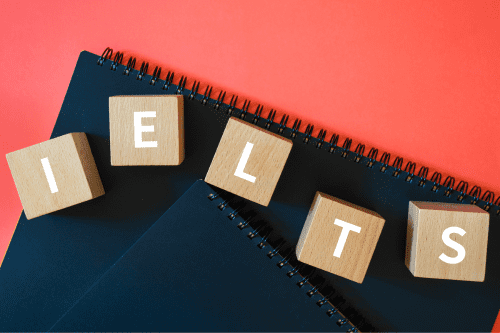 Cambridge IELTS series
Why it's exceptional: Not only is it directly from the exam makers, but the Cambridge series is also often considered the gold standard of IELTS study material.
What you get: Each book comes with four complete IELTS exams, answers with detailed explanations, and the examiners' tips.
Extras: These books often come with an accompanying CD or online access to audio for realistic listening practice.
Barron's IELTS superpack
Why it's exceptional: This superpack is like an all-in-one toolkit for IELTS. It covers every nook and cranny of the exam format.
What you get: Apart from multiple practice tests and CDs, the package also includes flashcards and vocabulary lists.
Extras: Their online platform offers additional IELTS study material and simulated tests for a more interactive learning experience.
Collins English for IELTS
Why it's exceptional: Collins targets skill gaps, offering specialized books on each module, something not all IELTS books do.
What you get: Focused lessons and exercises help you improve specific skills, whether it's vocabulary for reading or expressions for speaking.
Extras: Downloadable audio files and online resources make for a more interactive and dynamic study routine.
Free options: The best of both worlds
IELTS Liz: Known for her easy-to-understand tips and tricks, Liz offers an array of study material, including practice questions and video explanations.
IELTS Simon: A treasure trove of IELTS exam study material, Simon's website also includes blog posts and videos breaking down complex concepts into bite-sized pieces.
Choosing the right IELTS book and complementary study materials can decide how well you perform on the exam. The key is to find the resources that align with your learning style and exam goals.
Key takeaways
The right IELTS book can be a game-changer for your test preparation.
Complement book-based learning with free online IELTS study material for a well-rounded preparation.
Consistency and strategic study planning are vital for IELTS success.
Make sure to focus on improving all four language skills: listening, reading, writing, and speaking.
Be aware of common mistakes and work actively to avoid them.
Acing the IELTS exam in 2023 isn't just about being proficient in English, it's about being strategic, consistent, and well-prepared. The right IELTS book, complemented by free study material and an effective study plan, can be your ticket to a high score.
While the digital age provides a wealth of online resources, the depth and focus offered by a dedicated IELTS book remain unparalleled. As you gear up for the test, keep in mind the pitfalls to avoid and the tips for effective preparation. Your path to IELTS success could be just a book away.
Get in touch with us today by clicking here, for more information on IELTS. Liked this blog? Learn more about An essential guide to SDS study permit for Canada | IELTS requirement update
FAQs
Q1. What are some reliable sources for IELTS free study material?
Answer: Websites like IELTS Liz and IELTS Simon offer high-quality, free resources that can complement your IELTS book-based study.
Q2. How much time should I dedicate to IELTS exam study material daily?
Answer: Ideally, spend at least 2-3 hours per day. Distribute your time effectively between your IELTS book and online resources.
Q3. Is it necessary to buy an official IELTS book?
Answer: While not mandatory, an official IELTS book offers insights and practice tests that are closest to the actual exam, making it a valuable resource.