Introduction to TOEFL for Canada PR
Did you know that Canada aims to welcome over 400,000 new permanent residents each year? If you're one of those hopefuls, you might be wondering about the role that English language tests like TOEFL play in getting that much-coveted Canada PR (Permanent Residency). Read on to understand better.
Why is TOEFL Important for Canada PR?
TOEFL is an accepted English language proficiency test for Canada PR under certain immigration streams. The better your score, the higher your chances of PR approval.
Now, let's get into some nitty-gritty details. For starters, not all immigration streams accept TOEFL. Most notably, the Federal Skilled Worker Program under Express Entry accepts IELTS but not TOEFL. However, Provincial Nominee Programs (PNPs) often allow TOEFL as a valid test. Your score can give you between 6 to 24 Comprehensive Ranking System (CRS) points, which are crucial for your PR application.
6-9 points: If your TOEFL score is between 94-101
10-12 points: A TOEFL score between 102-109 can fetch you these points.
13-24 points: A stellar score above 110
Example:
Consider this, if you score 110+ in TOEFL and apply through a PNP that accepts TOEFL, those extra 24 CRS points could be the game-changer in you getting an Invitation to Apply (ITA) for PR.
TOEFL Scores: What Do You Actually Need?
The required TOEFL score for Canada PR varies between immigration streams and provinces. Typically, you'd need a minimum score of 94.
Different provinces have different score requirements. For example, British Columbia might ask for a score of 98, while Ontario might be okay with a score of 94.
Table for Provincial TOEFL Requirements:
| | |
| --- | --- |
| Province | Minimum Required TOEFL Score |
| Ontario | 94 |
| British Columbia | 98 |
| Quebec | 96 |

Note: The above table is a general guideline and specific streams within these provinces may have different requirements.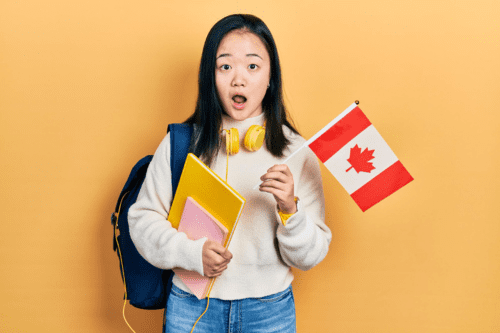 IELTS vs TOEFL for Canada PR: Which One to Choose?
Many aspirants have doubts regarding whether IELTS vs TOEFL for Canada PR. So the answer is both IELTS and TOEFL are accepted in various Canadian immigration streams, but your choice depends on your strengths and the specific requirements of the program you're applying to.
Now, let's dig a little deeper. If you're good at conversational English and prefer a face-to-face speaking test, you might lean towards IELTS. On the flip side, if you're comfortable with American accents and prefer a computer-based test, TOEFL could be your cup of tea.
Comparison Table:
| | |
| --- | --- |
| Criteria | IELTS TOEFL |
| Type of Test | Paper-based or computer-based Mostly computer-based |
| Accent | British, Australian, etc. American |
| Test Duration | 2 hours 45 minutes 3–4 hours |
| Speaking Test | Face-to-face On the computer |
Example:
Let's say you're applying for the Ontario Immigrant Nominee Program (OINP). If OINP accepts both IELTS and TOEFL, you could go with TOEFL if you're more at ease with American English and computer-based testing.
How to Prepare for TOEFL for Canada PR?
Preparing for TOEFL for Canada PR involves understanding the test format, practicing regularly, and honing your skills in reading, writing, listening, and speaking.
Why Practice Matters
Just like any test, you have to roll up your sleeves and dive into practice tests and exercises. There are a ton of resources out there—from official TOEFL practice books to online forums where you can discuss strategies and doubts.
Steps for Comprehensive Preparation
Understand the Format: Familiarize yourself with the four test sections—reading, listening, speaking, and writing.
Plan Your Study Schedule: Set aside dedicated time for each section.
Take Mock Tests: These simulate real exam conditions and help you identify weaknesses.
Review and Revise: Work on your mistakes and revisit challenging topics.
Stay Updated: Rules and scoring guidelines can change, so keep an eye on the official TOEFL website.
Key Strategies for TOEFL Success in the Context of Canada PR
To ace the TOEFL for Canada PR, you'll need to focus on improving specific skills, maintaining consistency, and staying updated with immigration policy changes.
Consistency is Key
Remember, consistency trumps cramming. Make it a habit to engage with English media regularly. This helps you become familiar with the accents and expressions commonly used in the TOEFL test.
Stay Informed
It's also essential to keep track of updates in Canada's immigration policies. Sometimes changes in language requirements can happen without much notice, affecting your application negatively if you're not prepared.
Utilize Technology
There are a plethora of apps designed to help you with TOEFL preparation. Make good use of them to test your skills, and track your performance metrics.
What Works:
Taking full-length mock tests can boost your confidence.
Focus on strengthening your vocabulary. Flashcards can be really handy here.
Role of English Language Proficiency in Canada PR Points System
High English language proficiency, as proven by TOEFL scores, can significantly boost your Comprehensive Ranking System (CRS) points for Canada PR.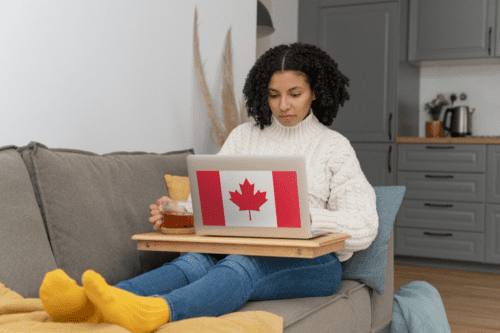 Why Language Skills Matter
Hey, don't underestimate the power of language skills! They play a significant role in the CRS points system, which is used to rank and select candidates for Canada PR. For instance, a high TOEFL score can earn you up to 24 points under the CRS. That's not something to ignore, especially when you're competing with thousands of applicants.
Breaking Down the Points:
Listening: Maximum 6 points
Reading: Maximum 6 points
Writing: Maximum 6 points
Speaking: Maximum 6 points
Common Mistakes to Avoid in TOEFL for Canada PR
Some of the common pitfalls to avoid in TOEFL for Canada PR include overlooking the importance of time management, underestimating the academic focus, and not reviewing your answers.
Time Management Woes
It's a classic mistake: getting caught up in tricky questions and then running out of time. TOEFL's strict time constraints make it vital to manage your time wisely.
Academic English, Anyone?
Another stumbling block is the academic focus of TOEFL. If you've been relying on conversational English, you might find TOEFL a bit challenging. So, hit those academic texts and practice exercises!
Review, Review, Review
Many test-takers fail to review their answers, especially in the writing section. Small errors can cost you big, so make sure to leave some time for review.
By now, you should have a holistic view of how TOEFL plays into your Canada PR aspirations—from preparation strategies to common mistakes to avoid. Good luck, and may the immigration odds be ever in your favor!
Key Takeaways
TOEFL is accepted for Canada PR in specific immigration streams and provinces. Knowing which programs accept TOEFL can help you make a more informed choice.
Understand your strengths and weaknesses when deciding between IELTS vs TOEFL for Canada PR. The test formats differ, and knowing where you perform better can make all the difference.
Consistent preparation and staying updated with immigration policies are essential strategies for success.
Liked this article? Read more A complete guide on life in Canada for Indians
Want to learn more on this Contact us at +91 9145 332 283 or reach out by clicking here to get the right guidance on TOEFL for Canada PR.
FAQs
Q1. Is TOEFL accepted for Canada PR?
Answer: Yes, TOEFL is accepted under specific immigration streams, primarily Provincial Nominee Programs (PNPs).
Q2. What TOEFL score do I need for Canada PR?
Answer: The required score varies between provinces and immigration streams, but you'd typically need a minimum score of 94.
Q3. Can TOEFL be used for Canada PR?
Answer: Yes, TOEFL can be used for Canada PR but it's crucial to know which programs accept it as a valid test.
Q4. How do I prepare for TOEFL for Canada PR?
Answer: Preparation involves a mix of understanding the test format, regular practice, and honing specific skills in reading, writing, listening, and speaking.