There is practically no distinction between TOEFL and IELTS in terms of comprehending their distinct purposes. Both exams are made to evaluate your proficiency with and knowledge of the English language. Additionally, both have largely similar questions and formatting styles. So how to compare TOEFL vs IELTS scores?
When analyzing TOEFL and IELTS, one significant distinction that will jump out at you is that the former gives you a chance to take the test in person. The latter, however, is made to only be attempted online using a computer. To put it another way, IELTS can ask you to take a test on paper. While using a computer at the site, TOEFL must also be attempted. Additionally, while comparing TOEFL vs IELTS scores, IELTS band scores range from 0 to 9, whereas the TOEFL total score ranges from 0 to 120.
TOEFL vs IELTS score relation
The TOEFL speaking and writing sections are graded primarily based on their appearance, which includes your vocabulary range, text structure, and grammar. The IELTS is graded based on specific criteria such as logic, consistency, grammar, and fluency. An essay with a logical flow of ideas but poor grammar, for example, may score higher on a TOEFL exam, whereas an essay with decent grammar and vocabulary but a lower ability to convey a concept will score higher on IELTS criteria.
The IELTS is graded on a scale of 1-9, with your overall score being the average of your individual numbers in each of the four exams. If your total average is 6.25, your final score will be rounded up to 6.5. The TOEFL is a single examination with a maximum score of 120 points. TOEFL vs IELTS score comparisons are as follows:
| | |
| --- | --- |
| TOEFL | IELTS |
| 118-120 | 9 |
| 115-117 | 8.5 |
| 110-114 | 8 |
| 102-109 | 7.5 |
| 94-101 | 7 |
| 79-59 | 6.5 |
| 60-45 | 6 |
| 46-34 | 5.5 |
| 35-45 | 5 |
| 32-34 | 4.5 |
| 0-31 | 0-4 |
What is TOEFL vs IELTS scores?
In general, the TOEFL iBT and IELTS Academic are comparable exams. Both tests assess your ability to read, write, speak, and listen in English. Additionally, both tests are frequently used as entrance requirements for graduate and undergraduate programs in English-speaking nations.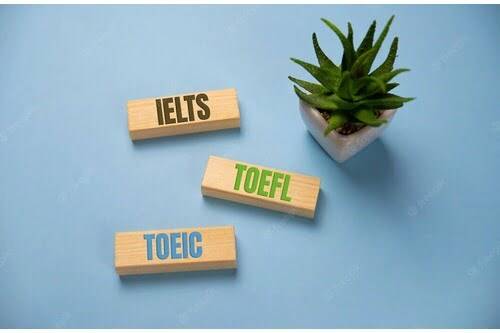 However, each test has a unique scoring system. Each test taker receives four scores on the TOEFL, one for each of the four skills (reading, writing, speaking, and listening), on a scale from 0 to 30 in 1-point increments. The sum of these four scores equals a TOEFL score out of a possible 120. For instance, my total TOEFL score would be 103 if I received scores of 29 on Reading, 25 on Writing, 24 on Listening, and 25 on Speaking.
For each of the four "band" categories—reading, writing, listening, and speaking—on the IELTS, test takers receive individual scores on a scale of 0 to 9 in half-point increments. The same scale of 0-9 is used for the total IELTS band score, which is calculated as the average (as opposed to the sum) of these four scores. For instance, my overall IELTS band score would be 6.5 if I received an 8 on Reading, a 7 on Writing, a 5 on Listening, and a 6 on Speaking. IELTS total scores are rounded to the nearest half-point, so take note of this.
Equivalents of CEFR scores
For many European students, the CEFR scale—which measures language proficiency in terms of letters and numbers—will be more familiar. In general, undergraduate students who wish to study abroad must have achieved CEFR B2 proficiency or higher in the institution's teaching language. Although you can rarely substitute a CEFR level for a required IELTS or TOEFL score, a CEFR level of B2 is equivalent to an IELTS score of 5.5–6.5.
Important considerations
Before choosing between the IELTS and TOEFL, you should take into account the following factors:
University preference: Before applying to any university, you should find out which language tests are accepted and preferred by those institutions.
Time required: IELTS preparation typically takes 3–6 weeks, while TOEFL preparation typically takes 2–3 months. IELTS will be appropriate if there are not too many months until your application deadline.
Mode of exam: IELTS can be taken on paper or a computer; TOEFL can only be taken on a computer. If you can type quickly, you can choose either, and if you can write well on paper, you can choose IELTS.
Exam format: For the IELTS exam, you take the speaking section one week before or after the tother three. You must take the TOEFL exam in one sitting.
Key takeaways
IELTS appears to be a little more lenient than TOEFL in that you are generally only allowed to use US English or UK English during the exam.
Make sure you fully understand the distinctions between IELTS and TOEFL.
The majority of the questions on the TOEFL are multiple-choice, whereas there are more variations in the questions and required responses on the IELTS.
FAQs
Question 1: IELTS or the TOEFL, which is simpler to pass with a good score?
Answer 1: Most test takers believe that IELTS is simpler than TOEFL. IELTS reading is regarded by many students as being simpler than TOEFL reading.
Question 2: Is Toefl or IELTS preferred by universities?
Answer 2: More than 11,000 universities across 150 nations, including the United States, UK, Canada, Australia, New Zealand, Europe, and Germany, accept TOEFL scores. In the US, TOEFL is more favored than IELTS, whereas in other nations, IELTS is preferred.
Question 3: Do I need the TOEFL to work in the USA?
Answer 3: A minimum TOEFL score of 79 is needed for applicants to be eligible for a skilled migration visa. Therefore, a strong TOEFL score is necessary for those who want to reside and work in either nation.