Universities and professional organizations all around the world accept the Test of English as a Foreign Language (TOEFL) as a crucial evaluation of English competency. According to the changing educational landscape, the TOEFL requirements have significantly changed in 2023. These modifications affect the test format and the requirements for potential test takers.
Understanding the TOEFL requirements for 2023 is essential for anybody pursuing further education abroad or a professional looking to demonstrate their English language ability. With a keen focus on accuracy and relevance, this article will serve as a valuable resource for anybody who intends to navigate the intricacies of the TOEFL requirements to prepare for this standardized test.
Minimum requirements for TOEFL
The TOEFL (Test of English as a Foreign Language) is designed to assess the English proficiency of non-native speakers, and as such, it demands certain prerequisites. Below are the minimum requirements that candidates need to fulfill for the TOEFL exam:
Eligibility: There is no specific age limit for taking the TOEFL test. However, the test is primarily aimed at those seeking higher education, so it is generally suitable for candidates above the high school level.
Language proficiency: Though the TOEFL is meant to measure English ability, a foundational understanding of the English language is necessary to comprehend the exam instructions and content.
Technical requirements (for online version): If you are taking the TOEFL online, ensure that your computer system meets the technical specifications, including an internet connection, a compatible browser, and necessary hardware like a webcam and microphone.
Identification documents: Proper identification is required for both registration and entrance into the test center. Generally, a valid passport serves as acceptable identification for international candidates. Some countries may have additional specific requirements.
Registration: Candidates must register for the TOEFL through the official website or designated registration centers. The process includes filling in personal information, selecting a test date, and payment of the examination fee.
Minimum score requirements (by institutions): While TOEFL itself doesn't impose a minimum score; individual institutions may have specific score requirements. Researching the universities or organizations you are applying to will provide insights into the score you should aim to achieve.
Health and safety compliance: Depending on the test center's location and the ongoing global situation, there might be health and safety protocols to follow. Stay updated with the latest guidelines from the TOEFL authorities and the local regulations.
Documents required for TOEFL
Preparing for the TOEFL exam includes organizing the required documents well in advance. Let's look at the essential documents that will be required for TOEFL 2023: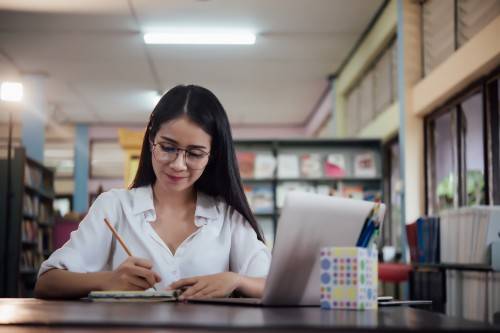 Valid passport: Your passport must be valid, and the name on it must match the name used for registration.
Confirmation of registration: You will receive this via email after successful registration. It contains important details like the test center and schedule.
Other photo identifications: Depending on your country, additional identification might be needed. Check with the test center for specific requirements.
Special accommodations documentation: If you have requested special accommodations for disabilities, the relevant documents must be submitted during registration.
Minimum TOEFL score
The minimum TOEFL score varies depending on the institution you are applying to. Here's an overview of the general requirements:
Undergraduate studies: Typically, scores around 70-80 on the internet-based TOEFL are considered acceptable.
Graduate studies: More competitive programs may require scores ranging from 90-100.
Top universities: For prestigious universities, scores above 100 are often preferred.
TOEFL registration
The process of registering for the TOEFL exam has been streamlined to ease the application process. Understanding the TOEFL requirements for registration can save both time and effort. By following the step-by-step instructions mentioned below, you will be able to complete your TOEFL registration process successfully:
Create an ETS account: Visit the official TOEFL website and create an account with your valid email ID.
Choose the test date and location: Select the preferred date and test center based on availability.
Fill in personal details: Ensure that the information matches your identification documents.
Submit required documents: Upload the necessary documents as per the TOEFL requirements, including the photograph.
Make the payment: Complete the payment process using the various options available, such as credit cards or electronic checks.
Receive confirmation: Upon successful registration, a confirmation email with all the relevant details will be sent.
Special accommodations
ETS provides special accommodations for test-takers who are differently abled or have health-related needs. The TOEFL requirements for special accommodations include:
Documentation of disability: Provide current documentation that clearly states the diagnosed disability.
Specific needs: Clearly mention the specific accommodations needed, such as extra time, a separate room, or special equipment.
Early application: Apply for accommodations well in advance, as the review process can take several weeks.
These TOEFL requirements ensure that all candidates have a fair and equal opportunity to demonstrate their English language proficiency.
Changes in TOEFL requirements for 2023
The TOEFL requirements may undergo changes from time to time. For 2023, it is essential to:
Stay informed: Regularly check the official website for updates on any changes in the format, scoring, or other requirements.
Adapt preparation strategies: If there are significant changes, adapt your preparation strategies to align with the new TOEFL requirements.
Consult official guides: Utilize official guides and resources reflecting the updated TOEFL requirements for 2023.
Key takeaways
Registration for TOEFL involves creating an ETS account, selecting a center and date, providing information, and paying a fee.
Preparation should be aligned with the TOEFL requirements, utilizing official materials, a well-planned study schedule, or joining a preparation course.
TOEFL requirements may vary between countries, so it's essential to research specific requirements based on your target institutions.
Keeping up with the most recent TOEFL requirements and effectively adjusting to them will enable applicants to pursue their academic goals in English-speaking nations with certainty and competence. Since the educational environment is always changing, adopting the aforementioned suggestions will result in a more concentrated, planned out, and certain approach to the TOEFL exam, regardless of whether you're a first-time or repeat test-taker.
We hope this blog has helped you with the documents you need to apply for TOEFL in 2023. If you have any more questions don't hesitate to reach out to us and get them answered quickly!
Liked this blog? Read: TOEFL score not available after 10 days? Problem solved!
FAQs
1. For how long are TOEFL scores valid?
Ans. TOEFL scores are usually valid for a duration of two years from the test date. Make sure to check with the university in case they follow another validity time period.
2. How do TOEFL requirements vary for different educational institutions?
Ans. TOEFL requirements may differ significantly between institutions, particularly in required scores. Researching each specific institution's requirements is essential to ensure alignment with your scores and goals.
3. What resources are recommended for preparing according to the TOEFL requirements?
Ans. Official ETS materials, including guides and practice tests, are highly recommended. Many candidates also find benefits in joining preparation courses that follow the TOEFL requirements.
4. Does iSchoolConnect help with test prep for the TOEFL exam?
Ans. Yes, iSchoolConnect assists with the TOEFL exam test prep by providing necessary resources like mock tests, past papers, video modules to learn from, and much more. Click here to know more.