TOEFL IBT exam | An introduction
TOEFL is one of the most well-known English proficiency examinations held by ETS (Educational Testing Services) in IBT (Internet-based) or paper-delivered mode. In addition, students aspiring to appear for the TOEFL IBT exam to obtain admission to leading global universities can appear for the TOEFL test at least 60 times a year, depending on where they reside.
Likewise, test-takers can choose their preferred centers and time slots based on the selected TOEFL IBT exam dates. Also, you must note that after the arrival of the global pandemic, the Educational Testing Services introduced the TOEFL Home Edition, available for test-takers four days a week, 24 hours a day.
TOEFL IBT exam | A brief overview
| | |
| --- | --- |
| Topic | Information |
| Full Exam Name | Test of English as Foreign Language |
| Short Exam Name | TOEFL IBT Exam |
| Conducting Body | Educational Testing Service |
| Languages | English |
| Exam Level | University Level Exam |
| Mode of Application | Online/Offline |
| Mode of Exam | Online/Offline |
| Exam Duration | 3 Hours |
Below are some effective tips to prepare for your TOEFL IBT test-
1. Start preparing for your test in advance.
Preparing for your TOEFL IBT exam last minute is hasty and will not help you accomplish the desired score on your test. So begin early, and plan all the preparation phases.
2. Reading important topics daily.
One of the essential aspects of preparing for the TOEFL IBT exam is reading important topics daily. Your exposure to important topics and vocabulary will enhance if you keep reading. The more carefully you read, the more likely you will develop strong reading comprehension aptitudes. 
3. Practice as many mock tests as possible.
Mock tests comprise practice questions that evaluate your progress. Therefore take timed mock tests multiple times before appearing for the actual test. These mock tests will give you a reasonable understanding of which sections you're proficient at and which sections need more practice.
4. Listen to some educational podcasts.
Exams like TOEFL IBT include listening sections that use native accents. Listening to educational podcasts with accents can assist you in expediting your preparation and avoiding any confusion on examination day. Therefore, it might not be wrong to say that listening to different podcasts will improve your listening and understanding abilities. 
5. Take comprehensive notes.
Form a habit of writing notes while preparing for your TOEFL IBT exam. Making thorough notes will help you revise important topics quickly before the test and save time.
TOEFL IBT exam | Test structure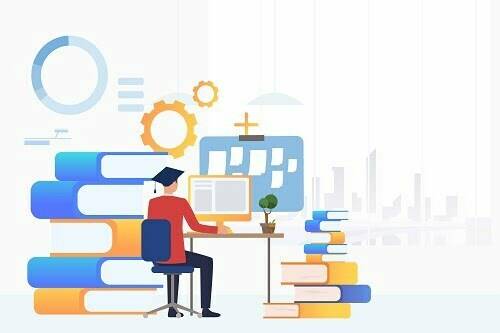 Here is a brief overview of the four sections included in the TOEFL IBT test-
1. Listening section
The TOEFL IBT listening section concentrates on practical understanding, basic comprehension, and redrafting and organizing information. 4-6 educational speech extracts and 2-3 discussions, roughly 3 to 5 mins long, are incorporated into the listening section. Also, the TOEFL IBT listening questions come in multiple choice with multiple correct answers, multiple choice with one correct answer, matching text or objects to categories in a chart, and ordering events or steps in a process. 
2. Writing section
The TOEFL writing section comprises two tasks: independent writing and integrated writing. Test-takers must write a documented answer to a reading passage and a spoken speech extract on a topic in 20 minutes, which demands listening, reading, and writing aptitudes.
3. Speaking section
The TOEFL speaking section evaluates students' capability to interact in non-classroom and classroom educational settings. This section ensures that test-takers can answer questions, summarize lectures and reading tasks, participate in classroom discussions, voice their ideas, and work in the circumstances common in college life. In this section, test-takers must finish six oral tasks and record their audio for evaluation. 
4. Reading section
The TOEFL reading section assesses three fundamental aptitudes: basic reading comprehension, reading for information, and reading to understand. In addition, the reading section incorporates 3-4 reading passages of roughly 700 words each. These extracts are from university textbooks on different subjects that are argumentative, expository, or historical.
Students will see three different question structures, each with multiple-choice responses. Besides, multiple choice with more than one correct answer, multiple choice with a single correct answer, and activities that ask students to select the most suitable answer are all examples of the TOEFL IBT reading section.
Key takeaways
Studying and practicing thoroughly for your TOEFL IBT exam will improve your exam result.
The TOEFL IBT test is important for people who wish to study in English-speaking nations and comprise four sections: reading, listening, writing, and speaking.
To better prepare for your TOEFL IBT test, it is prudent to get a detailed study plan and stick to it.
So, what are you waiting for? Head over and start preparing!
And if you get stuck or have questions (or are still unsure about giving the TOEFL exam), feel free to reach out or drop a comment below.
We would be very happy to help!
Like this blog? Then read: TOEFL exam fee in India | Your handy guide!
FAQs
Q1. Is a score of 70 considered good for the TOEFL test?
Answer – A score of 70 is not considered a good TOEFL score. Moreover, to secure admission to leading colleges globally, you must aim for a TOEFL score of 80 or higher, usually deemed a good score.
Q2. What is the cost of TOEFL IBT registration in India?
Answer – India's TOEFL IBT test costs US$190 (Rs.14,242.11).
Q3. Is TOEFL iBT difficult?
Answer – Right off the bat, one of the most difficult aspects of the TOEFL is its length. It takes nearly four hours to complete the TOEFL. Even if you find many of the questions easy, that's a long time to be taking any test, particularly one in a language that isn't your native language.