What is paraphrasing and why is it needed in an IELTS essay?
The IELTS essay serves as a means to assess the English language proficiency of non-native speakers. It presents a variety of value-based, opinion-based, and argument analysis questions, requiring candidates to demonstrate their comprehension and communication abilities effectively. To excel in such tasks and achieve the best scores, one must employ good paraphrasing techniques.
Paraphrasing involves rephrasing a sentence while preserving its original meaning. This can be achieved by altering words, restructuring sentences, and applying other paraphrasing methods. Such a skill is not only valuable for IELTS essay writing but also a fundamental aspect of communication in everyday life. Whether summarizing books, movies, or sharing information with others, we naturally resort to paraphrasing.
Strategic ways to paraphrase in an IELTS essay
Knowing how to rephrase is the first step towards effectively paraphrasing information for the IELTS essay. There are multiple ways to paraphrase information for your IELTS essay topics; some of the best ones are discussed below.
Use of synonyms
Synonyms are words that have identical or similar meanings, making them interchangeable in a given context. In IELTS essay questions, you can effectively substitute a sequence of words with their synonyms without altering the intended meaning of the sentence.
To apply the synonym paraphrase technique, simply replace the original words in the sentence with others that possess comparable meanings. Let's illustrate this with an example to help you grasp the concept more easily:
Original- Climate change is a pressing global issue that requires immediate action.
Rephrased- Addressing climate change is an urgent worldwide concern that necessitates prompt measures.
Change the word forms
It is another paraphrasing technique that makes your IELTS essay unique. This requires you to change the form of the word without actually altering the core meaning of the sentence. All you have to do is change nouns into verbs and verbs into adjectives or vice versa. This allows you to showcase your versatility in the English language and helps you score well in an IELTS essay with answers that are paraphrased effectively. Here is an example of this type of paraphrasing-
Original – The study found that exercise can positively impact your health.
Rephrased – According to the study, engaging in physical activity offers a multitude of health advantages.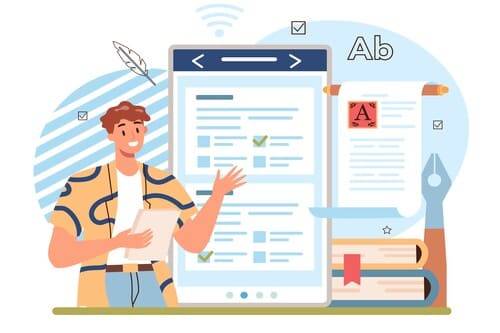 Change the word order
Rearranging the word order in a sentence is a simple yet effective method for paraphrasing information in the IELTS essay writing format. This technique involves adding, omitting, or altering words within the sentence structure.
It stands as one of the most straightforward approaches to paraphrasing in IELTS essay questions. However, it is essential to ensure that the sentences remain error-free and coherent. You can even blend synonyms with changes in word order to achieve smart paraphrasing. The example below illustrates this type of paraphrasing more effectively-
Original – The government implemented new policies to stimulate economic growth and create job opportunities in the country.
Rephrased – In order to foster economic growth and generate employment prospects, the government introduced new policies.
Changing active to passive voice
When you assess past IELTS essay examples, you will find that most questions will be asked in an active voice. It is important to understand how and when to switch between active and passive voice while expressing your viewpoints and discussing various topics in an IELTS essay.
Changing active voice into passive voice and vice versa is easy. All you have to do is place the object of the sentence at the beginning and change the form of the verb according to its existing verb. A knowledge and remembrance of active-passive rules would be a plus here. Here is how you can do it-
Original – The chef cooked a delicious meal.
Rephrased- A delicious meal was cooked by the chef.
Sentence restructuring
It is another effective way of paraphrasing a sentence without hampering its actual meaning. This form of paraphrasing requires you to swap the order of words, change some words using synonyms, and check to see if it looks natural.
Only the structure of the sentence changes while the meaning stands still. It is common for students to make mistakes while restructuring the sentence, as it also requires maintaining the flow of the sentence. Here is an example of sentence restructure-
Original – I cannot attend the meeting tomorrow due to a scheduling conflict.
Rephrased – Due to a scheduling conflict, I will be unable to attend the meeting tomorrow.
Change the order of clauses
Changing the order of clauses also helps you achieve uniqueness in your IELTS essay. Notably, clauses are groups of words containing a subject and verb. Every sentence can have one or more than one clause, which must be identified first while paraphrasing any sentence.
All you have to do is change the order of the clauses and frame a sentence that looks meaningful and natural. They are generally easy to paraphrase, but some students may find it difficult. An easy example is illustrated below to remind you of the basics-
Original – Although she was tired, she continued working on her project.
Rephrased – She continued working on her project, although she was tired.
Practice paraphrasing via sample tests
The most effective approach to amalgamate all the previously discussed tips is through consistent practice of paraphrasing with IELTS essay samples. This dedicated practice enables you to refine your paraphrasing skills specifically tailored to the types of questions commonly encountered in the IELTS essay.
By engaging with sample IELTS papers, you not only gain valuable experience in paraphrasing within the time constraints but also get an opportunity to assess and analyze your performance. Focus on crafting distinct and original responses while practicing with these essay samples.
Key takeaways
Paraphrasing is essential for expressing ideas in a clear and concise manner. It is crucial for IELTS as it also demonstrates language proficiency and effective communication skills.
Any IELTS aspirant can master the art of paraphrasing by using multiple techniques like the use of synonyms, and changing word and clause order or word forms.
The key to mastering all these paraphrasing techniques is to practice them on IELTS essay samples.
We hope our blog helped you better understand the importance of paraphrasing and how to effectively use it in the IELTS examination to score better. If you require further assistance with your test preparation then feel free to reach out to us!
Liked this blog? Read next: How to Prepare for IELTS Exam | 5 expert tips
FAQs
1Q- Are there any common mistakes to avoid while paraphrasing in the IELTS essay?
Answer: Yes, some common mistakes include changing the original meaning, misusing synonyms, and overcomplicating sentences. Ensure your paraphrased answers remain accurate and easy to understand.
2Q- What is considered unacceptable paraphrasing in an IELTS essay?
Answer: Unacceptable paraphrasing in an IELTS essay occurs when candidates plagiarize answers by directly copying phrases from the questions without altering word placement. Such responses are not permitted in the IELTS writing paper.
3Q- What is the most common method to paraphrase in IELTS?
Answer: Using synonyms is the most common way using which IELTS aspirants paraphrase in their
writing test.