Introduction to the IELTS exam!
The International English Language Testing System or the IELTS is an English proficiency test for studying abroad. Candidates from non-native English-speaking countries must mandatorily answer the IELTS exam. Some of the most prevalent countries that require the test are the United Kingdom, Canada, the USA, and Australia. The exam has four sections: IELTS listening, writing, reading, and speaking. In this blog, we will talk about the idioms for the IELTS speaking tets that candidates must know of.
The sections of the IELTS speaking test
Before proceeding to the idioms, let's learn a little more about the IELTS speaking test, shall we?
The speaking test examines your English speaking skills in various aspects, such as grammar, pronunciation, and so on. It is a face-to-face test held between the candidate and a certified trainer. There are three sections in the IELTS speaking test; they are as follows –
Section 1: Introduction and interview
The IELTS speaking test's introduction and interview section last 4-5 minutes. In this section, the interviewer introduces themself, following which the candidate gives their introduction. The examiner will ask questions on generic topics such as family, hobbies, studies, and work experience. 
Section 2: Individual long turn
Here, the examiner gives you a task card with a topic on it. It may have some points that you can cover in your speech. You will have one minute to prepare for the given topic! You will get a pencil and paper to write down your notes. After you ideate the topic, you have to speak on the same for about 1-2 minutes. Following this, the examiner will ask you questions. All in all, this section goes on for 3-4 minutes.
Section 3: Two-way discussion
Although it is a different section, it is usually the continuation of the speech topic. Here, the interviewer will ask questions on the topic given in the IELTS speaking test. However, you can use this section as an opportunity to talk about more ideas.

What are idioms?
Now that you know about the IELTS speaking test, let's talk about the idioms. 
An idiom is an expression in a language that can have a non-literal meaning or may not be attached to the existing phrase. Simply put, an idiom is a group of words formed into a particular sentence, where each word's meaning may differ. Idioms are not just used in the English language but also in other languages.
As a matter of fact, they are asked in most language proficiency tests. For the IELTS speaking test, there are a plethora of such expressions that candidates must be familiar with. The common idioms asked in the test are discussed in the following sections.
What is a verb phrase?
There are a few things that you must know about idioms, which come in handy for the IELTS speaking test. One of them is the verb phrase. A verb phrase in an idiom comprises the main verb and the helping verb. When put together, it helps words highlight a person's mood, tone, etc. Here, adverbs, prepositions, and auxiliaries are combined with the verb to alter the phrase's meaning.
What is a phrasal verb?
Another thing that you must know about idioms is the phrasal verb. A phrasal verb is an amalgamation of verbs and other elements. The other element can be a preposition or adverb used to alter the complete meaning of the verb. Phrasal verbs often have idiomatic meaning, where you need to understand the sentence as a whole rather than understand each word's meaning.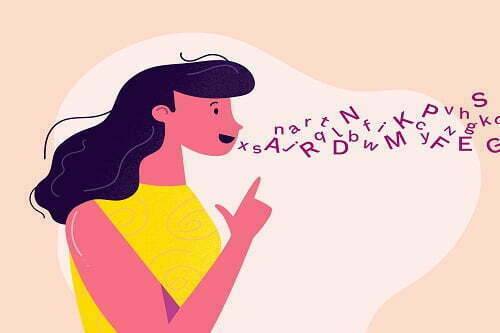 Idioms for the IELTS speaking test
| | |
| --- | --- |
| Idioms | Meaning of the idioms |
| Break a leg | To wish someone good luck. |
| Let the cat out of the bag | Tell someone something that you were not supposed to. |
| Driving me up the wall | Something that annoys you. |
| Blind as a bat | Can't see, bad eyesight. |
| Tongue-in-cheek | Something said in humor rather than seriously. |
| Working against the clock | Not having enough time to do something. |
| You are what you eat | If you eat bad food, you will be unhealthy. If you eat well, you will be healthy.  |
| Better late than never | It's better to do something late than not to try it. |
| Water under the bridge | Things from the past that is not important anymore. |
| Let sleeping dogs lie | To avoid a conflict. |
Idioms for the IELTS speaking test.
Useful idioms for the IELTS speaking test
| | |
| --- | --- |
| Idioms | Meaning of the idioms |
| To have a whale of a time | It means to enjoy a lot. |
| Give someone the green light | To give permission. |
| Find my feet | To be comfortable with something. |
| Burn the midnight oil | To stay up till late for a meaningful reason. |
| Out of the blue | Something that happened unexpectedly. |
| Down in the dumps | It means you are disappointed and sad. |
| To be over the moon | It means to feel fulfilled and happy. |
| A white lie | To tell a lie that is not very serious. |
Useful idioms for the IELTS speaking test
Common idioms for the IELTS speaking test
| | |
| --- | --- |
| Idioms | Meaning of the idioms |
| A drop in the ocean | A small portion of something big. |
| Pass with flying colors | To pass a test with a high grade. |
| To follow in someone's footsteps | To achieve the same things that someone else did. |
| Actions speak louder than words | It is better to do something rather than just talk about it. |
| Every cloud has a silver lining | Believing that every bad situation has a positive side that will eventually result in something good. |
| Go the extra mile | Doing much more than was required when doing something. |
| Hit the nail on the head | Say exactly the right thing. |
| Under the weather | Not feeling well. |
| Learn by heart | To memorize whatever you are studying. |
| Fixed in their ways | Not wanting to change from the normal ways of doing things. |
| To run in the family | Qualities that are similar in family members. |
Common idioms for the IELTS speaking test.
Key takeaways
Idioms are always fun to read and learn. Practice these idioms for the IELTS speaking test to nail the exam. 
Before the test, talk to your family and friends in English to smoothen your speaking skills. 
As a matter of fact, you can record yourself speaking and hear it later. It helps in assessing your pronunciations and confidence level. 
These English idioms are most commonly used in the IELTS speaking test; however, make sure to read a few others as well. 
One of the most important things to remember is to use the idioms wisely.
Practice your examples and avoid using the idioms everywhere. Sometimes, they just don't fit in. 
Lastly, don't get scared during your IELTS speaking test. Wear your smile and be confident!
If you want to learn more about IELTS or any other study abroad exams, get in touch with us today!
Liked this blog? Then read IELTS Academic vs. General | Things you need to know to excel!
FAQs
Question 1: What is the meaning of the idiom "A blessing in disguise?"
Answer: "A blessing in disguise" means a positive thing you recognize later. 
Question 2: Are idioms necessary to learn for the IELTS speaking test?
Answer: Yes, idioms are necessary to learn for the IELTS speaking test. As a matter of fact, they help you during the IELTS writing test too. 
Question 3: Is "an arm and a leg" an English idiom?
Answer: Yes, an arm and a leg is an English idiom, which means "very expensive."