Finding the right GRE mock test for your preparation!
Preparing for GRE is not a cakewalk, and finding the suitable material just a few months before the exam can be frustrating. That's where the GRE mock tests come in. It helps you gauge your performance before appearing for the exam. The mock tests also help you identify your strengths and work on your weaknesses.
While it is a no-brainer that one must appear for as many GRE mock tests as possible, it is also essential to find high-quality ones. The best mock tests will make actual value addition to your preparation; otherwise, you might just be wasting your time.
Importance of GRE mock test
Candidates need to understand why appearing for a mock test before the actual exam is fruitful. GRE mock tests allow you to understand the test pattern better, helping you build the best strategy to tackle this exam's high and low points.
Top reasons to buy the GRE mock test or even appear for the ones available for free in a nutshell –
They make you aware of the exam pattern.
Mock tests help increase your speed and accuracy.
It enables you to practice for long sitting hours, i.e., the 3.5 hours of the GRE. 
Mock tests allow you to plan an effective time management strategy.
They help you to identify your best preparation strategy.
What are the qualities of a practical GRE mock test?
You can find subjective tests like the GRE verbal mock test, GRE quantitative mock test, or a full-length GRE mock test. However, you must understand the features of the mock tests to identify the best one. Some of the salient features of these tests are –
Real-time GRE pattern
The GRE takes about 3 hours and 45 minutes to complete, which is challenging to cover in one sitting. Therefore you must adhere to the real-time exam experience so that your mock sessions help you adapt to the same format as the actual GRE. Ensure that the mock test implies the same number of questions, sections, timing rules, regulations, etc. 
User-friendly interface
A GRE mock test with a user-friendly interface is a must. It should give you an experience of what you will see on the actual test day. Additionally, your mock test must be free of unnecessary glitches and ads; otherwise, you will waste ample time.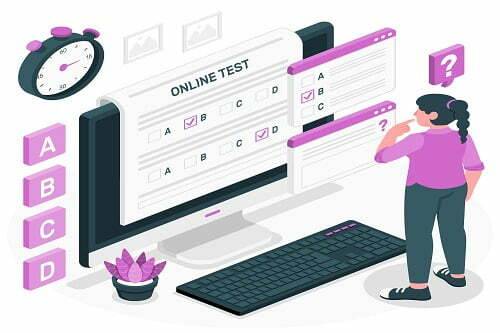 After-test analysis
A GRE mock test shall provide a strong analysis of your score. It must also contain solid explanations for the answers, so you don't have any confusion. The after-test analysis is quintessential while preparing yourself in the best possible way.
Standardized questions
The GRE difficulty level is standard; ensure that your chosen mock test has the same difficulty level. It should test you on similar concepts and must be as close to an actual GRE as possible.
Best free online GRE mock tests
Now that you know the qualities of the best mock tests, let's check out some of the best identified free full-length GRE mock tests available online –
GRE PowerPrep II mock test
GRE PowerPrep II is one of the best mock tests available online. When you do not have enough time to appear for many tests or are approaching the ultimate test, you can take the two available PowerPrep tests. It is advisable to appear during the last week before the test day.
| | |
| --- | --- |
| Pros | Cons |
| It provides you with the closest experience to the actual GRE. | It only provides you an answer key and not the explanation to those answers. |
| The mock test offers a more accurate final score than the scores you might get from a non-adaptive exam. | This GRE mock test doesn't offer analytical writing scores. |
| It also provides the exact computer-based interface as the actual GRE.  | – NA- |
Manhattan free GRE mock test
Manhattan GRE mock tests are pretty popular due to their quality and analysis. You can undertake their mock tests before the actual exam and practice as per your requirements. 
| | |
| --- | --- |
| Pros | Cons |
| The question pattern of this test is quite similar to actual GRE questions. | You must go through the formalities like creating a Manhattan Prep account to access the test. |
| They help you to improve your core strengths with a section-adaptive test. | The test includes some higher difficulty level questions than asked in the actual exam. |
| This GRE mock test provides you with an in-depth analysis of the answers. | – NA – |

Kaplan free GRE mock test
Kaplan is another famous free GRE mock test available online. The unique feature of this test is its interface.
| | |
| --- | --- |
| Pros | Cons |
| It helps you to prepare yourself with the technical know-how of a GRE mock test. | The difficulty level may not be the same as the actual GRE. |
| The computer interface is similar to what you will experience on the test day. | This mock test doesn't provide in-depth information on the answers. |
| It provides you with a detailed section-wise analysis of your test.  | They are not section-adaptive tests. |
Princeton Review GRE practice test
Princeton Review GRE mock test is a free online test and is one of the most preferred ones by students. 
| | |
| --- | --- |
| Pros | Cons |
| This GRE mock test provides a close overview similar to the actual exam.  | The questions may appear to be easier than the actual GRE test. |
| Princeton Review GRE has a user-friendly interface. | They do not provide subject-point analysis. |
| They provide suggestions for improvements and a deep analysis of your strong and weak points. | – NA – |
Key takeaways
The GRE mock test is a prerequisite to scoring high marks on D-day.
Opt for the mocks tests that provide a real-time experience of a GRE as it will help you ace your exams.
It is important to do an after-analysis of your test to identify your strengths and weaknesses.
Do not lie to yourself by cheating on the test. You need to take the test seriously.
Create a similar exam atmosphere to save yourself from the added pressure of the exam day.  
Practice is the key! The more you practice, the better your chances of scoring high.
If you are looking for assistance with your test prep, fret not! We are here for you. Get in touch with us today!
Liked this blog? Then read Online IELTS classes | 5 best coaching classes to consider!
FAQs
Question 1: Can a GRE mock test be written in an actual exam center?
Answer: GRE mock tests can be appeared in both ways, by going to an exam center or appearing through a laptop/PC from your home. It is a computer-adaptive test. However, if you want to understand how to deal with actual exam pressure, you may adopt the former approach.
Question 2: What is the ideal number of GRE mock tests to get the 99 percentile?
Answer: There is no definite answer to this. However, it is advisable to take as many GRE mocks as possible. However, analyzing your performance after each mock is essential to gain valuable insights into your preparation strata.
Question 3: Is a GRE score of 330 considered good?
Answer: If you have a solid overall profile, LORs (Letter of Recommendations), and SOPs (Statement of Purposes), 330 is an excellent score to get you admitted to top universities.