IELTS computer-based test | An overview
The IELTS computer-based test (CBT) offers a modern alternative to the traditional paper-based format. It provides test-takers with a streamlined and interactive experience. In CBT, tasks are completed on a computer, including listening, reading, and writing sections, while speaking is conducted face-to-face with an examiner. With features like word count, and highlighting, IELTS computer-based test offers convenience and accuracy.
By addressing eight common misconceptions, we hope to provide a clearer understanding of this test format, empowering individuals to make informed decisions about their IELTS preparation and exam experience.
Myths revolving around the IELTS computer-based test
You might have heard about the myths associated with the IELTS computer-based test. We have listed some of them below to bust any misunderstandings related to the IELTS test.
IELTS on the computer is easier than paper-based IELTS
The questions, content, and difficulty levels of computer-based and paper-based IELTS are similar, suggesting that both formats are equally challenging. It is just a matter of what test format – manual or digital – is convenient for you.
Marks comparison | IELTS computer-based test vs. paper-based test
The computer-based IELTS result doesn't come together with the paper-based test. In the computer test, you can expect the results about three to five days after the test. On the other hand, in the paper-based IELTS, the results are obtained after a 2-week timespan.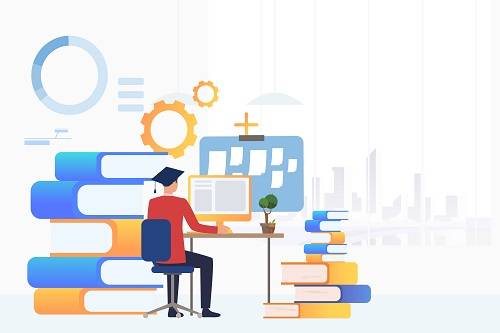 The computer-based test has a different content structure
The content structure of the IELTS computer-based test remains consistent with the paper-based test. Both formats consist of four sections: Listening, Reading, Writing, and Speaking. The question types and tasks within each section are also identical. For example, the Listening section includes multiple-choice questions, matching tasks, and gap-fill exercises. The Reading section comprises tasks such as multiple-choice, true/false/not given, and matching headings to paragraphs. The Writing section includes tasks like essay writing and letter/report composition. Lastly, the Speaking section involves a face-to-face conversation with an examiner.
Computer-based IELTS test is lengthier than IELTS on paper
You will have to spend more than two and a half hours, without any break in the middle, on listening, reading, and writing segments of the IELTS test. The applicant may spend extra time at the test center if they give the test on paper. It is because the applicant has to mark the answers on an answer sheet. In the case of an IELTS computer-based test, you need not have to spend time marking your answers. It only requires a quick click to choose an answer.
Computer-based IELTS is costlier
Giving IELTS on a computer will cost you the same as a paper-based test. No additional fee is charged for using computers in any official IELTS test center. In addition, you can access the same preparation materials, such as the IELTS Prep App, Road to IELTS, and several free-of-cost practice tests.
The computer-based test is prone to technical issues and disruptions.
The IELTS computer-based test is generally reliable and secure, with test centers taking precautions to minimize technical issues and disruptions. They maintain proper infrastructure, conduct regular maintenance, and provide technical support to address any problems promptly. Contingency plans are in place to handle unexpected issues, ensuring a fair testing experience. While no test format is entirely immune to technical difficulties, the IELTS test centers strive to create a reliable and smooth testing environment for candidates. If any issues arise, immediate assistance is available to resolve them and maintain the integrity of the assessment process.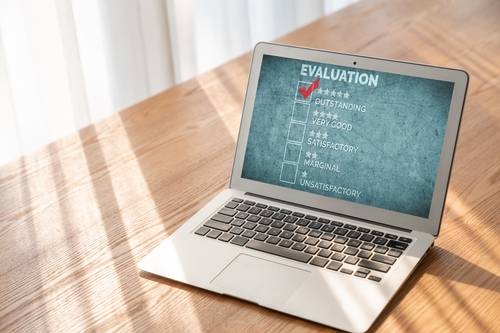 Higher band score can be achieved by writing more words in the writing test
Another false statement is writing more can get you more marks. Writing extra words or beyond the word count won't get you a higher band score. Writing beyond the word limit will lead to more errors, and your core ideas might lose clarity and focus. Hence, it is wise to adhere to the given word count or try not to go further than 10-20 percent. For task 1 and task 2 of the exam, it is advisable to write about 150 words and 250 words, respectively.
The computer-based test lacks human interaction, affecting speaking scores.
The speaking section of the IELTS computer-based test maintains the same level of human interaction as the paper-based test. In the computer-based format, you will have a face-to-face conversation with a trained IELTS examiner, just like in the traditional test. The interaction is recorded using audio and video equipment, and the examiner evaluates your performance based on the recorded conversation. This allows for a fair and accurate assessment of your speaking abilities.
Key takeaways
The IELTS computer-based IELTS test is a convenient option for test-takers who prefer using a computer system instead of using pen and paper.
Formats for IELTS computer-based tests and paper-based IELTS tests are equally challenging, the scoring system is consistent, and the content structure, including sections and question types, remains unchanged.
The IELTS computer-based test provides quicker results, typically within three to five days, whereas the paper-based test results are available after a 2-week period.
We hope this blog cleared some of your questions about the IELTS computer-based test. But if you still have doubts regarding study abroad exams, comment down below or directly reach out to our experts.
Like the blog? Read next: 8 efficient tips to cracking SAT!
FAQs
Question 1: Is it possible to use backspace in IELTS computer-based test?
Answer: If you think the sentence you have mentioned in an answer is incorrect, you can follow these steps:
Select the sentence of your essay using the mouse cursor and press the "backspace" or "delete" button to erase it.
There is another alternative which is the copy-paste technique. Just write the correct version, copy it, and place it on the selected sentence or line.
Question 2: Can you bring your laptop or keyboard for the IELTS computer-based test?
Answer: The candidates cannot bring their own equipment or device to the test room. The exam center provides every necessary equipment needed for the test.
Question 3: How can I prepare for a computer-based IELTS test?
Answer: You must glance at sample materials to get an idea of the IELTS test on a computer. These
materials include Academic Reading and Writing Practice Tests, IELTS listening practice
tests computer-based, and many more.