With 3.5 million exams taken in the last year, IELTS is one of the world's most popular high-stakes English language assessments. In fact, it is the preferred English test for educational institutions, professional associations, and companies across Canada. IELTS is also recognized by Citizenship and Immigration Canada (CIC). Therefore if you want to live in the country, the IELTS exam for Canada is perfect for you!
Where is the IELTS exam used in Canada?
Study in Canada
Immigration, Refugees and Citizenship Canada (IRCC) accept IELTS as proof of English language proficiency. If you intend to study at the undergraduate or postgraduate level in Canada, you will very certainly be required to submit your IELTS score as part of your application. Most institutions in Canada typically require a total score of 6.5 and a minimum of 6 in each component of the IELTS.
Migrate to Canada
IELTS was the first test recognized as proof of English language competency by Citizenship and Immigration Canada (CIC) and Immigration Quebec for Express Entry (Skilled Immigrants), Quebec-selected skilled employees, and the Provincial Nominee program. Therefore, it is essential if you want to migrate to the country and obtain a
A minimum language proficiency of 6.0 in each component of the IELTS test is required for permanent residency in Canada.
Work in Canada
If you intend to work in Canada, you must first pass a language test to demonstrate your command of the English language. If you are applying for a work visa or professional registration, the IELTS General Training test can meet the standards of Immigration, Refugees, and Citizenship Canada (IRCC). A minimum score of 6.0 on each language ability on the IELTS is required for migration into the country.
IELTS Test Formats for Canada
There are two sorts of IELTS tests, and which one you take depends on your reason for visiting Canada. Graduates and skilled employees looking for a job should take the IELTS General Training exam. It is accepted for Express Entry, the Provincial Nominee Program, and some lower-level education.
International students should concentrate on the IELTS Academic edition, which is appropriate for those pursuing undergraduate or postgraduate studies. It assesses your English language skills for academic contexts, ensuring that you can follow classes and integrate into your new institution or university. IELTS is the only English language test authorized by Immigration, Refugees, and Citizenship Canada (IRCC) for the Student Direct Stream.
The IELTS exam pattern
IELTS assesses your ability to listen, read, write, and speak in English. You will take an exam and be graded on each area. These results will be added to your band score on a scale of 1-9, with 9 representing "expert" proficiency.
The exam's listening, reading, and writing components are to be taken consecutively with no breaks. Multiple-choice, matching, labeling, and chart or summary completion are among the possible question types in these sections. The speaking test, which is usually given by an examiner, may be taken on the same day or on a different day to a week before or after the other sections.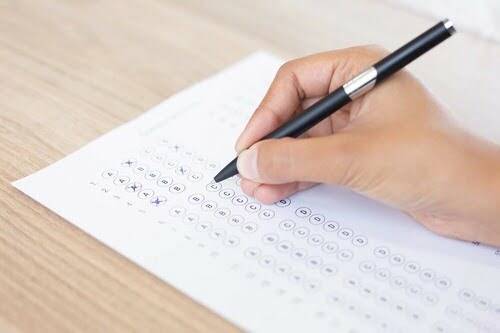 Tips to ace the IELTS exam for Canada
Now that you have a better understanding of IELTS for Canada, it is time to make the necessary preparations. Here are some tips to help you do so.
Familiarize yourself with the examination format
Knowing the format of the test is not only important for understanding how to prepare for it, but it also helps soothe any anxiety you may have. With four separate sections of the test comes a variety of things that you must be familiar with. Understanding the various sorts of questions and tasks that will be expected of you in advance will allow you to plan how to organize your time and give special attention to your areas of weakness.
Perfect practice makes perfect
When studying for the IELTS exam, it is important to take your time. Slow and steady practice is needed at first. This is especially true for the writing exam, which is one of the most challenging sections on the exam and is quite difficult to complete on time.
Once you improve, it is critical that you condition yourself to take the test under anticipated test conditions. As each component of the test is timed, speed is essential. Replicating exam settings at home will assist you in managing your time on exam day.
Understand the terminology you encounter
IELTS exam papers contain more advanced English terminology than a typical General or Business English class. Test-takers must be prepared to know what concepts like 'synonyms,' 'parallel expressions,' and 'compare and contrast mean or how they relate to specific questions before the IELTS exam, as dictionaries are prohibited during the exam.
Practice your abilities
Previous IELTS test-takers reported that reading editorials in English newspapers, watching television news, or looking through short English stories by great writers like Carver or Hemingway and then striving to explain the important elements of those readings in a short paragraph and speech helped them. This is excellent advice for any IELTS test taker. Finding essential points or providing a brief review of what was read can only benefit one's IELTS exam performance, particularly in the writing and speaking sections.
Key takeaways
IELTS is the most preferred English proficiency test for institutions and organizations in Canada.
In general, a minimum score of 6.0 is required on each section of the IELTS exam, regardless of whether you plan to study, work or migrate to the country.
Practice under testing conditions is essential to ace the IELTS exam for Canada as it helps you manage your time on exam day.
To practice for the exam, you can approach agencies like school prep to obtain online coaching classes at an affordable rate. For information on the classes offered, visit ischoolprep.com.
FAQs
Question 1: Is IELTS still good after three years?
Answer 1: There is no IELTS validity period that is longer than three years in Canada or any other English-speaking country. Once you obtain your IELTS TRF, it will expire after two years and cannot be extended.
Question 2: What is the IELTS maximum age?
Answer 2: There are no restrictions on the age of exam takers. There is no defined age limit for individuals taking the IELTS exam. Anyone, regardless of age, gender, color, nationality, or religion, can take the IELTS test. However, the IELTS test is not suggested for individuals under the age of 16.
Question 3: Can I gain permanent residency in Canada without IELTS?
Answer 3: It is important to demonstrate English language ability to get a PR in Canada.