IELTS for Australian immigration | Introduction
Australia is becoming an increasingly popular destination for immigrants globally, particularly owing to its stunning landscapes, energetic cities, and an array of possibilities. Understanding the significance of language competency for Australian immigration permits is crucial if you're thinking about moving there. We will delve into IELTS for Australian immigration in this detailed article, the technicalities of the IELTS (International English Language Testing System) exam, as well as the necessity of English language skills, and provide you with doable guidance to master this significant stage of your immigration process.
The significance of IELTS for Australian immigration
Let's first examine the importance of language ability in the Australian immigration process before delving into the specifics of the IELTS test.
Adaptation to Australian culture
English language proficiency is essential for effective absorption into Australian culture. It gives immigrants the ability to interact with others in the community, access resources, and communicate successfully. The key to a seamless move is English ability, whether you're looking for a job, healthcare, or school.
Creating employment possibilities
In Australia, many businesses demand that their staff members have an excellent grasp of English. Your chances of landing a job go up when you demonstrate your language abilities, and you also have access to greater work opportunities and higher pay. IELTS for Australian immigration is your path to employment.
Promoting well-being and safety
Your daily safety and well-being depend on your ability to understand and communicate in English. Language ability is essential to keeping you safe and informed, from reading warning signs to getting medical help.
Availability of essential services
IELTS for Australian immigration also extends for access to government services, healthcare, and education. If you speak the language well, you can take advantage of the chances and resources offered in Australia and actively engage in daily life there.
IELTS for Australian immigration | All about IELTS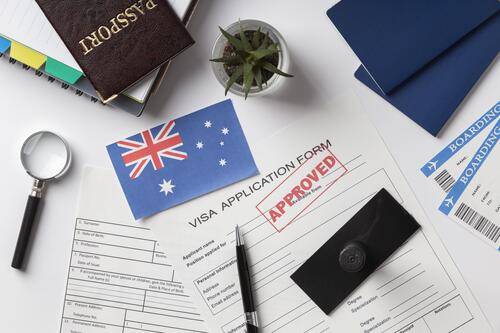 English language competency is important and is showcased through compulsory IELTS for Australian immigration, therefore let's dispel some myths about the IELTS test and its components!
Exam format
Your English language proficiency is evaluated on the IELTS exam in four key areas: speaking, listening, reading, and writing.
Listening test (30 minutes)
This test measures your capacity to comprehend spoken English in a range of accents and settings. Following a sequence of questions, you will hear talks, monologues, and chats.
Reading test (60 minutes)
Your reading comprehension will be tested in this section. As you read various documents, such as articles, commercials, and academic papers, you'll be asked questions to show that you comprehend what you've read fairly well.
Writing test (60 minutes)
This component is one of the more complex ones on the IELTS for Australian immigration. Two tasks comprise the writing portion:
Task 1: You'll be given a visual representation of the information, such as a chart, graph, or diagram, and prompted to explain and understand it.
Task 2: For this assignment, you must write an essay in answer to a query or a remark. You'll have to make an argument, back it up with facts, and clearly state your position.
Speaking (11 minutes to 14 minutes)
You'll have an in-person interview with an assessor during the speaking segment. There are three sections to this interview:
Part 1: Open-ended inquiries about you and familiar subjects.
Part 2: You will be given a topic on a cue card, and you will have one minute to prepare before speaking for up to two minutes on that subject.
Part 3: A conversation regarding more esoteric subjects and difficulties with the examiner.
Scoring
IELTS results are given on a scale of 1 to 9, with 9 being the greatest level of competence. The English language requirements i.e. IELTS for Australian immigration visas vary based on the type of visa you are looking at, therefore it's important to understand the minimum score you need to get for your preferred visa category.
IELTS for Australian immigration success | Key structure
Let's look at some practical advice to assist you in succeeding in your application of IELTS for Australian immigration while keeping in mind the format of the IELTS exam.
Understand the visa requirements
There are various English language requirements for each type of visa. Do an extensive study to find out the IELTS for Australian immigration and the minimum score requirement needed for your particular visa category. Your preparation will be guided by this information, which will also significantly reduce tension.
Begin early
It takes time to prepare for the IELTS. Start preparing well in advance to give yourself enough time to sharpen your skills and test your knowledge. Early planning lowers anxiety and improves your likelihood of success.
Select the appropriate test type
IELTS provides Academic and General Training test categories. Make sure to choose the right exam type based on the specifications of your visa. The General Training element of IELTS for Australian immigration visas is normally required.
Complete practice exams
Any talent may be mastered with enough practice. To grow accustomed to the test structure, enhance your time management, and monitor your progress, purchase IELTS preparation resources, and take regular practice exams.
Enroll in a course of preparation
Attending an IELTS preparation course could be a good idea. To assist you in achieving your desired score, these courses include organized instruction, practice activities, and professional feedback. They also offer helpful exam-taking tips for each segment.
Concentrate on weak areas
Determine your areas of difficulty in speaking, writing, listening, and reading. Spend more time and effort on these areas, and if you need help, ask your lecturers or tutors for advice.
Create a study plan
Make a study calendar with daily or weekly objectives. For progressive growth, regular practice and organized study sessions are crucial.
Time management is improved
It's crucial to manage your time throughout the exam. To make sure you can finish all portions without feeling rushed, practice answering questions within the allotted time limits.
Create test-like conditions
IELTS for Australian immigration is a necessary component you need to fulfill, and you need to do it well. Try to accurately mimic test circumstances prior to the actual exam. To improve your test-taking endurance and confidence, take full-length practice exams in a timed environment.
Remain composed and confident
On the exam day, maintain your composure and confidence. Keep in mind that you prepared thoroughly, and now is your chance to demonstrate your language skills on the IELTS for Australian immigration, thus paving your path to your dream destination.
Key takeaways
Language ability is essential and is assessed through IELTS for Australian immigration since it improves integration, employment opportunities, safety, and service access.
The Listening, Reading, Writing, and Speaking components of the IELTS exam are assessed.
There are several score requirements pertaining to IELTS for Australian immigration.
Check the English language requirements particular to the visa you are seeking.
To lessen stress and enhance abilities, start preparing early.
Select the appropriate IELTS exam type. General training is used for immigration purposes, usually.
The IELTS for Australian immigration is a key component which measures English language proficiency skills as a part of the visa process. It gives you access to opportunities, improves your safety and well-being, and makes it possible for you to fully engage in Australian culture. You may confidently start your road to achieving the necessary IELTS score and realizing your ambitions of becoming an Australian immigrant by comprehending the exam format and adhering to these key takeaways.
We hope this blog was insightful. If you have any questions or would like further assistance, do not hesitate to reach out to us. We'd be happy to help!
Liked this article? Read next Australia immigration | 5 reasons why you should move here!
FAQs
Q1) What IELTS score is needed to be eligible for an Australian immigration visa?
Answer: Depending on the particular visa subclass you are seeking, a minimum IELTS score may be needed for Australian immigration visas. The minimum score criteria may vary according to the kind of visa. For the majority of immigration visas, the needed IELTS band score ranges from 6 to 7.
Q2) Do Australian immigration permits need the Academic or General Training modules of the IELTS?
Answer: The IELTS General Training module is necessary for the majority of Australian immigration permits. The General Training module evaluates more real-world and daily English language abilities, while the Academic module is intended for people who want to pursue further education or professional registration in the country.
Q3) How can I strengthen my speaking and writing abilities for the IELTS?
Answer: Consistent practice and focused preparation are necessary to improve your IELTS speaking and writing abilities. To improve your fluency when speaking, have frequent interactions with English-speaking natives or language partners. When writing, pay attention to how you structure your writing. Learn about typical essay formats (such as argumentative essays and reports) and practice writing on a variety of subjects.