Boston University | An overview
Boston University is a top-tier research university dedicated to the pursuit of excellence. It offers a wide range of undergraduate, graduate, and professional programs in a welcoming, supportive environment. Prospective students must meet certain requirements, including submitting IELTS scores. Let's explore this in depth.
Boston University | IELTS score requirements
To be admitted to Boston University, international students must have achieved a minimum IELTS 7 overall band score. There may be some exceptions for those who have achieved slightly lower scores but commit to enrolling in specific ESL courses to meet the requirements.
IELTS score for specific programs and departments
Although the minimum score to be considered for admission is an IELTS score of 7.0, certain departments and programs may require higher proficiency levels on individual components of the exam. The table below provides the minimum IELTS score criteria for each department-
| | |
| --- | --- |
| Course/College | Minimum IELTS Requirement |
| Undergraduate Admissions | 7.0 |
| Graduate Admissions | 7.0 |
| College of Engineering | 6.5 |
| Wheelock College of Education and Human Development | 7.0 |
| TESOL | 7.0 |
| School of Public Health | 6.0 |
| School of Social Work | 7.0 |
| School of Law | 7.0 |
| LLM | 7.0 |
| Goldman School of Dental Medicine | 7.0 |
| College of Fine Arts | 7.0 |
| Metropolitan College | 6.5 |
| School of Hospitality Administration | 6.5 |
| Pardee School of Global Studies | 7.0 |
| College of Health & Rehabilitation Sciences: Sargent College | 6.5 |
| MS in Media Science | 7.0 |
How to get accepted at Boston University?
When applying for admission to Boston University, make sure you consider all the factors that go into being accepted. While IELTS scores are important in determining eligibility, other components like academic transcripts, letters of recommendation, and a personal statement must also be evaluated to determine your candidacy. When preparing your application, pay attention to all these aspects and focus on the strengths that qualify you for admission.
Applying for admission to Boston University as an international student can be challenging and complex. Make sure your application meets all requirements, which increases your chances of getting accepted.
Research application requirements for international students
International students must be aware of the specific requirements for Boston University, such as admission essays, English language capability test scores, visa documents, financial forms, academic transcripts, and country-specific documents.
Submit standardized test scores and statements of finance
International students applying to Boston University can also submit their scores from the Test of English as a Foreign Language (TOEFL) or Pearson Test of English Academic (PTE) in addition to IELTS. Your official score report must be sent directly from the testing agency. You should also submit detailed documentation of your financial support, such as bank statements and/or other forms of declared income, with your application. This will ensure that you can cover living expenses while in school. 
Prepare all materials for application
Prepare detailed materials to demonstrate academic credentials and character, including letters of recommendation, resumes, and personal essays. Review them carefully before applying. Ensure you don't miss important steps in the admissions process.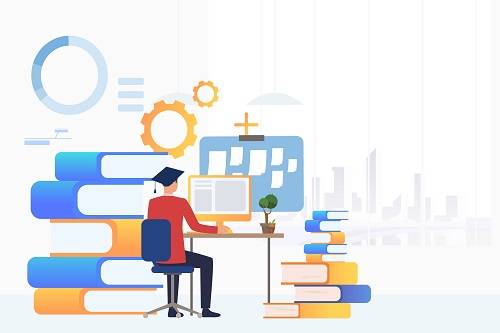 Strategies for achieving a high score on the IELTS Exam
One of the best ways to ensure you succeed with your IELTS exam and reach the required score for Boston University is to plan thoroughly and create a study strategy before taking the test. Review which language skills are being tested, familiarize yourself with all exam sections, and practice sample test questions. Read over material that covers commonly asked topics to identify relevant answers quickly. Lastly, remain calm during the test so as not to become overwhelmed or confused while answering questions.
Key takeaways
The university accepts only official TOEFL and IELTS score reports with the relevant reporting code. 
Unofficial records or photocopies of test results are not considered valid by the university. IELTS results will only be accepted via E-Delivery and must be provided to Boston University.
Reviewing which language skills are being tested, familiarising yourself with all sections of the exam, and practicing sample test questions are essential in preparing for a language proficiency test.
Preparing for a language proficiency test such as the IELTS can be daunting, but it is certainly achievable with dedication and commitment. Ace your IELTS preparation with iSchoolPREP, where you get personalized guidance from expert tutors and access to comprehensive test material. 
Visit our website to read more interesting blogs and get information about competitive exams like IELTS, TOEFL, GRE, GMAT, SAT, etc. 
Did you enjoy this blog, "Boston University IELTS score"? Also, read IELTS 7.5 band universities in USA | Scores & universities  
FAQs
Question 1. Can I submit a Duolingo score for undergraduate admission at Boston University?
Answer. Yes, you can apply for admission at Boston University with Duolingo as the ELP test. The minimum Duolingo score required for admission at this university is 110. 
Question 2. How can I submit proof of my IELTS score to Boston University?
Answer. International applicants who wish to submit proof of their IELTS score must include an official test score report from the IELTS test center.
Question 3. How long is an IELTS score valid for Boston University admissions?
Answer. Boston University requires that IELTS scores be no more than two years old at the time of application submission.