Did you know that only about 10% of GRE test takers score above 160 in the Verbal and Quantitative sections? If you're aiming for that elusive perfect score of 340, then you're in the right place. Let's dive into some actionable tips that can help you elevate your GRE scores.
Tips to improve GRE scores
Understand the GRE format and scoring system
GRE, or Graduate Record Examination, is divided into three main sections: Verbal Reasoning, Quantitative Reasoning, and Analytical Writing. Notably, GRE scores range from 260 to 340.
Understanding the GRE score range and how each section contributes to your GRE scorecard is crucial. This knowledge allows you to allocate your study time effectively.
Example – If you're applying for a STEM program, then you might want to focus more on the Quantitative Reasoning section. On the other hand, humanities programs may weigh your Verbal Reasoning score more heavily.
Master time management
Time management is a skill that can make or break your GRE scores. The average time per question in the Verbal and Quantitative sections is about 1.5 minutes.
Use a timer during your practice sessions to simulate the real test environment. This will help you get a feel for the pace you need to maintain.
Example – Let's say you consistently take 2 minutes per question in the Quantitative section. Knowing this, you can work on strategies to improve your GRE score by speeding up your problem-solving process.
Leverage practice tests and review sessions
You've probably heard the saying, "Practice makes perfect". Well, it is definitely true when it comes to the GRE. Taking practice tests not only familiarizes you with the format but also helps you identify your strengths and weaknesses.
Don't just take a practice test and call it a day. Review each question, especially the ones you got wrong. Understand the reasoning behind the correct answers. This is where the rubber meets the road in terms of learning.
Example – Suppose you're consistently scoring low in the Verbal Reasoning section. Dive into the types of questions that are tripping you up. Is it the sentence equivalence or the reading comprehension? Once you identify the problem areas, tailor your study plan to focus on them.
Use high-quality study materials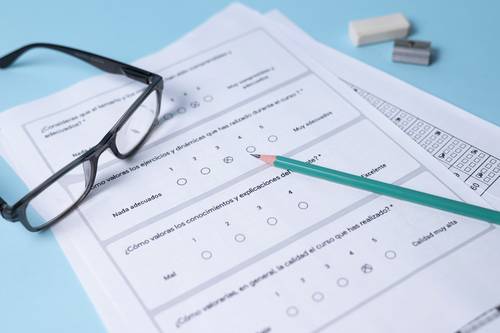 Not all GRE prep materials are created equal. Some are far superior in terms of the depth and quality of questions, as well as the explanations provided.
Choose materials that offer a range of difficulties in questions, comprehensive explanations, and perhaps even strategies for tackling different question types. This will give you a well-rounded preparation.
Example – If you're weak in Quantitative Reasoning, then look for materials that offer a step-by-step breakdown of complex math problems. This will help you understand the core concepts better, thereby improving your GRE scores.
Take care of yourself
Your physical and mental well-being can significantly impact your performance. Lack of sleep or poor nutrition can fog your mind, making it difficult to focus during the test.
Make sure you're getting at least 7-8 hours of sleep, especially in the week leading up to the test. Eat a balanced diet rich in nutrients to keep your brain in top shape.
Example – Imagine running a marathon without any training or proper nutrition. You'd be setting yourself up for failure, right? The same goes for the GRE. A well-rested, well-nourished body can be your secret weapon for achieving high GRE scores.
Additional Tips
Don't overlook Analytical Writing Assessment (AWA)
Many students focus so much on the Verbal and Quantitative sections that they neglect Analytical Writing Assessment. This section has two tasks: "Analyze an Issue" and "Analyze an Argument," and they are scored separately from 0 to 6.
Why does it matter?
While your AWA score doesn't contribute to your GRE total score, it's still reported to the graduate programs you apply to. A low AWA score can be a red flag, even if you have stellar scores in other sections.
Example – If you're applying for a program that values critical thinking and effective communication, then a low AWA score can be a deal-breaker. So, don't treat this section as an afterthought.
Understand the adaptive nature of GRE
What does 'adaptive' mean?
GRE is a computer-adaptive test, meaning the difficulty of questions changes based on your answers. If you answer a question correctly, then the next one will be harder and vice versa.
Strategic implications
This adaptive nature can affect your GRE scores significantly. It's generally better to get the harder questions right than to ace only the easy ones, as the test algorithm rewards you for tackling challenging questions.
Example – Let's say you're taking the Quantitative section, and you find the questions getting tougher as you go along. That's actually a good sign! It means you're answering correctly, and the test is adapting to challenge you, which can result in higher GRE scores.
Key takeaways
Knowing how the test is structured and how scores are calculated can help you tailor your study plan for maximum effectiveness.
Time is of the essence during the GRE. Practicing with a timer can help you get a feel for the pace you need to maintain during the actual test.
The quality of your prep materials can make a significant difference in your scores. Choose resources that offer comprehensive explanations and a range of question difficulties.
Analytical Writing Assessment and your physical and mental well-being are often overlooked but can impact your performance. Make sure to prepare for AWA and take care of yourself leading up to the test.
Well, there you have it – a comprehensive guide to elevating your GRE scores. From understanding the test format to mastering the art of time management and choosing the right study materials, these tips and insights should set you on the path to GRE success. Good luck!
Was this article helpful? Why not read about the GRE score validity and key details!
FAQs
How is the GRE scorecard generated?
Your GRE scorecard includes scores for Verbal Reasoning, Quantitative Reasoning, and Analytical Writing. It also provides percentiles that indicate what proportion of test takers you outperformed.
What is a good GRE score out of 340?
A good GRE score out of 340 is generally considered to be above 320 for most programs. However, what's "good" can vary widely depending on the specific program and its requirements.
How can I improve my GRE score?
To improve your GRE score, focus on understanding the test format, mastering time management, using high-quality study materials, and taking care of your physical and mental well-being. Regular practice tests and review sessions are also key.