The College Board administers the SAT exam which stands for Scholastic Assessment Test. Students who wish to get admission to undergraduate schools, especially in Canada and USA will need to appear for this test. It examines the mathematical, verbal, and written skills of students. However, the essence of SAT scores in the admission procedure differs from institute to institute. Read on to know more!
What is the SAT exam?
Several universities and colleges in countries such as Singapore, the US, Germany, Australia, Canada, and the UK use the SAT score as an eligibility criteria for undergraduate admission. The College Board has created this pencil-and-paper, multiple-choice test to estimate a high school candidate's readiness for university. It offers a common data point to colleges so that they can compare all applicants and make informed selections.
Why should one take this exam?
The SAT helps students in the following ways –
Improves knowledge of social science, history, and general awareness.
Enhances their basic knowledge of Maths.
SAT scores act as an eligibility threshold for endowment/scholarship.
It is easy to score on the SAT.
Helps students upgrade their English writing, reading, and speaking skills.
What is the pattern for the SAT exam?
Go through the chart below to understand the SAT exam pattern.
Section 
Duration 
Score Range 
Questions 
Language & Writing
35 minutes
Evidence-based writing & reading score 200-800
44 MCQs
Reading
65 minutes
52 MCQs
Maths with Calculator
55 minutes
Maths score 200-800
38 (8 grid-in problems and 30 MCQs)
No-Calculator Maths
25 minutes
20 (5 grid-in problems and 15 MCQs)
Essay (Optional)
50 minutes
Writing 2-8Analysis 2-8Reading 2-8
1 prompt
As illustrated above, SAT is a 3-hour exam with additional 50 minutes for the essay (optional) section. There are 154 (155 with essay) questions in total, with a score range between 400 and 1600.
Language & writing test 
It comprises 4 passages, with each passage having 11 MCQs.
The writing section incorporates charts and graphs. At least 2 passages contain a pictorial illustration of the content.
The questions test the style, rhetoric, usage, and grammar of the English language. You will also need to work on your vocabulary to score well in this section.
Reading test 
It has 5 passages, with each passage having several MCQs.
Some passages may carry a chart or a graph, based on the content of the passage.
Passages will cover the areas of science, social studies/history, and world literature.
Here are 60 new English words with meanings to help you with preparation.
Maths test 
The key areas of this section are data analysis, problem-solving, algebra, additional maths, and advanced maths.
Additional Maths covers complex numbers, trigonometry, and geometry.
Maths test – calculator 
Students can only use graphing calculators and scientific calculators.
All questions do not require a calculator.
Following is a sample question for this section:
Source: satsuite.collegeboard.org 
Maths test – no calculator 
This section comprises questions from the key areas other than data analysis and problem-solving.
A sample question from this section is as follows-
Source: satsuite.collegeboard.org
How to calculate SAT exam scores?
Test scores are figures from 10 to 40. Just like the SAT section scores, they are computed through the conversion of raw scores (i.e., number of correct answers) into scaled scores between 10 and 40.
Multiply the exam scores for Language & Writing and for Reading by 10 to arrive at the Evidence-based Writing and Reading score. After that, add them together. Now, multiply the Maths score by 20 and fetch the Maths test score.
Wondering how to score well in this exam? Click here to get effective tips!
Who accepts SAT scores?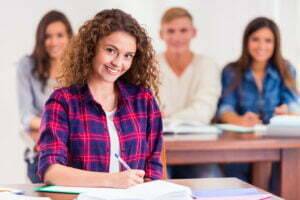 Above 4,000 participating colleges from 85+ countries accept SAT scores. The United States tops this list, while the UK comes second with 125 institutions. Some other countries that widely use this score are Mexico, Austria, Australia, Japan, Canada, and India. However, there are some schools that do not require SAT scores.
Here is a list of the best schools that offer a SAT waiver.
Note that most schools in the US use either ACT or SAT to choose students for their undergraduate courses. So, students must know which test they should take. Here is a guide to choosing the right exam for you!
How to register online for the SAT exam?
Follow the pointers below for online SAT registration.
Go to the official website of the College Board.
Create your account and submit the relevant details.
Select which test you wish to take, and opt for a nearby exam center.
Upload your photograph.
Finally, complete the procedure through payment of your application fee.
How to register offline for the SAT exam?
You can register for this test in the following way as well –
Get the registration guide for students from schools.
This guide comprises a return envelope and a registration form.
Send the filled-in registration form and the demand draft.
In India, the local representative for the Scholastic Assessment Test is the United States – India Educational Foundation (USIEF). Their regional office will collect your mailed form.
Slot booking and cancellation of SAT 
Every SAT center has limited seats for candidates. To avoid hassles, candidates should book their test slots in advance. They must choose the nearest SAT center for convenience.
Candidates who want to cancel their exam registration will get a refund of $10 if they cancel it five days in advance. No matter how soon they cancel their test, they will not receive a full refund.
Rescheduling or postponement of SAT exam date
Candidates have to pay an additional fee of $35 in order to cancel the exam after the change deadline. If they wish to cancel it before the change deadline, an additional fee of $25 will be applicable. Refer to the chart below for the rescheduling fees –
| | |
| --- | --- |
| Waitlist Fee | $53 |
| Register by Phone | $15 |
| Late Registration Fee | $30 |
| Test Center/Date Change Fee post regular change deadline | $35 |
| Test Center/Date Change Fee before regular change deadline | $25 |
SAT fees and admission ticket 
The following SAT fees will be applicable to the candidates in India-
The fee for SAT with essay = Non-United States Regional Fee + $68. Thus, the overall fee for SAT with essay = $49 + $68 = $117.
Similarly, the fee for SAT without essay = Non-United States Regional Fee + $55. So, the overall fee for SAT without essay = $49 + $55 = $104.
After the candidates have registered for the test, they need to sign in to their accounts on the official portal and download the admission ticket. They must check the details on their test admission tickets and rectify any error (if applicable) at the earliest.
SAT scholarships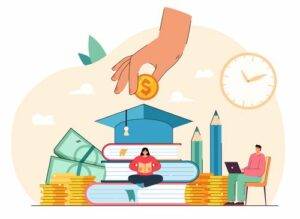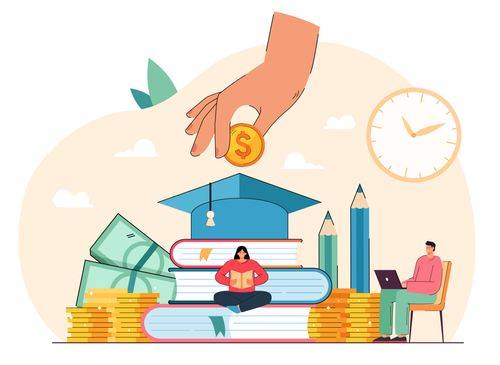 High living costs and payment of tuition fees in international currency are the major challenges of studying abroad. Due to these reasons, many students cannot afford to study abroad and settle for other alternatives. With the launch of education loans and scholarships, students can now fulfill their dreams.
The College Board in collaboration with certain Indian institutions has introduced SAT scholarship to support Indian students. One can check the available scholarships from the official portals of each college. Additionally, the deserving students are awarded other grants and fellowships on a regular basis.
Digital SAT 
At present, test-takers use pencils to solve multiple-choice questions in a bubble answer sheet. However, the College Board declared that SAT will go digital from 2023. The exam duration will be 2 hours, rather than the usual 3 hours.
Students can make use of a calculator for the mathematics section. International students can take the digital SAT from early 2023, while high school students from the US can take it from 2024. With digital SAT, they will get their scores fast.
Procedure to send SAT scores 
There are 2 ways to send SAT scores to institutes – After the release of the official scores and while registering for the SAT.
Candidates get four free score reports at the time of registration. They can forward their scores to institutes for up to 9 days after giving the SAT. Thereafter, they will be liable to pay $12 to send the scores to each program/university.
Check the steps below for sending SAT scores –
Log in to your account from the College Board website.
Choose the 'Send Scores' button.
Here, you will get two options. One will ask you to send scores immediately, while the other will allow you to send score reports when available. Select the appropriate option.
Include recipients by selecting your shortlisted colleges. Search them by state and name.
Thoroughly check your personal details and the recipients.
Finally, pay the amount and finish the process of sending scores to colleges.
Verification of SAT scores 
Candidates can reevaluate or verify their scores to check whether they have got scores in every section and if something is missing. If they feel that the scores that they have got are different from what they expected, they may have made an error in marking their answers. Further, there is a possibility that their essays are blank or illegible when one views them online.
There are three options against SAT score verification –
Essay score verification
Multiple-choice score verification
Or both, essay and multiple-choice score
Candidates can furnish a score verification form within the succeeding 5 months after the SAT exam date to revalue their scores. Before proceeding, they should read the instructions of the form carefully. They will need to pay score verification fees. The score verification fees will be lesser for candidates with fee waivers.
After they submit their forms and pay the fees, they get letters with the confirmed and new results in 5 weeks. Interestingly, they will get a refund of their verification fees if there are changes in their scores after verification.
Validity period for SAT scores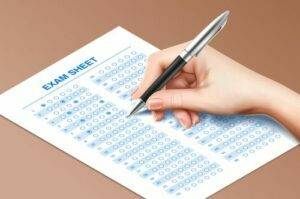 SAT scores will be valid for 5 years, provided there are no changes in the terms and conditions of SAT. Generally, candidates don't use these score reports till 5 years or so. They mostly give new exams and apply to the preferred colleges.
They can also ask for an extra copy of their SAT score reports in order to send them to more institutes. For this, they need to pay $9.
Procedure to access SAT scores 
Get your SAT scores in the following way –
Select 'My Organiser'.
Choose the 'SAT Scores' option from the left side menu.
Click on 'Access My Scores', and enter your username & password.
Scroll down and select the 'My Test Scores' option.
Now, the screen will display your test result. Note that the Ivy League universities prefer a score ranging from 1500 to 1550. Other highly competitive institutes desire a SAT score above 1400. For other private and public universities, a score of 1300 or above may work.
Key takeaways
More than 800 universities across the world accept the results of SATs.
SATs help students prepare and check their readiness for studying at a university.
It is a pen and paper exam with MCQs, and the test score ranges from 10 to 40.
You can register for this exam both online and offline.
There is an option for you to cancel, reschedule, or postpone your exam.
The College Board facilitates SAT scholarships for students.
Your SAT scores will be valid for 5 years.
Digital SAT will commence in early 2023.
We hope this blog was helpful and informative. For further details, keep in touch with us to know all about SAT exams. Our experts will guide you through all the details.
Liked this blog? Read next: 12 best universities for Indian students who plan to study abroad
FAQs
Q1. What is the age limit for the SAT exam?
Answer – There is no maximum or minimum age limit to take the SAT. As per general studies, candidates within the age bracket of 17-19 have appeared more for this test.
Q2. Can candidates appear for the SAT more than once?
Answer – There is no restriction on the number of times a candidate can appear for the SAT. In India, the College Board conducts SAT five times a year.
Q3. What will be the changes in the digital SAT?
Answer – In 2024, the digital SAT will include the following changes.
Calculators for the overall Maths test.
Passages from a wider range of college-based texts.
Shorter reading passages involving one question in each passage.