Introduction
The SAT, a pivotal exam for college admissions, is a significant milestone in a student's academic journey. Once the hard work of preparation and test-taking is behind you, the anticipation of the SAT score release begins. This blog is here to help clear your doubts regarding the SAT score release process, guiding you through the process of when and how to get your scores.
Understanding the SAT score release timeline
The timeline for the SAT score release varies based on the specific tests you undertook. If you have attempted the SAT after August 2023, you can expect an altered timeline from the original two to four weeks. The College Board has made efforts to streamline the score release process, aiming to provide scores within ten days of your test date.
How long does it generally take to get your SAT scores?
While the timelines above give a general idea, it's essential to understand the typical waiting period:
Multiple-choice scores: These are the first to be released and generally take about 13 days post your test date.
Essay scores: If you've opted for the SAT with essay, expect your essay scores about three to five days after your multiple-choice scores.
Subject test scores: If you've taken any SAT Subject Tests, these scores are usually available within three weeks of your test date.
It's crucial to note that while these are general timelines, there might be occasional delays due to various reasons, including administrative issues or a high volume of test-takers.
Your step-by-step guide to accessing SAT scores
It is easy to retrieve your SAT score; simply follow these simple steps to access and analyse your performance on the College Board website.
Log in to the college board portal: Your SAT scores are available on the official College Board website. Ensure you have your login credentials ready.
Navigate to the 'My SAT' section: Once logged in, head to the 'My SAT' section, which houses all your test details and scores.
View and download: Here, you'll find your SAT scores listed. You can view them and download a detailed score report for further analysis.
Remember, the online scores are accessible sooner. If you've requested a paper score report, reaching you might take a few weeks.
Deciphering your SAT score report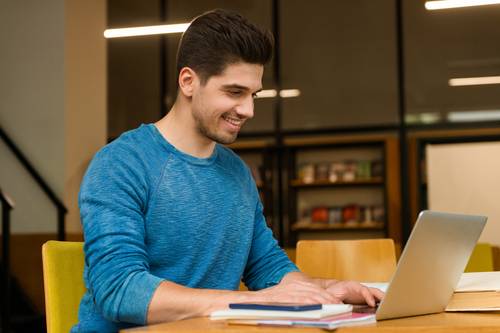 Your SAT score report is more than just a number. It provides a comprehensive view of your performance, highlighting strengths and areas for improvement. Here's what you'll find in your report:
Total score: Ranging from 400 to 1600, this score combines your Math and Evidence-based Reading and Writing scores.
Section scores: You'll receive scores for the two main sections: Evidence-based Reading and Writing (combining Reading and Writing and Language) and Math. Each section's score ranges from 200 to 800.
Test scores: These delve deeper into individual test performances, with scores ranging from 10 to 40 for Reading, Writing & Language, and Math.
Cross-test scores: These scores, ranging from 10 to 40, provide insights into questions across the test that are related to History/Social Studies and Science.
Subscores: Highlighting specific skills, these scores (ranging from 1 to 15) cover areas like Words in Context, Command of Evidence, and various Math domains.
Considering a retake? Here's what you should know
You might consider a retake if your SAT score didn't meet your expectations. Before making a decision:
Analyze your score report: Understand where you faltered. Was it time management? Specific content areas? Or perhaps test-day anxiety?
Set a realistic goal: Determine the score you aim to achieve in your retake. This will guide your preparation strategy.
Seek guidance: Consider joining an SAT prep course or hiring a tutor to address specific challenges.
Practice, practice, practice: Utilize official SAT practice tests to simulate test-day conditions and refine your strategy.
Remember, while improving your score with a retake is possible, ensure you make the decision for the right reasons and are prepared to invest the necessary time and effort.
Key Takeaways
The SAT score release timeline varies based on when and what sections you attempted in the exam.
Accessing your SAT score is a simple process. Log in to the College Board website, navigate to the 'My SAT' section, and view your detailed score report.
Your SAT score report provides a comprehensive breakdown, including total scores, section scores, test scores, cross-test scores, and subscores. This detailed view helps identify strengths and areas for improvement.
If contemplating a retake, then analyze your score report, set a realistic goal, seek guidance, and practice using official SAT materials.
Remember, the SAT is just one component of your college application. While essential, other factors like your GPA, extracurricular activities, essays, and letters of recommendation also play a crucial role.
Are you ready to take your SATs? Find out SAT-related dates and details on iSchoolPrep.
Liked this blog? Read next: What is SAT exam and how to crack it? | Subjects, tips, & more!
FAQs
How long after my SAT test date can I expect to receive my scores?
Ans. Those taking the SAT after August 2023 expect a 2-6 weeks release window.
Can I get my SAT scores faster if I pay an additional fee?
Ans. No, the College Board does not offer a service to expedite the release of SAT scores. All students receive their scores according to the standard release timeline.
What should I do if I'm not satisfied with my SAT score?
Ans. If you are not content with your SAT score, consider retaking the exam. Before doing so, analyze your score report to identify areas for improvement, set a realistic goal, seek guidance, and practice using official SAT materials.