SAT superscore | An overview
The SAT superscore is a fascinating technique that empowers students to emphasize their highest section scores from multiple test attempts, creating a composite score that reflects their best performance across different attempts. Understanding how to navigate the superscore system gives you a tangible advantage in the highly competitive realm of college applications. Armed with the knowledge of how to superscore SAT, you are better positioned to achieve a score that truly reflects your potential.
In this blog, we'll delve into the significance of SAT superscore along with tips to calculate them effectively and make the most of their potential.
Statistical analysis | Breaking down the SAT superscore
Understanding the superscore SAT strategy is key to optimizing your SAT performance. In this system, colleges consider your highest section scores across all your SAT tests to form your 'superscore.' This approach is widespread, with recent data showing that approximately 59% of colleges use superscoring, according to the College Board. A recent study by the National Association for College Admission Counseling (NACAC) provides insight into the power of the superscore strategy-
On average, students who take the SAT multiple times and use the superscore SAT strategy increase their composite score by 60 points.
Approximately 20% of students using this strategy raised their total score by more than 100 points.
The above stats indicate the importance of understanding how to superscore SAT to improve test performance.
Misconceptions and clarifications
Despite its potential benefits, the SAT superscore strategy is often misunderstood. Many students ask, "can you superscore SAT?" However, this question is misplaced. The decision to superscore doesn't lie with the student but with the colleges. Hence, understanding your prospective colleges' policies on superscoring is crucial.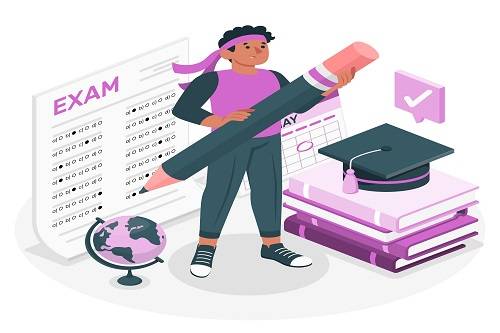 Tools for success | SAT superscore calculator
Navigating the SAT can be challenging, but tools like the SAT superscore calculator can significantly aid in your journey. This calculator takes into account your highest individual section scores across multiple SAT attempts, allowing you to estimate the composite score that colleges may consider for admissions. By utilizing the SAT superscore calculator, you gain the ability to prioritize your study efforts and focus on improving specific sections to boost your overall score.
Remember, while the SAT superscore calculator provides valuable estimations, it's essential to consult individual college admission requirements to understand their specific policies regarding superscoring. Some colleges eagerly embrace superscores, considering them as a comprehensive representation of an applicant's abilities, while others may take a different approach.
Maximizing your potential | How to leverage the SAT superscore
Now that we understand the basics of superscoring, let's delve deeper into the process of how to superscore SAT. The SAT comprises two primary sections: Math and Evidence-Based Reading and Writing. Each of these sections has a maximum score of 800, making the highest possible SAT score 1600. The SAT superscore is the sum of your highest Math score and your highest Evidence-Based Reading and Writing score from all the tests you've taken.
To demonstrate, let's consider a student named Alex, who took the SAT three times-
| | | |
| --- | --- | --- |
| Test attempt | Math score | Reading and writing score |
| First | 700 | 600 |
| Second | 650 | 750 |
| Third | 720 | 720 |
When superscoring, we take the highest score from each section, regardless of when it was achieved. In Alex's case, the highest Math score was 720 (third attempt), and the highest Reading and Writing score was 750 (second attempt). These scores are then added together to get the superscore-
| | | |
| --- | --- | --- |
| Highest math score | Highest reading and writing score | SAT superscore |
| 720 | 750 | 1470 |
From this example, we can see that Alex's superscore SAT (1470) is higher than the scores of any individual tests (700+600=1300, 650+750=1400, 720+720=1440).
Uncovering the potential of SAT superscore | Scholarship opportunities
A high SAT superscore might open the door to prestigious scholarships and financial aid packages. Here's how-
Many scholarship committees consider SAT scores, including superscores, as a numerical measure of a student's academic capabilities. In fact, in 2022, the National Merit Scholarship Corporation started considering the superscore SAT for determining National Merit Scholarship winners.
Moreover, merit-based scholarships offered by colleges and universities often take SAT superscores into account during the selection process. These institutions seek candidates who not only meet their academic criteria but also demonstrate the potential to contribute positively to their campus community.
Beyond scholarships, a strong superscore can also increase your potential for financial aid. Admissions offices and financial aid departments may consider your superscore when assessing your eligibility for institutional grants, tuition discounts, or other forms of financial assistance.
Navigating the shifting landscape | Test-optional trend and SAT superscore
The recent test-optional trend in college admissions could potentially impact the future of superscoring SAT-
Over 1,400 accredited, bachelor-degree granting institutions have adopted some form of test-optional policy, according to FairTest as of 2023.
Colleges requiring SAT scores might place more emphasis on the superscore, considering it as a more accurate reflection of a student's abilities.
Key takeaways
Superscoring SAT is a great way to highlight your strengths and increase your chances of admission to colleges.
Understanding the concept of the SAT superscore and its significance is crucial for strategic SAT test-taking.
High SAT superscores can potentially open doors to prestigious scholarships and financial aid packages.
The shifting landscape of college admissions, including the test-optional trend, may affect the importance of SAT superscores in the future.
While the superscore SAT strategy is widely used for the general SAT, its applicability to SAT Subject Tests is still evolving and may vary across colleges.
Understanding and leveraging the SAT superscore policy can play a significant role in enhancing your college admission prospects. With its potential to raise your SAT score, open doors to scholarships, and highlight your academic capabilities, the superscore is more than just a statistical method—it's a strategic tool. If you are planning to take study abroad entrance exams and require further assistance feel free to reach out to us! We'd be happy to help.
Liked this blog? Read more: Know everything about the SAT exam and how to crack it? | Subjects, tips, & more!
FAQs
Q1: Can I superscore between the SAT and ACT?
Answer: Superscoring typically applies only within the same test, either the SAT or ACT. It is uncommon for colleges to combine scores between the two tests.
Q2: Are there any colleges that explicitly do not superscore the SAT?
Answer: Yes, some colleges have a policy of not superscoring the SAT. It is crucial to review each college's admissions policies and requirements to determine if they superscore or consider scores from a single sitting only.
Q3: Is superscoring SAT results beneficial for all students?
Answer: This depends on the individual student's test performance and the colleges they're applying to. If there's a considerable improvement in specific section scores across different test attempts, then superscoring can be highly beneficial.