Every year, countless students gear up to face one of the most defining examinations of their academic lives: the SAT. This test doesn't just measure knowledge; it often determines future academic and professional opportunities. However, lurking behind the determination to succeed is a formidable adversary – test anxiety. With aspirations and dreams at stake, many students find the pressure overwhelming, affecting their performance. But what is the true extent of this effect? And how can it be mitigated? This article delves deep, providing a comprehensive guide on statistics, effects, and effective mitigation strategies essential for SAT success
Ripple effects of test anxiety on SAT performance
It's critical to understand how deep the ripples of test anxiety go. The implications are vast, influencing not just emotional well-being but also the raw numbers that students aim to achieve.
Recent research indicates that approximately 7 out of 10 students feel heightened anxiety during the SAT, with nearly 25% stating that their scores suffered as a direct result. A staggering revelation showcases students with severe test anxiety scoring, on average, 90 points lower than those who remain calm and collected.
The physical and mental manifestations of anxiety are clear indicators of its disruptive potential. Symptoms such as heart palpitations, foggy thinking, and reduced concentration often plague test-takers, robbing them of their ability to perform at their peak.
Furthermore, insights into SAT score progression reveal an intriguing pattern. Students who experience recurring test anxiety and take the SAT multiple times often showcase a consistent drop or stagnation in performance. The question then arises: How can mitigation strategies be implemented to manage, or better yet, eliminate this anxiety?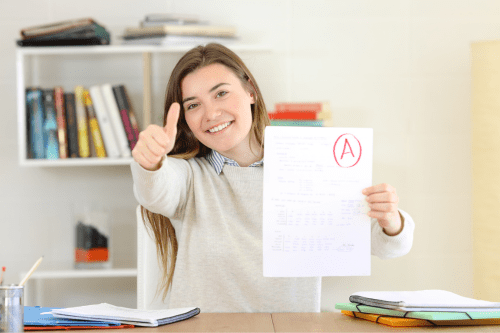 Strategizing against anxiety: Steps to optimal performance
Success in the SAT isn't merely about academic prowess; it's about strategically implementing proven mitigation strategies for both mental and logistical preparation.
Timing is crucial: The debate about when is the best time to take the SAT has been ongoing. Current consensus leans toward the end of junior year or early senior year, allowing room for potential re-tests. But irrespective of when students take the test, adequate preparation is non-negotiable. The query of how long to study for the SAT varies by individual, but a good benchmark is around 100-120 hours spread over several months.
Retakes: A blessing or a curse? The decision to retake the SAT often hangs heavily on students. So, how many times should a student take the SAT? Although there's no definitive answer, many find that 2-3 attempts strike the right balance between achieving optimal scores and avoiding excessive stress.
Achieving the perfect score: Ambitious students often aim for the stars, wondering how do you get a 1600 on the SAT in a day. While a single day's efforts might not magically yield a perfect score, a combination of targeted study, practice tests, and reviewing errors can lead to significant improvements. Furthermore, resources labeled as "SAT performance and mitigation strategies pdf" can be goldmines of condensed, actionable insights.
Holistic approaches to combat test anxiety
Every student's journey with the SAT is unique, but certain holistic approaches can universally benefit those battling test anxiety. It's about striking a balance between academic rigor and mental well-being. 
Mental health and mindfulness
The significance of mental health in academic contexts cannot be overstated. Meditation, deep-breathing exercises, and visualization aren't just buzzwords; they're scientifically-backed tools that have been shown to reduce cortisol levels, the body's primary stress hormone. Incorporating even 10 minutes of mindfulness exercises daily can serve as key mitigation strategies, equipping students with better emotional resilience for high-stress situations like the SAT.
Diet, sleep, and physical activity
Neurological research consistently finds connections between cognitive function and physical well-being. Students often neglect these aspects, especially close to exam days. A balanced diet ensures steady glucose levels and optimizes brain function. Regular sleep, particularly during the REM phase, aids memory consolidation, while physical activity boosts endorphin levels, acting as natural anxiety relief. These lifestyle choices act as natural mitigation strategies, specifically tailored for managing anxiety and boosting cognitive performance
Mock testing in real conditions
Familiarity serves as one of the most powerful mitigation strategies against test anxiety. By taking full-length, timed practice tests in conditions that mimic the actual exam setting, students can acclimate to the SAT's pressure. This process not only aids in time management but also in reducing the anxiety of the unknown.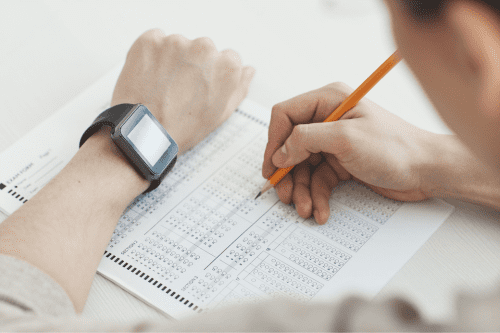 Tailored strategies for SAT excellence
Every student has distinct strengths and weaknesses, and recognizing them is pivotal for applying effective mitigation strategies. Smart, adaptive learning platforms are excellent mitigation strategies for SAT preparation, ensuring students spend their study time efficiently.
Targeted study plans
Students frequently ask, "how to do well on the SAT". The answer often lies in specificity. Instead of broad, undefined study sessions, targeted study plans, focusing on individual sections like math, critical reading, or writing, can yield better results. Harnessing resources, especially ones like "SAT performance and mitigation strategies pdf", can provide specific strategies tailored to different sections of the test.
Tutoring and peer study groups
External perspectives can be illuminating. While self-study is crucial, tutors, with their expertise, can help students pinpoint their weak areas, offering specific strategies to overcome them. Similarly, peer study groups can foster collaborative learning, where students can teach and learn from one another, reinforcing concepts.
Post-test analysis
Instead of moving on immediately after a practice test, successful students often spend considerable time analyzing errors. This introspection, understanding the 'why' behind every mistake, aids in recognizing patterns and fortifying concepts.
Leveraging technology for SAT preparation & mitigation strategies
Technology offers an unparalleled edge for SAT preparation. It's more than just online courses; it's about smart, adaptive learning platforms.
Adaptive learning platforms
Experts like iSchoolconnect harness algorithms to offer tailored study paths for students. They identify areas of weakness and constantly adapt to provide the necessary resources and practice problems, ensuring students spend their time most efficiently.
Key takeaways
A significant percentage of students face test anxiety, which can negatively impact SAT scores.
Holistic methods like mindfulness practices, a balanced lifestyle, and familiarize oneself with the test environment can help combat this.
Every student has unique strengths and challenges. Leveraging tailored study plans, engaging with tutors, and using technology can significantly boost SAT scores.
The journey to SAT success is ongoing. Continual analysis, adapting to new strategies, and being open to novel learning mediums can make all the difference.
Understanding the depth and breadth of test anxiety's effects on SAT performance is not merely an academic exercise but a pragmatic endeavor. From individualized tutoring, technology-aided adaptive learning to mindfulness practices, a host of mitigation strategies present a pathway to success.
Liked this article? Learn more about SAT language and writing | Proven tips to ease your preparation! Reach out to us if you have any questions or doubts regarding the SAT test.
FAQs
1. Is it advisable to take the SAT multiple times?
Answer- While there's no one-size-fits-all answer, many students find that 2-3 attempts strike the right balance between achieving their desired scores and managing preparation stress.
2. What is the recommended study duration for the SAT?
Answer- A common benchmark is around 100-120 hours spread over several months. However, this can vary based on individual strengths and weaknesses.
3. How effective are digital platforms like iSchoolConnect for SAT preparation?
Answer- Digital platforms offer adaptive learning experiences, providing resources tailored to individual student needs. They can be a valuable addition to traditional study methods.
4. Can mindfulness and meditation genuinely impact SAT scores?
Answer- While they might not directly boost knowledge, mindfulness practices have been shown to reduce anxiety and enhance focus, potentially leading to better test performance.