The International English Language Testing System (IELTS) is the most widely used English language competence test for global migration and higher education. It serves as a doorway to English-speaking nations for millions of applicants seeking international immigration for a job or higher study. Due to its popularity, thousands of individuals join IELTS coaching classes each year. This post talks about the benefits of IELTS online coaching classes and suggests three of the best ones you can join if you are giving your IELTS this year.
What are the different types of IELTS tests?
There are two types of IELTS tests:
IELTS Academic
IELTS Academic is an English proficiency test for all students seeking admission to prominent institutions or colleges in native English-speaking nations.
IELTS General Training
IELTS General Training is a language proficiency test for workers and employees wishing to migrate to English-speaking countries or find work there.
Regardless of whether you are opting for the IELTS Academic or General Training exam, IELTS online coaching is sure to benefit you in numerous ways.
Why should you take IELTS online coaching classes?
Given below are the many benefits of IELTS online coaching:
Ease of access
One significant advantage of IELTS online courses is that you can participate in the course without leaving your house. All you need is a smartphone or laptop with an internet connection.
There is no set time for each class
Attending any class after their 9 to 5 employment schedule becomes quite exhausting for candidates. However, when enrolling in IELTS online coaching, candidates need not adhere to a strict timetable. IELTS online coaching gives individuals the flexibility to design their IELTS classes to suit their needs. Therefore, when individuals have free time, they can make good use of it by participating in online IELTS practice sessions.
One on one doubt clearing sessions
Another benefit of IELTS online coaching classes is that you will receive regular advice from the greatest educators. Furthermore, many students are uncomfortable with group sessions. Online coaching institutes offer one-on-one connections with lecturers, making doubt-clearing sessions more engaging and fruitful.
Mock exams
Mock tests are a great way for students to brush up on their skills and revise for any competitive examination. They can assist students in understanding the content and question format. Online courses for IELTS provide mock examinations where you may get a thorough evaluation of your merit and performance for the exam, all from the comfort of your own home. Additionally, these exams reflect the pattern of the online IELTS exam, thus helping candidates become familiar with he testing pattern much before the actual exam.
Progress reports
IELTS online training programs include assignments and progress reports to help hopefuls understand how much time they need to study for the exam. These reports are computed after each assignment and are visible in a graphical format on the individual's dashboard.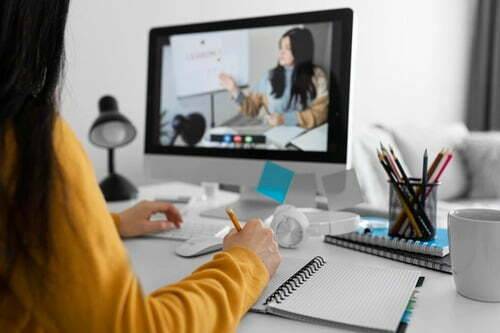 Three best IELTS online coaching classes
iSchoolPrep
iSchoolPrep is an online test-prep program for students interested in studying abroad. It provides a 30-day IELTS Bootcamp that includes live sessions, tests, strategic coaching, and other features.
There are three packages offered by the platform: base, essential, and premium. Aspirants can pick the one that best fits their preparation needs. These packages contain, in addition to weekly live sessions, practice modules for the four sections (listening, reading, writing, and verbal) of IELTS, practice exams, hints for tackling various types of questions, study material, and individual coaching sessions.
IELTS Magoosh
The Magoosh IELTS program guarantees that you will increase your IELTS score by preparing with the most dependable materials. It offers the most up-to-date information based on extensive study of student replies, which will help you learn quickly and increase your chances of passing the exam with a higher score.
IELTS Kaplan
Kaplan IELTS is an online learning platform that provides video lessons for the IELTS exam. It includes four full-length practice tests as well as personalized score summaries to help you track your progress. This course covers all areas of the exam.
It provides a live broadcast of your IELTS class being taught by renowned teachers. It is one of the greatest IELTS online courses available for six months. It offers interactive content to help you learn all of the IELTS themes.
Key takeaways
IELTS is accepted worldwide as an English language proficiency test for individuals looking to migrate, work or study in English-speaking countries.
The IELTS coaching classes offer many benefits, with the most important one accessing at any time and anywhere. Therefore, it is perfect for individuals looking for coaching classes after their 9 to 5 jobs.
There are many IELTS online coaching classes available that offer classes for anywhere from 30 days to 6 months.
In summary, IELTS online coaching classes are an excellent alternative to offline coaching, especially for working professionals. These classes can be of varying length, but the iSchoolPrep's 30-day boot camp is recommended for those who want to improve their score in the shortest amount of time. You can visit the iSchoolConnect website to learn more.
Which is the finest online IELTS coaching?
FAQs
Question 1: Is one month enough for IELTS preparation?
Answer 2: There is no definitive regulation stating how much time you should devote to IELTS preparation. Some exam takers believe that 15 days of preparation is sufficient, while others may require more time. In general, IELTS preparation takes at least four months. In fact, it could even be six months for certain exam takers.
Question 2: Can I pass the IELTS on my first try?
Answer 2: IELTS is an important exam for people who want to study, work, or settle in English-speaking nations. It is a high-level standardized English proficiency examination that, with devotion, strategies, and hard effort, may be passed on the first try with the right preparation and guidance from online coaching classes like iSchoolPrep.
Question 3: Is the IELTS examination challenging?
Answer 3: It is not a difficult exam, but no one can be excellent in every field. Many people can write in English but cannot speak it fluently, and vice versa. You must work on the areas of yourself that are a source of weakness.