Knowing TOEFL exam
The TOEFL (Test of English as a Foreign Language) is a challenging, high-stakes test. As per the ETS TOEFL Guide, it spans about 3 hours, testing your abilities in English proficiency by gauging your competence in reading, listening, speaking, and writing sections. This makes it a formidable hurdle for many students aspiring to study abroad.
One of the most significant factors determining your success in TOEFL is time management. It isn't just about answering questions correctly; it's about doing so within the allocated time. So, let's learn about how you can manage to complete each section within the time limit and score well.
Breaking down the TOEFL | Managing each section
In a survey conducted by ETS in 2022, it was found that around 60% of test-takers worldwide could have scored higher if they had managed their time more effectively. This statistic highlights the importance of time management in achieving your desired TOEFL score.
Understanding the structure of the TOEFL exam is crucial for effective time management. Here's a quick breakdown-
1. Reading: You'll have 60-80 minutes to answer 30-40 questions. This section requires swift reading and comprehension skills.
2. Listening: This section lasts 60-90 minutes, with 28–39 questions. It requires concentrated listening and fast note-taking.
3. Speaking: You're given 20 minutes to complete 4 tasks. Quick thinking and concise responses are key here.
4. Writing: Here, you have 50 minutes for 2 tasks. Planning, drafting, reviewing, and editing within this timeframe is essential.
Each section of the TOEFL presents unique time management challenges. Understanding these can make a significant difference in your test performance.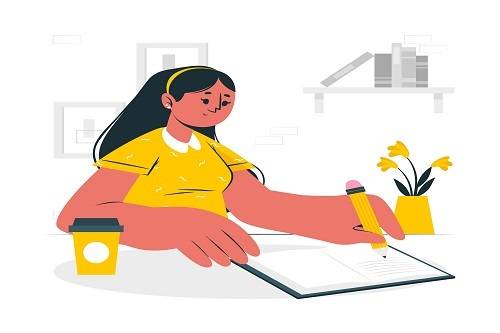 Time management strategies | Tips from TOEFL toppers
TOEFL toppers often attribute their success to effective time management. Here are a few strategies that they recommend:
1. Strategic Reading: Toppers recommend spending the initial 1-2 minutes to quickly skim through the passage to understand the main idea and structure. Then, read the questions before diving deeper into the passage. This method helps you know what to look for, saving valuable time. You have 60 minutes for 30-40 questions, equating to approximately 1.5 minutes per question. However, this doesn't account for the time you need to read the passages. A good approach is to spend about half your time (30 minutes) reading and comprehending the passages, leaving the remaining half to answer the questions.
2. Active Listening: You can't control the pace as the audio clips play automatically. However, taking quick, effective notes can help answer questions more efficiently later. Successful test-takers often practice active listening by summarizing each section of the audio clip in their own words. This aids in better retention and quicker response during the test.
3. Structured Speaking: You have to formulate and deliver responses within tight time frames (typically 45-60 seconds). It's crucial to plan your response in the first few seconds, then speak clearly and concisely. Structuring your responses in the Speaking section can prevent rambling and save time. A typical structure might include: Stating your opinion, providing a reason, giving a specific example, and then concluding.
4. Preplanned Writing: For the Writing section, many toppers recommend having a preplanned structure. Allot specific time slots for planning (10 minutes), writing (30 minutes), and reviewing/editing (10 minutes). This ensures you complete both tasks without rushing. Start with an introduction that paraphrases the question, follow with 2-3 body paragraphs where each paragraph discusses a unique point, and finish with a conclusion that summarizes your arguments.
These strategies can significantly improve your time management during the TOEFL test.
Here's a table showcasing the average time students spend on each section versus the recommended time:
| | | |
| --- | --- | --- |
| Section | Average Time Spent (Minutes) | Recommended Time (Minutes) |
| Reading | 60 | 54–72 |
| Listening | 40 | 41–57 |
| Speaking | 20 | 17 |
| Writing | 60 | 50 |
Remember, the key to avoiding these pitfalls is to practice time management strategies during your preparation.
Beyond TOEFL | The lasting benefits of time management skills
Mastering time management for the TOEFL exam doesn't just benefit you during the test; it's also an invaluable skill that will serve you well in your future academic and professional life.
1. Academic Life: Once you start your studies abroad, you'll find that time management is crucial for balancing coursework, part-time jobs, and social activities. For instance, a 2019 study in the International Journal of Educational Management found that students who were proficient at time management were more likely to have a higher GPA.
2. Professional Life: Effective time management can increase your productivity and reduce stress in your professional life. A 2020 survey by Atlassian reported that workers with good time management skills were more likely to deliver projects on time and less likely to experience work-related stress.
3. Personal Life: Good time management can lead to a better work-life balance, more personal time, and less stress. According to a Harvard Business Review report in 2021, people who effectively manage their time report higher levels of satisfaction in their personal lives.
Key takeaways
Time management is crucial for success in the TOEFL exam, impacting not only the number of questions you answer but also the quality of your responses.
Understanding the structure of the TOEFL test and the time allocated for each section is essential for effective time management.
Developing time management skills such as active reading and listening, strategic answering, and swift typing can significantly improve your test performance.
Practicing with timed mock tests and TOEFL simulations can help you get accustomed to the exam pressure and refine your time management strategies.
Time management skills gained through TOEFL preparation can benefit you in your future academic, professional, and personal life.
Looking for further assistance with the TOEFL exam and the exam pattern? Get in touch with us, and we will guide you on the right way towards your dream journey.
Like this blog? Also read: 5 useful tips on how to prepare for TOEFL with detailed study plans
FAQs
Q1: What are the most effective time management strategies for the TOEFL Reading section?
Answer: Skim through the passage initially to grasp the main idea and structure, read the questions, then dive deeper into the passage. Practice skills like skimming and scanning to improve your speed.
Q2: How can I improve my time management for the Speaking section of the TOEFL?
Answer: Structure your responses to include your opinion, a reason, a specific example, and a conclusion. Practice speaking within the time limit to ensure you can deliver a complete response in the given time.
Q3: How can the time management skills learned for TOEFL benefit me in the future?
Answer: Time management skills are essential in academic and professional life, helping you balance tasks, increase productivity, and reduce stress. These skills can also lead to a better work-life balance and more personal satisfaction.