The IELTS academic reading test is a formidable component of the International English Language Testing System, designed to assess your ability to understand complex texts and grasp nuanced arguments. In this article, we will explore targeted strategies to tackle the IELTS academic reading section effectively.
Whether you're aiming to pursue higher education or seeking professional registration, excelling in this section is crucial. We'll guide you through the best practices for improving reading speed, comprehension, and answer precision, ensuring that you walk into your IELTS exam with confidence.
Understanding the IELTS academic reading format
Before diving into strategies, it's vital to understand what the IELTS academic reading test entails. The test consists of three long passages, ranging from descriptive and factual to discursive and analytical, typically taken from books, journals, magazines, and newspapers. These texts are selected for a non-specialist audience but are appropriate for people entering university courses or seeking professional registration.
Key features of IELTS academic reading test
60 minutes to complete the test
40 questions designed to test reading skills
Question types include multiple-choice, identifying information, identifying the writer's views, matching information, and more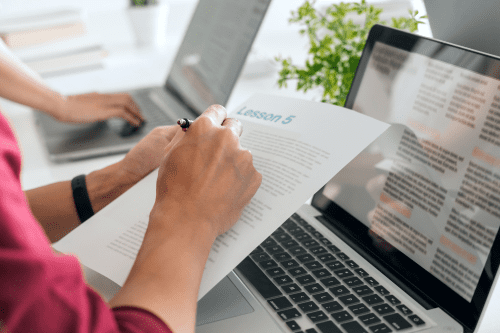 Strategies for IELTS academic reading success
Achieving success in the IELTS academic reading section requires more than just a good grasp of English. It demands a strategic approach tailored to the unique challenges of the test. To excel, you must refine your techniques for extracting information quickly and accurately from the texts provided.
Mastering skimming and scanning
Skimming and scanning are two of the most effective techniques for managing the dense and often complex material presented in the IELTS academic reading section. Skimming is your first sweep of the text, where you're not hunting for details but rather trying to capture the essence or the main idea of the passage. It's a quick read-through, almost like looking at the landscape from a high vantage point to get a sense of the terrain.
Once you've skimmed and understood the overarching theme, you move on to scanning. This involves targeted search for specific information, keywords, and data that will help you answer the questions. It's akin to zooming in on the map to find the road you need to take.
Effective time management
Time management is another critical skill that can make or break your performance. The IELTS academic reading section is not generous with time, so it's important to pace yourself. A good rule of thumb is to allocate no more than 20 minutes to each passage, ensuring you have sufficient time to address all the questions without rushing.
Another time-saving strategy is to read the questions before diving into the passage. This preemptive step helps you identify what to look for in the text, allowing you to scan for answers more efficiently.
Refined answering techniques
When it comes to answering questions, especially multiple-choice, it's beneficial to employ the process of elimination. By discarding the clearly incorrect answers first, you can narrow down your options and increase your chances of selecting the right one. For 'True, False, Not Given' questions, attention to detail is paramount. These questions are designed to assess your understanding of the text's assertions.
It's important to distinguish between what is explicitly stated, what is contradicted, and what information may be missing altogether. This careful consideration of wording can often be the deciding factor between a correct and an incorrect answer.
Building vocabulary and comprehension
A robust vocabulary is a key to unlocking the meaning of complex texts. Here are strategies to enhance your lexical resource –
Contextual learning
Read widely: Regularly read academic texts, journals, and articles to familiarize yourself with formal language and subject-specific terminologies.
Learn in chunks: Study phrases rather than individual words to understand how words function together in context.
Comprehension reinforcement
Summarize paragraphs: After reading a paragraph, pause to summarize it in your own words. This reinforces comprehension and retention.
Practice paraphrasing: Rewriting sentences using different words can improve your ability to recognize paraphrased answers in the test.
Psychological preparedness and test-day tips
The mental aspect of test-taking is just as critical as the academic preparation, yet it often doesn't receive the attention it deserves. A calm, focused mind can make a significant difference in your performance. To achieve this state, mindfulness and relaxation should be integral parts of your preparation.
Cultivating mindfulness and relaxation
In the days leading up to the test, incorporate deep breathing exercises into your daily routine. These exercises are not just about taking long breaths; they're about centering your thoughts and clearing your mind of anxiety. By practicing regularly, you can train your body to relax on command, allowing you to calm your nerves both before and during the test.
Alongside breathing, engage in positive visualization. Imagine yourself working through the IELTS academic reading section with ease, answering questions confidently, and ultimately, succeeding. This mental rehearsal can boost your confidence and reduce test-day jitters.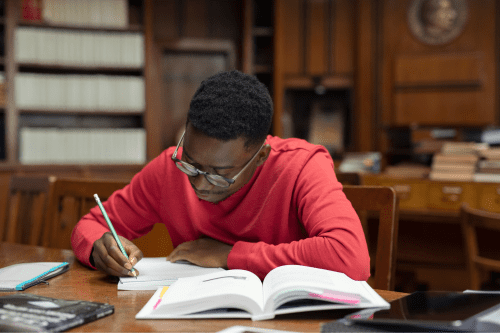 Strategizing for test day
On the day of the test, plan to arrive at the test center with ample time to spare. Rushing can heighten anxiety, so it's important to give yourself a buffer to settle in and compose your thoughts. Stick to the reading strategies that you have practiced. Test day is not the time for experimentation.
Whether it's skimming for the main idea or scanning for specific details, rely on the techniques that have become second nature during your preparation. This familiarity will provide a sense of control and can help keep panic at bay.
Additional considerations for a smooth test day
It's also beneficial to familiarize yourself with the test center's layout and rules. Knowing where the restrooms are, where you can take a break, and what items are permitted in the test center can help minimize stress. Additionally, ensure you have a good night's sleep before the test. A well-rested mind is more alert and efficient, especially when faced with dense academic texts.
The IELTS academic reading section is a test of both your language skills and your ability to navigate complex texts under time pressure. By understanding the format, mastering question-specific strategies, building a strong vocabulary, and maintaining psychological readiness, you can approach the IELTS academic reading test with confidence. Remember, consistent practice and a strategic approach are your best tools for success.
If you are ready to transform your IELTS academic reading preparation, then connect with us. Let us guide you through the maze of study abroad applications and lead you to the university of your dreams. Start your journey with a free consultation today and take the first step towards IELTS success with us.
Key takeaways
Familiarize yourself with the IELTS academic reading format and question types.
Develop a time-efficient strategy for skimming, scanning, and answering questions.
Enhance your vocabulary through contextual learning and practice paraphrasing for better comprehension.
Maintain psychological readiness with relaxation techniques and positive visualization.
Liked this article? Read next: Check IELTS result | Top must-know tips and tricks!
FAQs
Q1. How can I improve my skimming and scanning techniques for IELTS academic reading?
Ans: Practice with a variety of texts and set time limits to force quicker comprehension. Focus on identifying main ideas for skimming and locating specific information for scanning.
Q2. What is the best way to build vocabulary for the IELTS academic reading section?
Ans: Read widely in English, especially academic texts, and learn new vocabulary in context. Use flashcards, apps, or word lists to review and reinforce new words.
Q3. How do I manage time effectively in the IELTS academic reading section?
Ans: Divide the total time by the number of passages to allocate a specific amount of time per passage and stick to it. Practice this timing during your preparation to become accustomed to the pace.