TOEFL full form, Test of English as a Foreign Language, is a common English proficiency exam that is used to assess an individual's ability to use and understand the English language. The scores you earn in your TOEFL examination are accepted globally by over 11,000 colleges & universities in more than 150 countries. Hence it is imperative to remain acquainted with every aspect of the TOEFL exam to get admission to your desired university or college.
TOEFL examination | A brief overview
| | |
| --- | --- |
| Exam | TOEFL |
| TOEFL Full-Form | Test of English as a Foreign Language |
| Purpose | English language proficiency test |
| Exam Conducting Body | Educational Testing Service (ETS) |
| Generally accepted by | Universities in the USA and Canada |
| Level of Exam | International |
| Mode of Exam | Internet-based and Paper-based |
| Sections | Reading, Listening, Writing and Speaking |
| Duration | Around 3 hours 30 minutes |
| TOEFL Fee | TOEFL iBT fee: $185 (INR 13,652)TOEFL PBT fee: $180 (INR 13,283) |
| Score Range | Reading: 0–30Listening: 0–30Speaking: 0–30Writing: 0–30 |
| TOEFL Test Centers | 4500 across the world |
| Official Website | https://www.ets.org/toefl |
| TOEFL Helpline | 1-609-771-71001-877-863-3546 |
| Fax | 1-610-290-8972 |
Who can enroll for the TOEFL examination?
The TOEFL exam is for learners who want admission to a college or graduate academy in an English-speaking country. Here are some people who can register for the TOEFL examination:
Learners registering at high school in an English-speaking nation
Individuals who want to get certified or trained in a certain discipline
Students registered in two-year community university programs in English-speaking nations
People who want to prove their knowledge of the English language for immigration purposes
Understanding the TOEFL exam syllabus
The TOEFL exam syllabus comprises four primary sections:
Reading
Listening
Speaking
Writing
Reading section
The TOEFL reading section contains 3 to 4 multiple-focus reading passages. Each reading passage includes ten questions, and the time allocated to this exam section can vary between 50-70 minutes, depending on the number of specific reading passages provided in the test. The candidate can score between 0 and 30.
Listening section
The TOEFL listening section comprises 3 to 4audio snippets. Each snippet is roughly 3-5 minutes long, and students must solve six questions related to the audio played at the end. These snippets are based on classroom discussions or everyday, daily-life discussions. The voice actors in the listening section are generally native orators from North America. Besides North American accents, you can also hear accents from other English-speaking nations like
New Zealand
Australia,
The United Kingdom
The total time allocated to this part is approximately 41-57 minutes, and the candidate can obtain a score in the range of 0 and 30.
Speaking section
The TOEFL speaking portion assesses your ability to communicate effectively in academic contexts in English. The four questions/tasks are modeled after real-life scenarios you might encounter inside and outside the classroom. The questions are of two types. Question 1 is an independent speaking task that requires you to draw entirely on your own ideas to answer the question. Questions 2 to 4 are integrated and require you to combine speaking and listening or listening, speaking, and reading. The total time allocated for this portion is 17 minutes, and students will get a score from 0 to 30 points.
Writing section
In the TOEFL writing section, you will get two tasks that comprise the following:
Section 1: You must complete a combined task in 20 minutes. This task requires you to listen to short audio and read a short passage before writing about what you read and heard. based on what you read and heard.
Section 2: This section includes an independent task that requires you to write about your own experiences and opinions. You will get 30 minutes to complete the task.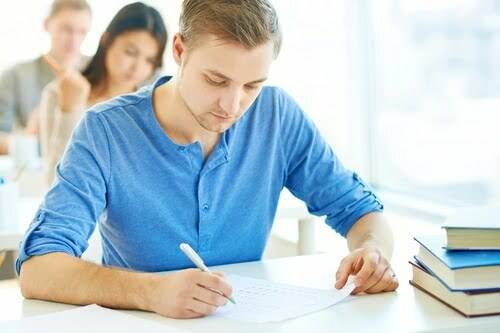 What is a good TOEFL score?
TOEFL test result is one of the factors that would assist you in deciding your admission into a college or university abroad. Nevertheless, there is no bar for a satisfactory or poor TOEFL score. In addition, world-renowned colleges define their acceptable TOEFL scores and percentile as part of their admission standards. Thus, your target TOEFL result and examination scores should depend upon the university and domain you want to get admission into after completing the TOEFL exam.
Key takeaways
It is believed that a good TOEFL total score generally ranges between 100-110, and the 90th percentile is considered excellent to successfully apply to leading colleges abroad.
Practicing comprehensively and studying regularly for your TOEFL test will assist you in bettering your TOEFL result.
To prepare thoroughly for your TOEFL test, you must get a detailed study schedule and stick to it to secure admission to the university of your dreams.
Visit our website to learn more about the TOEFL test with useful tips and tricks to boost your preparation!
FAQs
Question 1: What is the TOEFL full form?
Answer 1: The TOEFL full form is the Test of English as a Foreign Language.
Question 2: If ETS (Educational Testing Services) changes the TOEFL test date, would students be asked to pay a rescheduling fee?
Answer 2: No, students would not be required to pay a rescheduling charge if ETS changes the exam date.
Question 3: How is the TOEFL exam scored?
Answer 3: As each skill is equally weighted, a TOEFL score is computed by summing each of the four section scores. Each section is worth 30 points: reading, listening, speaking, and writing.