The GRE General Test is a standardized test designed and administered by the Educational Testing Service, also known as ETS, to assess overall academic readiness for graduate school. One of the most difficult decisions students must make while studying for the GRE is determining how to begin their preparation. We suggest choosing a GRE coaching class to help prep for the exam. However, the question that now arises is, "what is the best GRE coaching near me?"
How to choose the best GRE coaching cases
To identify which is the best GRE coaching near you, you need to first determine the criteria you will use to evaluate the GRE classes. Here, we have a list of criteria you can use:
Plans and pricing
Students typically invest money in GRE prep courses in addition to their time and energy. Compare providers based on pricing and plan options to ensure that more expensive options are worthwhile and that low-cost options are comprehensive enough to adequately prepare test-takers.
Classes must be adaptable and have flexible scheduling
Whether you are a college student or a working professional, you will most likely require a GRE prep course that fits into your busy schedule. That is why you must prioritize flexible and accessible GRE prep courses. Also, look for providers who offer mobile-friendly or app-based course materials to make it easier to study on the go.
Materials for the course
Drilling questions, watching video lessons, and taking practice exams are all ways to prepare for the GRE. Examine the content provided to students by their various prep programs, giving preference to those that provide robust, comprehensive materials that cater to a variety of learning styles. In addition, consider how long students have access to these materials in order to ensure that they have enough time to work through them at a reasonable pace.
Individualized instruction
To be effective, a GRE prep program must meet students where they are and help them build on the skills and knowledge they already have. Additionally, search for providers who offer virtual classes in small group settings if you want who want the added personalization of a live instructor.
Expert teachers and tutors
You probably want a knowledgeable, engaging, and supportive instructor, whether you're taking a live online class or watching pre-recorded lessons. Check if the top instructors and tutors in the institute are experienced educators with a proven track record of GRE prep success. You can also look at sample video lessons and trial classes and assess teaching style and how instructors interact with the material and students.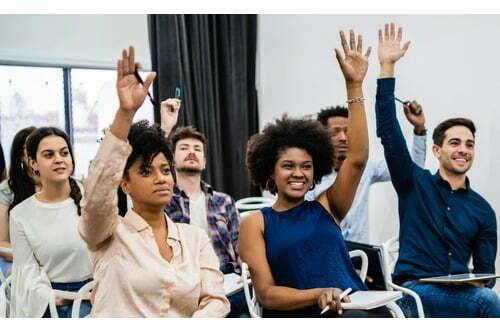 The best coaching classes for GRE
iSchoolPrep
IELTS, TOEFL, GRE, GMAT, and SAT preparation is made easier for international students with the aid of school prep, a top test preparation resource. To meet the specific needs of each student, iSchoolPrep has created our study materials using a self-learning paradigm. This enables every pupil to learn at their own pace. In addition, along with weekly live sessions, iSchoolPrep offers extensive study materials and professional instruction for the students. Furthermore, students who receive one-on-one coaching will get individualized attention and progress at their own rate.
The Princeton Review
The Princeton Review's GRE prep course offers more than 175 hours of online GRE prep resources, including lessons, feedback, and test-taking strategies. Overall, the Princeton Review GRE prep course provides a wealth of quality GRE prep content as well as innovative tools such as DrillSmart – a practice technique that selects practice questions based on the student's progress.
For students looking for GRE preparation, Princeton Review offers five different options. Having five different options is convenient, but it can be overwhelming. The following are the five options:
Self-Paced Course: A prep course that allows students to study at their own pace.
GRE 10+ Points: A mostly self-paced course with some live instruction and a guaranteed 10-point score improvement.
GRE Fundamentals: The next step up from the previous courses. Additional live instruction hours with an expert are included.
GRE 162+: Most live instruction and practice questions are included. You are guaranteed a score of 162 or higher.
GRE 165+ Tutoring: Access to a private instructor and a guaranteed 165+ score
Magoosh
This online test prep company offers video lessons, live online GRE classes, and full-length GRE simulation tests. Users can view video tutorials for difficult questions, read detailed text explanations, and track their progress.
Users of Magoosh report median scores that are six points higher than the national averages in both verbal and math. There is a seven-day trial period with a money-back guarantee. Another feature is the ability to create personalized practice sessions, take notes, and provide feedback. You can select from 11 different study schedules to accommodate different test-taking timelines and learning preferences.
Key takeaways
GRE coaching can be an excellent way to prep for the exam and ensure a high score.
Identifying the criteria for choosing a GRE coaching class near you is crucial. Your criteria can include pricing, flexibility, materials given to students, and the expertise of teachers.
iSchoolPrep is one of the best GRE coaching classes available.
Visit iSchoolConnect for more tips on how to ace the GRE exam.
FAQs
Question 1: What is the purpose of the GRE?
Answer 1: The Graduate Record Examination, or GRE, is an important step in the application process for graduate school or business school.
Question 2: What constitutes a good GRE score?
Answer 2: It's 75th percentile or higher for most programs: 157+ in Verbal Reasoning and 162+ in Quantitative Reasoning. A 90th percentile or higher is required for top programs: 162+ in Verbal and 168+ in Quant.
Question 3: Who is eligible to take the GRE?
Answer 3: Anyone, regardless of age or qualifications, can register for the GRE exam. Candidates applying for master's programs, on the other hand, must take the GRE.