English vocabulary words with meaning | Where can you use these terminologies?
Exams to prove English language competency are typically taken by students who want to study abroad to show that they are qualified to enroll in courses and apply to institutions abroad. Unquestionably, vocabulary is one of the crucial skills required in these exams. Therefore, students must learn some English vocabulary words with meaning to get a good final score.
Mainly English proficiency tests consist of four sections, i.e., speaking, writing, reading, and listening. The only thing that all of these sections have in common is "vocabulary." for the Speaking & Writing sections. It may result in a 25% increase in your final score. A strong vocabulary is advantageous for both the reading and the listening parts.
Importance of learning vocabulary words
1. Improves reading and speaking skills
It improves reading comprehension and speaking skills, which is essential for passing the English proficiency test.
2. Transmission of concepts
A good vocabulary is essential to communicate clearly. You can convey your message more clearly by using the right words when speaking.

3. Express yourself while writing
Having an extensive vocabulary will help you write in a more enhanced and clear manner. While writing in a formal tone, students require a wider range of English vocabulary words with meaning that enables them to utilize words that aren't normally used in the conversation.
4. For a successful career
According to studies, a person's vocabulary level is "the best predictor of vocational success". Succeeding in your career depends on your capacity for good communication and comprehension.
35 frequently used English words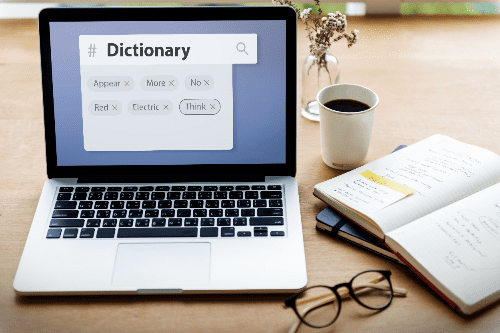 English is required on almost all competitive tests administered across the country. The English vocabulary for competitive tests is a crucial part of the overall layout of the English paper. To help you improve your test preparation, we have compiled a list of the 35 most important English vocabulary words with meanings for competitive tests. You will also be better able to understand the words' synonyms, antonyms, and other applications by thoroughly understanding the words.
| Word | Meaning |
| --- | --- |
| Adjure | Formal exertion on someone to do something |
| Alacrity | Eagerness |
| Badinage | Witty conversation |
| Carp | Complaint continually |
| Competitor | Businesses competing against someone |
| Delegate | Distribution of something to a lower level |
| Dogmatic | Trusting one's opinion or belief while reluctant to accept others |
| Effete | Pretentious or overly refined |
| Extol | Praise highly |
| Feral | Wild; not domesticated |
| Fugitive | A person who flees |
| Fulminate | Protest strongly against something |
| Gofer | A person who runs errands |
| Hark | Pay close attention |
| Indolent | Not inclined toward work |
| Ineffable | Too beautiful to be described in words |
| Intangible | Something that cannot be seen or touched |
| Jink | Sudden quick change of direction |
| Knoll | Small hill or mound |
| Languish | Forced to stay in an undesirable place |
| Mettle | Spirit or strength during difficulty |
| Nimble | Quick or agile in movement |
| Oppugn | Questioning the validity of something |
| Plenary | Full, complete |
| Quaff | Drink something heartily |
| Rebellion | Fighting against authority |
| Rectitude | Morally correct behavior |
| Recuperate | To recover |
| Sartorial | Connected with clothes or a way of dressing |
| Terse | Brief and to the point |
| Uncanny | Mysterious |
| Vestal | Pure |
| Wreathe | Envelope or surround |
| Xenophobia | Fear of people from other countries |
| Yonder | Referring to something far away |
| Zilch | Nil; nothing |
Some new terms to add to your English vocabulary
Trying to broaden your vocabulary in English is usually a smart idea. Your writing will improve, and you'll be able to express your ideas more effectively. Learning unusual terms can also be interesting. In addition to gaining knowledge that will be helpful as you advance in your English studies, such as while reading more difficult books, you might find it fascinating to study their etymologies. After a little study and memorization, you can expand your vocabulary by learning some of the most difficult English words on our shortlist.
| Word | Meaning |
| --- | --- |
| Annachron | Something that is out of place in terms of chronology |
| Acci | A form of irony in which someone feigns indifference to something he/she desires. |
| Cacophony | A harsh mixture of sounds |
| Draconian | Excessively harsh or severe |
| Limeren's | Involuntary state of mind. |
| Pareidolia | A state in which the mind perceives a specific image that doesn't exist. |
| Rep | A quick or witty reply |
| Sanctimony | Pretend or hypocritical religious devotion |
| Serendip | The act of finding something valuable |
| Verisimilitude | Something that merely seems to be true to happen. |
How can you improve your English vocabulary?
Learning the most frequently used terms in English is one of the finest methods to increase your vocabulary.
Since you will use them the most when speaking English, understanding them will help you expand your fundamental vocabulary.
Try to use simple terms whenever possible because they are the finest option for a true novice.
Make a list of the best spoken English vocabulary words with meaning to learn, study, and practice regularly for quick comprehension.
Before moving on to the more difficult vocabulary words, try to understand as many of the more often used words as possible.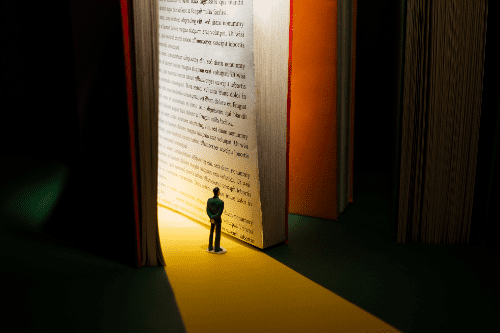 Key takeaways
A strong vocabulary is crucial since it will enable you to construct more profound sentences and convey your ideas in both spoken and written language.
You can use efficient memorization techniques if you have trouble remembering the new terms.
Associate new words with pictures of well-known individuals, locations, or occasions to learn English vocab effectively.
Now, you know more about English vocabulary words with meaning and how to expand them. Hence, it's important to practice utilizing new vocabulary as well. In case of any queries, reach out to us or drop a comment below!
Like this blog? Read next: New words in English with meaning.
FAQ
Q1. How can you expand your vocabulary?
Answer- Read as much as possible; read newspapers, journals, and essays. Try to make an effort to converse with others. Refer to a dictionary to learn new words.
Q2. What does the word vocabulary mean?
Answer- Vocabulary means the words that are employed in sentences. The term "vocabulary" originates from the Latin word "vocabulum".
Q3. Do English proficiency tests require the usage of difficult words?
Answer- No set rule states that it is compulsory to use difficult terms. However, it is recommended that you pay close attention to the usage and meaning of these difficult words if you use them.