GRE new format | An overview
A standardized exam called the Graduate Record Examination (GRE) is frequently taken by applicants aiming for graduate studies all around the world. The GRE's structure, question types, and scoring have all seen some substantial alterations in recent years. We'll examine the GRE new format in more detail in this insightful article, describing the most significant changes you need to be aware of.
The transition to the GRE General Test
The GRE has evolved from the old format to the GRE General Test. This transition has brought about various changes to the test structure and content.
GRE test sections
The GRE new format or the GRE General Test consists of three main sections:
Verbal Reasoning
In this section, your ability to understand, analyse, and evaluate written material is assessed.
The new format includes single and multiple-answer questions.
You can expect sentence equivalence, text completion, and reading comprehension questions.
Quantitative Reasoning
This section assesses your quantitative problem-solving skills.
The format includes both multiple-choice and numeric entry questions.
Topics encompass arithmetic, algebra, geometry, and data analysis.
Analytical Writing
This section requires you to analyze an argument and present your perspective on an issue.
The Analytical Writing section remains largely unchanged.
GRE test timing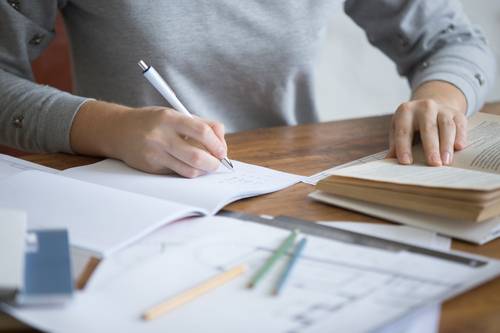 One of the significant changes in the GRE new format is the timing for each section.
Verbal Reasoning: 35 minutes per section
Quantitative Reasoning: 40 minutes per section
Analytical Writing: Remains at 60 minutes for two tasks
Computer-Adaptive Test (CAT)
The GRE new format is administered as a computer-adaptive test, meaning that the difficulty of the questions changes based on your performance. As you answer questions correctly, the test becomes progressively more challenging.
Score scale
The scoring scale for the GRE General Test remains the same, with a range of 130-170 for both the Verbal and Quantitative sections. The Analytical Writing section is scored on a scale of 0-6.
Test content changes
There have been subtle changes to the content of the GRE, which may influence how you prepare for the test.
Fewer answer choices: Verbal and Quantitative Reasoning sections now have fewer answer choices for multiple-choice questions.
No calculator for the quantitative section: In the new format, you won't have access to an on-screen calculator during the Quantitative Reasoning section. This change emphasizes mental math skills.
On-screen calculator for the analytical writing section: Surprisingly, you will have access to an on-screen calculator during the Analytical Writing section.
Score reporting
With the new GRE format, you now have the option to select the GRE ScoreSelect feature, allowing you to choose which set of scores to send to your desired institutions. This flexibility can be beneficial for test-takers.
How to prepare for the GRE new format?
Given these changes in the GRE new format, it's crucial to adjust your preparation strategy:
Familiarise yourself with the new format: Explore sample questions and practice tests provided by ETS (Educational Testing Service), the organisation that administers the GRE.
Develop strong time management: With limited time for each section, efficient time management is vital. Practice working under time constraints to improve your speed and accuracy.
Brush up on mental maths: The GRE does not allow an on-screen calculator. Strengthen your mental maths skills to excel in the Quantitative Reasoning section.
Improve reading and comprehension: The Verbal Reasoning section now includes more single and multiple-answer questions. Enhance your reading and comprehension skills to tackle these questions effectively.
Practise analytical writing: The Analytical Writing section is still an essential part of the GRE. Develop your critical thinking and essay writing skills.
Test day tips
While preparation is crucial, it is important to keep certain preliminary things in mind on the day of the GRE. Consider these tips:
Arrive early: Make sure you arrive at the test centre with plenty of time to spare.
Bring proper identification: You'll need valid identification, such as a passport or driver's licence, to gain entry into the test centre.
Stay calm and focused: The GRE can be challenging, but maintaining composure and concentration is essential.
Follow directions: Read instructions carefully, pay attention to the format and specific requirements for each section.
Resources for GRE preparation
To strategically prepare for a high score in the GRE new format, it's important to take advantage of various resources:
Official GRE test materials: ETS provides official GRE test preparation materials, including the GRE General Test practice questions, guides, and PowerPrep software.
Prep courses: Consider enrolling in GRE prep courses, either in-person or online. Many reputable companies offer comprehensive GRE prep programs.
GRE books: Numerous books, both from ETS and other publishers, offer practice questions, strategies, and test-taking tips.
Practice tests: Regularly take practice tests to assess your progress and identify areas that need improvement.
Study groups: Join a study group or seek study partners to share resources and discuss strategies.
Key takeaways
The GRE General Test has been completely revised with the research component removed, and reduced exam time.
In crucial areas, including sections, grading scales, material, and computer-adaptive testing, the condensed GRE maintains consistency.
Successful preparation for the shorter GRE includes knowing the format, creating a study regimen, utilising official resources, developing effective time-management skills, and controlling test anxiety.
The GRE new format introduces several changes that may require test-takers to adapt their preparation strategies. Understanding these changes, familiarizing yourself with the content and structure of the test, and diligent practice are essential for achieving your desired score on the GRE new format. With careful planning and adequate preparation, you can excel in the GRE General Test and increase your chances of gaining admission to your desired graduate program.
We hope this blog was helpful. In case you have any questions or would like further assistance throughout your study abroad journey, do not hesitate to reach out to us!
Liked this article? Read more: GRE score validity | Shelf life and key details 2023!
FAQs
Q1) How does the GRE new format differ from the old one in terms of main changes?
Answer: With a decreased test time of around three hours, including breaks, the new GRE format is shorter. The verbal and quantitative reasoning portions have fewer questions. Also, the test no longer has a research component, and the question difficulty is determined by computer-adaptive testing (CAT).
Q2) How has the GRE new format been influenced by the COVID-19 pandemic?
Answer: The epidemic boosted the number of GRE at-home testing alternatives, making the exam more accessible to applicants who otherwise may not have been able to take it.
Q3) Does the shortened GRE new format use the same score scales?
Answer: The score scales do follow the old pattern, yes. The analytical writing component is graded on a range of 0 to 6 in half-point increments, while the verbal and quantitative reasoning sections are graded on a scale of 130 to 170 in one-point increments.