GRE is a standardized test that is recognized by multiple universities globally. It assesses a candidate's verbal reasoning, quantitative reasoning, analytical writing, and critical thinking skills. This language test is required to enroll in a multitude of graduate programs around the world, with it being one of their eligibility criteria for admission. Read on to know more about the GRE syllabus along with some tips to prepare for the exam.
GRE test formats
GRE general test
The GRE general test consists of a total of six sections (two Analytical Writing sections, two Verbal Reasoning sections, and two Quantitative Reasoning sections). There are three question types within each section: multiple choice, numeric entry, and graphical or diagrammatic data interpretation.
GRE subject test
The GRE Subject Tests are computer-based tests that assess your knowledge in specific academic disciplines. They require you to demonstrate your skills in specific subject areas, such as biology, chemistry, literature, and psychology.
These tests are used by many graduate programs as an indication of your academic strength. It is important for applicants who are applying to certain programs (such as English or History) to take the appropriate subject rest and submit the score as part of their application materials.
GRE exam syllabus
The GRE exam is divided into three sections: quantitative reasoning, verbal reasoning, and analytical writing. The test consists of multiple-choice questions, some of which can be more challenging than others.
GRE analytical writing section
The analytical writing section of the GRE is divided into two distinct sections:
The issue task: This is the shorter of the two essays and asks test takers to evaluate an opinion or argument. You have 30 minutes to prepare a coherent and well-structured essay that develops your position on a topic of general interest, including its strengths and weaknesses.
The argument task: This essay asks you to analyze a given argument and then develop your own point of view on it. Your response should be detailed, well-reasoned, specific, and warranted by examples drawn from either your academic studies or personal experiences. You'll have 30 minutes to write an essay that supports or refutes an argument about an issue with which you are familiar.
GRE verbal reasoning section
The verbal reasoning section of the GRE is designed to measure your ability to read and comprehend a passage, analyze an argument, and evaluate written arguments. You'll need to use higher-level thinking skills to answer these types of questions, so it's important that you have a strong vocabulary and are able to break down the main idea behind each piece of text.
There are three types of questions in the verbal section:
Reading comprehension: A variety of academic topics are discussed in this type of passage: history, social science, natural science, and so on. The information is presented in a clear, objective manner, and all of it is relevant to the topic at hand. Most of these passages are written like an essay with a thesis statement, supporting evidence (supporting paragraphs), and a conclusion that sums up the main ideas of the passage (concluding paragraph). The questions associated with these passages test your ability to understand their meaning as well as analyze their structure (thesis statement, supporting paragraphs).
Sentence completion: In these questions, you will come across a sentence with one or two blanks in it. The sentence may contain one or two underlined words as well. These blanks/underlined words are either missing or shifted from their original position in the sentence. Your task is to either choose the best replacement for that blank/underlined word(s) or shift them back into their original position in the given sentence. Thus, when you have finished choosing correct replacements for all the blanks/underlined words, you will get a fully-formed sentence that could be grammatically correct too!
Text completion: Text completion questions are based on a short passage that contains one or more missing words or phrases. You can choose the correct answer from a list of four choices. These questions require you to read carefully as you must determine which word(s) best completes the meaning of the sentence.
GRE quantitative reasoning section
GRE quantitative reasoning measures your ability to solve problems by applying math to real-world situations. It requires you to understand the basic principles of arithmetic, algebra, geometry, and data analysis.
The Quantitative Reasoning section of the GRE covers two main areas:
Arithmetic and basic algebra: These are fundamental concepts that most people learn in their primary or secondary school. You can find practice questions for these topics on the internet.
Advanced algebra: It includes problems such as factoring polynomials or solving quadratic equations. These concepts require more complex thinking than basic arithmetic, but they're still within reach with some practice.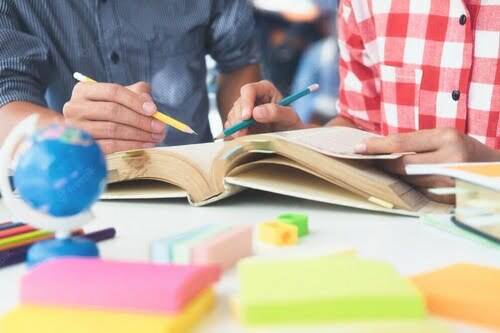 Tips to prepare for the GRE syllabus
The GRE has an extensive syllabus, which is why it is important to prepare well in advance. Here are some tips that will help you prepare for the GRE syllabus:
Keep your preparation on track by scheduling time to study each day. It's best to do this at the same time every day so that you can develop a routine. The more consistent you are with your studies, the better results you'll see!
Take advantage of online resources like iSchoolPrep to supplement your study materials. You may also want to use old GRE exams or practice tests from Barron's or ETS (the people who actually write the test).
Don't just focus on memorizing vocabulary words; instead, try learning how each word is used in context by reading articles and texts where they appear naturally.
Practice taking timed tests so that you know how much time you need for each section of the exam – this will help you prepare for the actual test day!
Key takeaways
The GRE consists of three sections: an analytical writing assessment, a verbal reasoning test, and a quantitative reasoning test (the math section). Each section is scored on a scale of 130-170 points.
A score of 5 out of 6 on the writing assessment is required for admission into an MFA program at many schools.
In order to prepare well for the GRE test, it is important to learn all the nuances of the syllabus and follow them accordingly.
To sum it up, understand what the GRE covers – this includes knowing what topics are tested on each section of the GRE, as well as understanding how each question type works. This way, you can avoid common mistakes like misreading word problems or misunderstanding the format of an essay prompt. You can visit our website to learn more!
FAQs
Question 1: Is there a negative marking on GRE?
Answer 1: There is no negative marking in GRE, so you can guess as many times as you want. But make sure that at least one of your answers is correct to get the maximum possible score.
Question 2: Is GRE compulsory for MS in the USA?
Answer 2: GRE is not mandatory for MS in the USA. However, if you want to pursue a doctorate degree from a US university, you will need to take GRE.
Question 3: What is a good GRE score?
Answer 3: The average GRE score ranges from 300-340, but this depends on what type of program you're applying for.