Students from all around the world have found Germany to be a center of education. Students benefit from the dynamic and rich culture and top-notch pedagogy of well-regarded universities. Modern technology is used in the construction of German universities to aid in the delivery of education. International students regularly inquire about how to study in Germany.
When enrolling for an English-taught course in Germany, one must provide proof of language proficiency, and a TOEFL and IELTS would be required for Germany. However, the minimum IELTS score needed for admission to German universities differs from other institutions. This article will review the importance of IELTS in Germany and the minimal IELTS score required to enroll in German universities.
Overview of the IELTS exam
A person's IELTS score indicates how well-versed individuals are in English. The IELTS exam has the following characteristics-
● IELTS scores are reported on a scale from 1 to 9.
● The reading and writing sections have 40 questions that are answered in 60 minutes. The speaking segment has two questions that are answered in 11–14 minutes, and the hearing section has 40 questions that are answered in 30 minutes.
● The IELTS are offered both offline and online.
● The speaking examination is in person with a qualified examiner, like an interview, while the reading, writing, and listening assessments are all taken online or on paper.
● The test has a time limit of two hours and 45 minutes.
● IELTS results are good for two years. However, the most recent score is considered if the exam is taken twice a year.
Requirement for IELTS Germany
Studying in Germany is a popular alternative for many because of its reasonable tuition and high-caliber instruction. However, Germany requires IELTS to pursue any degree. Various German universities have distinct IELTS requirements. Most institutions accept scores ranging from 5.5 to 6.5. As a result, candidates can also be assured a place at prestigious universities.
German institutions do not need applicants with an IELTS score of 7.0 to enroll because Germany is not an English-speaking nation. Candidates should be aware that IELTS German University needs a score of not less than 5.5 in any section. An overall result of 6.0 is expected. The candidate's score must be between 6.0 and 6.5 to enroll in a postgraduate program. Although, a band score of 4.5 to 6.5 is still required by a few universities. The IELTS standards for German universities are not overly difficult to meet.
IELTS band score required for studying in Germany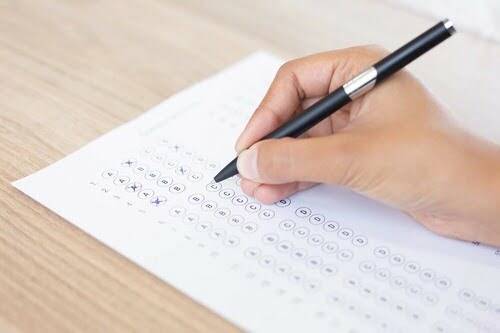 Candidates earn scores between 0 and 9, and the total band score is calculated by averaging the outcomes from the four sections. Germany, the pool of universities, has different IELTS band requirements. The IELTS band requirement for Germany may alter; however, colleges all require the same degree of proficiency.
| | | |
| --- | --- | --- |
| Skill level | Band level | Remarks |
| Expert | 9 | A precise and appropriate grasp of the language. |
| Very good | 8 | Complete command of the English language, with only a few errors. |
| Good | 7 | Operational command of the language, with occasional faults. |
| Competent | 6 | A solid command of the language, and a fair understanding of a challenging language. |
| Modest | 5 | Decent language mastery and the capacity to deal with most situations. |
| Limited | 4 | Myths concerning the incapacity to communicate in advanced language. |
| Extremely limited | 3 | There is no understanding beyond basic interpretations. Encounters persistent communication problems. |
| Intermittent | 2 | Genuine conversation is not possible. possesses issues with language comprehension, speaking, and writing. |
| Non-user | 1 | No attempt is made to speak English. |
| Non-attempt | 0 | Opted not to take the test. |
List of German universities with IELTS scores
Germany requires the IELTS exam to get admitted to a university. Several universities demand a band score between 4.5 and 6.5. Here is a list of German universities that accept IELTS scores and are recognized internationally.
| | |
| --- | --- |
| Name of the university | IELTS Band Score |
| Technical University of Munich | 6.5 |
| Hamburg University of Technology | 6.5 |
| University of Heidelberg | 6.5 |
| Humboldt University of Berlin | 6.5 |
| Free University of Berlin | 6.5 |
| Bonn Graduate School of Economics | 6.5 |
| RWTH Aachen University | 6.5 |
| Bielefeld University | 6.5 |
| University of Regensburg | 6 |
| Hamburg School of Business Administration | 6 |
| Ruhr University | 6 |
| University of Leipzig | 6 |
| University of Giessen | 6 |
| University of Bonn | 6 |
| University of Tübingen | 6 |
| University of Freiberg | 6 |
| Ludwig Maximilian University of Munich | 5.5 |
| University of Konstanz | 5.5 |
| University of Dusseldorf | 5.5 |
| Johannes Gutenberg University | 5.5 |
| University of Marburg | 5 |
Key takeaways
The IELTS criterion for German universities is an essential aspect of the admissions process.
Your IELTS score is the determinant of your English proficiency skills.
A high IELTS score can help you get into a top-tier German university.
If you know the exact scoring criteria for each university, you may better organize your study strategy.
Like this blog? Also, read 20 unusual English words to add to your vocabulary!
FAQs
Question 1: What is the recommended IELTS score for Germany?
Answer: IELTS Germany requirements vary by university, but the most common German IELTS score within universities is between 5 and 6.
Question 2: What is the purpose of the IELTS exam?
Answer: English is the world's most frequently spoken language. English proficiency will show the school that you will grasp their course and what they teach you in class.
Question 3: Is it possible to take the IELTS online?
Answer: Yes, because of COVID-19 constraints, IELTS is taken from the convenience of one's own home. On the other hand, the speaking test is conducted via video call.