IELTS listening score calculator | An overview
The Listening test is the same for both the IELTS Academic and General Training exams. During the exam, you will listen to four recordings that are a mix of monologues and conversations from a variety of native speakers, and each recording will be played only once. The listening IELTS test has ten questions in each section. The test will last 40 minutes. After 30 minutes of listening, you have 10 minutes to transfer your answers to an answer sheet. The total score of your IELTS listening section can be calculated using an IELTS listening score calculator. 
Calculate your IELTS listening score
The raw score for IELTS listening is determined by the number of correct answers. There are 40 IELTS listening questions in total. Each correct answer receives one point. An IELTS listening score band of 9 is calculated using the total number of correct answers out of 40.
The IELTS listening score chart is entirely based on the number of correct answers converted into a 9-band scale. Certified experts with extensive knowledge and teaching experience evaluate IELTS listening scores. The conducting bodies evaluate their competence on a regular basis to ensure their legitimacy.
An IELTS listening band score chart is provided below to assist candidates in understanding the scoring method.
| | |
| --- | --- |
| Raw Score | Band Score |
| 39- 40 | 9 |
| 37- 38 | 8.5 |
| 35- 36 | 8 |
| 32- 34 | 7.5 |
| 30- 31 | 7 |
| 26- 29 | 6.5 |
| 23- 25 | 6 |
| 18- 22 | 5.5 |
| 16- 17 | 5 |
| 13- 15 | 4.5 |
| 12-Nov | 4 |
An explanation of the IELTS band score
| Band score | Skill | Meaning |
| --- | --- | --- |
| 9 | Expert user | The test taker has complete operational command of the language. Their English is appropriate, accurate, and fluent, demonstrating complete comprehension. |
| 8 | Very good user | The test taker has complete operational command of the language, with only occasional unsystematic inaccuracies and inappropriate usage. In unfamiliar situations, they may misinterpret some things. They are adept at dealing with complex and detailed argumentation. |
| 7 | Good user | The test taker has operational command of the language, albeit with occasional inaccuracies, inappropriate usage, and misunderstandings in some situations. They can generally handle complex language and understand detailed reasoning. |
| 6 | Competent user | Despite some inaccuracies, inappropriate usage, and misunderstandings, the test taker has a strong command of the language. They can use and understand fairly complex language, especially in familiar situations. |
| 5 | Modest user | The test taker has a limited command of the language and can cope with overall meaning in most situations, but they are likely to make numerous errors. They should be capable of basic communication in their field. |
| 4 | Limited user | The basic competence of the test taker is limited to familiar situations. They frequently exhibit difficulties with comprehension and expression. They are unable to communicate in complex language. |
| 3 | Extremely limited user | In very familiar situations, the test taker only conveys and understands general meaning. Communication breakdowns occur frequently. |
| 2 | Intermittent user | The test taker struggles to understand spoken and written English. |
| 1 | Non-user | Except for a few isolated words, the test taker has no ability to use the language. |
| 0 | Did not attempt the test | The test taker did not respond to any of the questions. |
What equation is used to determine the overall band score?
What equation is used to determine the overall band score?
The overall band score is the average of the scores of the four sections of the IELTS exam, rounded to the nearest whole or half band. Weighting for the component scores is equal.
The overall band score is rounded up to the next half band if the average of the four components is less than.25; otherwise, it is rounded up to the next whole band. The overall score is rounded down if the average is less than.25 or.75.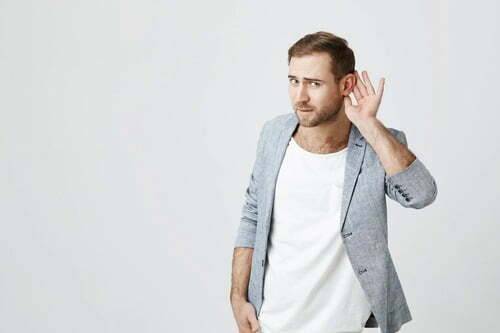 Tips to improve your scores in the listening section
There are no penalties for incorrect answers, so attempt all questions. But be careful not to waste time on a question you don't know the answer to – guess and move on.
The answers are displayed in the order they were heard in the audio.
Prepare to hear a potential response that is not the actual response.
Keep an eye out for plurals in answers. A singular answer is incorrect if the question requires a plural answer.
A letter will be requested for multiple-choice answers (a, b, c, d). Write the letter, not the corresponding response.
Take care when transferring your answers, and keep in mind the word limit on your answer sheet!
Take notes in abbreviated sentences rather than complete sentences.
Hyphenated words (such as "part-time") are treated as one word.
A date (1990) is regarded as a single number.
You only need to write down enough information to aid your memory later on.
When asked to complete a sentence with no more than two words and the correct answer is "blue coat," "a blue coat" is incorrect. The same is true for numbers.
Key takeaways
The IELTS exam consists of 40 questions and lasts for 30 minutes, with an additional 10 minutes for transferring the answers onto the answer sheet.
An IELTS score of 40 is converted into a band score of 9.
You can improve the band score with the tips mentioned in this article.
For more information on the IELTS exam, visit the iSchoolConnect website.
FAQs
Question 1: What are the four sections of the IELTS listening test?
Answer 1: You will hear four recordings of English speakers and then respond to a series of questions in writing.
A two-person conversation taking place in a typical social setting makes up Recording 1.
Recording 2 is a monologue that takes place in a typical social setting, like a speech about the local attractions.
In recording 3, a conversation between up to four people takes place in a learning or training environment, for example, a university tutor and a student talking about a task.
The fourth recording is a monologue about a scholarly topic, such as a university lecture.
Question 2: Is spelling important in the IELTS listening section?
Answer 2: Yes, spelling is very important in IELTS listening. Correct answers are used to calculate IELTS Listening scores. This means you get one point for each correctly answered question. Incorrect answers do not result in a loss of points.
Question 3: In IELTS, which accent is used?
Answer 3: Because IELTS is an international English exam, you can use any accent you want. It is not required to be British. It is perfectly acceptable to have an American or Australian accent. Any accent is acceptable.