MIT GRE scores and an overview of the Institute
MIT is a world-renowned institute with a great academic record and requires a good GRE score. It's no surprise that MIT is such an academic powerhouse. They also have some of the best professors and researchers in their fields and constantly expand their library collection.
If you want to get into MIT, remember to aim for a 160+ overall score. You also need a strong quantitative and verbal section emphasizing your preferred subject area—engineering or science. The average MIT GRE scores required is between 155 and 165.
How competitive is the score for MIT?
It is comparatively difficult to get admission to MIT. Its average acceptance rate has been recorded at around 13%. However, some programs offered can be easier to get into than others, depending on the number of candidates applying.
Due to its low acceptance rate, the minimum GRE scores for MIT are high. The average candidate needs at least 155 to 163 for the verbal section and 155 to 167 for the quant. Some programs may require scores higher than 160 in both or at least one section.
For example, a technical course such as mechanical engineering will require a higher quant score than a course in human sciences. Usually, the quant section's expectation is higher than the verbal section. For the analytical writing section, the applicants need to have a score of 4.5 and 5.
Some courses and programs under MIT may have their specific requirements for MIT GRE scores. It is better to look through the eligibility criteria of the course the candidate is aiming for and find the appropriate GRE score range for MIT.
What is a good GRE score for MIT?
We have provided the average scores obtained by the applicants admitted in the past. You should aim for scoring at least the average score to raise your chances of admission. Here is a list of various courses offered by MIT and whether they require a GRE score-
| | |
| --- | --- |
| Program | Average GRE Scores |
| Aeronautics and Astronautics | Verbal: 162 Quant: 167Analytical Writing: 4.5 |
| Biology PhD | Verbal: 163Quant: 164Analytical Writing: 4.7 |
| Chemical Engineering | Verbal: 161Quant: 164Analytical Writing: 4.7 |
| Civil and Environmental Engineering | Verbal: 90th Percentile Quant: 90th Percentile Analytical Writing: 4.5 |
| Real Estate Development MS | Verbal: 155-160Quant: 155-160 |
| Social and Engineering System PhD | Verbal: 157Quant: 159Analytical Writing: 4.0 |
| Technology and Policy MS | Verbal: 90th Percentile Quant: 90th Percentile Analytical Writing: 90th Percentile |
| Urban Studies and Planning | Verbal + Quant: 308Analytical Writing: 5.0 |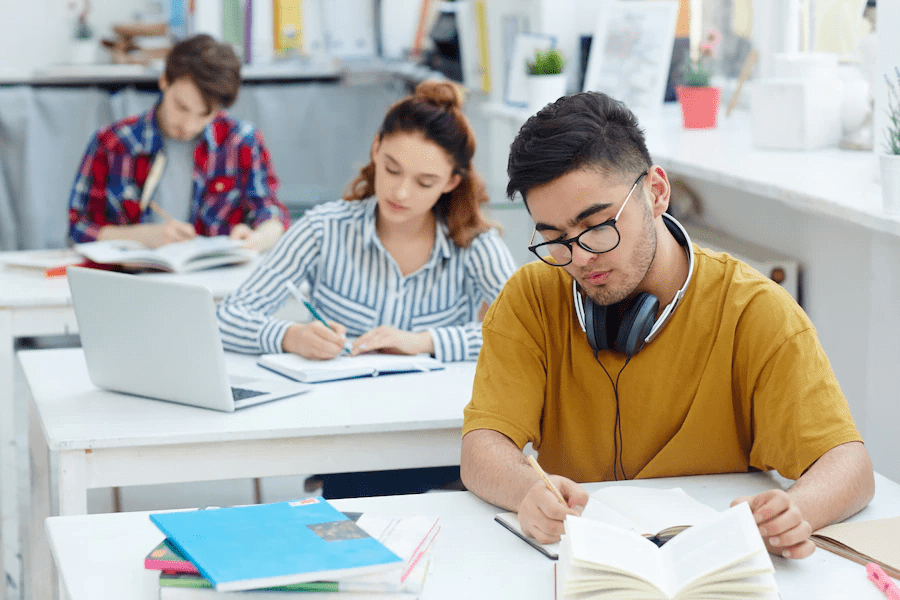 Quick tips on how to improve your MIT GRE scores
Start early. The sooner you can begin studying, the better. If possible, prepare at least three months in advance so you have plenty of time to improve your scores.
Find a study buddy. Having someone else going through the same thing as you can be very beneficial because they may be able to help with questions or offer advice on how to approach certain topics more easily than if you were studying by yourself.
Read outside your major field of study to develop a wider vocabulary base and become familiar with general concepts and ideas about life and culture (such as history, philosophy, politics, economics, and social sciences).
Take advantage of free resources online. Many free resources online can help you prepare for the GRE.
The key to doing well on this test is practice, practice, and practice! The more you take the mock exams, the better prepared you will be when it comes time for the real thing!
Answer every question while giving the exam. Your score for the quant and verbal section depends upon how many questions you answered and how many were correct. As there are no criteria for negative markings, you can increase your chances of getting higher marks by answering all questions.
When answering multiple blank questions, remember you do not need to answer each blank in order. Do the easiest one first. All the blanks are usually related to each other. So, after answering one, you can find clues to the answer for the rest of the blanks.
Key takeaways
Check the requirement of individual courses offered at MIT to know the minimum and average MIT GRE scores required for admission.
As admission is competitive at MIT, making sure that your GRE score is in the 90th Percentile can help you raise your chances of admission.
Most courses require a high score, at least more than 160, in the quant section. The requirements are based on how technical the course is.
If you liked this blog, read the GRE word list | of 50 words to improve your vocabulary!
FAQs
Question 1: Is there a minimum required GRE score for MIT?
Answer: Yes, there is a minimum required MIT GRE score. To be considered for admission to the program, you need at least a 150 in your quantitative reasoning section and a 3.5 in your verbal reasoning section.
Question 2: What are the most important admission factors at MIT?
Answer: MIT's most important admission factors are your academic record, standardized test scores, and personal statement.
Question 3: Is 160 a good MIT GRE score?
Answer: Yes, it is! If you're applying to MIT, the average GRE score for their students is just over 160.