Timed practice with a TOEFL exam sample paper assists applicants in passing the TOEFL with a high score. The TOEFL practice exam will put you through the same four portions in the same order: listening, reading, speaking, and writing. As a result, taking a practice test is equivalent to taking an official exam.
The TOEFL test | An overview
The TOEFL iBT is a computer-based exam. It verifies that a student possesses the English language skills required for success in academics or a workplace abroad. As a result, it is the most respected and widely acknowledged test in the world. TOEFL scores are accepted by over 8,500 colleges, institutions, and agencies in 130 countries, giving test takers the ability to apply their scores anywhere in the globe.
The TOEFL consists of four sections- listening (60-90 minutes), reading (60 to 80 minutes), speaking (20 minutes), and writing (50 minutes).
How to pass the exam using a TOEFL exam sample paper?
Are you ready to discover how TOEFL practice tests assist our students in passing the TOEFL?
To begin, it is critical to recognize the two most common issues that students confront when attempting to prepare for the TOEFL:
You study for the TOEFL exam utilizing free online tools, but you're not making much progress.
Your test date is approaching, but you're not convinced you'll earn the required score.
If you identify with one or both of these issues, you are not alone. Many students struggle to overcome these obstacles, but the good news is that they are not difficult to resolve with a TOEFL exam sample paper. Let's discuss why in the section below.
Benefits of TOEFL sample papers
Help you learn about the format.
Even if you speak perfect English, the format of an exam can throw you off. A TOEFL exam sample paper mimics the actual exam. Therefore, it can help you get familiar with the order of the sections, the type of questions as well as some tricks to answering correctly.
Aids in the analysis of your strengths and weaknesses
Mock examinations for the TOEFL are comparable to reflections. They demonstrate your abilities in all four skills. For example, in contrast to multiple-choice questions, you'll find that short answer questions in the Listening and Reading components come readily to you. You may also notice that the matching headings questions are a little tough. You can also learn about any other problems you may have, such as time management, not being able to read quickly, or typing fast.
Develop your note-taking skills
Taking notes is crucial for the listening section of the TOEFL exam.
Therefore, as you study, practice taking notes on the major idea as well as the main details of what you read and hear. You can also make your own abbreviations for frequently used words and phrases.
Time your writing
Writing under time constraints can be tough. Therefore, it is important to have time limitations for yourself. This will help you manage your time better by providing enough time for preparing your writing, enough time to actually write the thing, and enough time to go over your work when you're finished. A sample paper is a perfect place to practice these time limitations.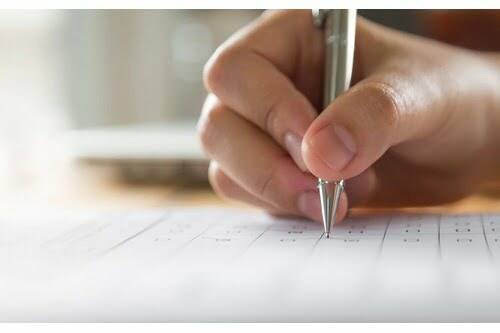 Increase your stamina
The TOEFL exam takes a long time to complete. It will take around 2.5 hours to complete the paper-based test. The iBT is significantly longer. You should plan on spending 4 hours at the computer. However, many students have a two-hour attention span. After this period of time, performance begins to deteriorate. A practice test can help you get accustomed to a 4-hour-long test so that you do not lose focus on the actual test day.
Improve your typing abilities
You will have to type your essay and fill out your answers on the computer. Consider strengthening your typing abilities before taking the TOEFL if you rely on a few fingers to type. Make sure you're comfortable typing on a QWERTY keyboard. If you aren't, look online for typing practice drills. Even if your typing abilities are excellent, try practicing on other machines. Some students become so accustomed to their own computers that they become anxious when they are required to type on a different keyboard or use a different mouse on test day.
Key takeaways
The TOEFL exam consists of four sections: reading, writing, listening, and speaking.
TOEFL sample papers mimic the actual test paper, thus, helping you get accustomed to the question types for each section.
Time management is crucial for exams like TOEFL, and a practice test not only helps you manage your time, but it can also be an excellent way to practice typing skills so that you can complete the exam faster.
You can also utilize online TOEFL classes like the one offered by iSchoolPrep to help you practice for the exam. Visit the iScholPrep website to learn more.
FAQs
Question 1: What is the most difficult aspect of the TOEFL?
Answer 1: Many individuals believe that the TOEFL's hearing component is the most difficult. The reading segment has the most challenging vocabulary, but for many individuals, hearing is the most difficult because the recordings in the listening sections are often slower than genuine speech.
Question 2: How long should you prepare for the TOEFL exam?
Answer 2: Studying at least 2-3 months before the exam is enough to obtain a high score. However, this is dependent on the test taker's current level of proficiency in the language; some may require less time, while others may require more time for TOEFL preparation.
Question 3: How many TOEFL exams may I take?
Answer 3: How many times can I retake the TOEFL? A. Yes, applicants can retake the TOEFL any number of times, but they can only do so once every 12 days.