What exactly is the applicable GRE score for University of Toronto?
The University of Toronto is considered one of the greatest universities in the world. To ensure a spot in the university, one must achieve and know about the applicable GRE score for University of Toronto. You can take the GRE admissions test to be accepted into the University of Toronto.
Moreover, it offers Canada's best engineering programs and is ranked among the top 20 institutions in the world. Their schools have launched more than 150 research-based businesses in the past five years. Read this post to learn more about the score and how to improve your GRE score.
GRE Exam | Why should you appear for this exam?
Universities in Canada often require applicants to take the GRE, commonly known as the Graduate Record Examination, before enrolling in a Master's program. The GRE stands out from the competitors since it is one of the exams that prospective MBA (Master of Business Administration) applicants most frequently request. Considering that you can apply to several Master's programs, it goes without saying that the GRE test is quite versatile.
Know the specialties of this exam
There are no such criteria for the age to give the GRE test as long as you hold the necessary degree.
The ability to send only the finest results to the university you want to attend is another benefit for applicants provided by the GRE score selection procedure.
Moreover, you can take the test again because most exams won't allow candidates to return to some of the questions they have already answered. You can retake the GRE. If earning an MBA intrigues you, you should apply to the University of Toronto, where the GRE will help with your acceptance.
What is a suitable GRE score for the University of Toronto?
The optimum GRE score for the University of Toronto is 400. Depending on your chosen field of study, a competitive GRE score is 160+ in Verbal and 165+ in Quantitative, which is the top 10% GRE percentile. The GRE consists of three computer-based sections. The examination includes-
Verbal reasoning, with scores ranging from 130 to 170 in 1-point increments. This section consists of multiple-choice or select-in-passage questions on text completion, sentence equivalence, and reading comprehension.
Quantitative reasoning, with scores ranging from 130 to 170 in 1-point increments. Several numerical entry questions, multiple-choice questions (some of which only accept one answer), and short answer questions are included in this section.
Writing an analysis, graded in half-point increments from 0 to 6. Analytical writing assignments in this part ask you to evaluate a problem and an argument.
Essays in the Analytical writing section are graded by both a human rater and an electronic computer rater. The average is utilized when the scores from the human and electronic raters are close.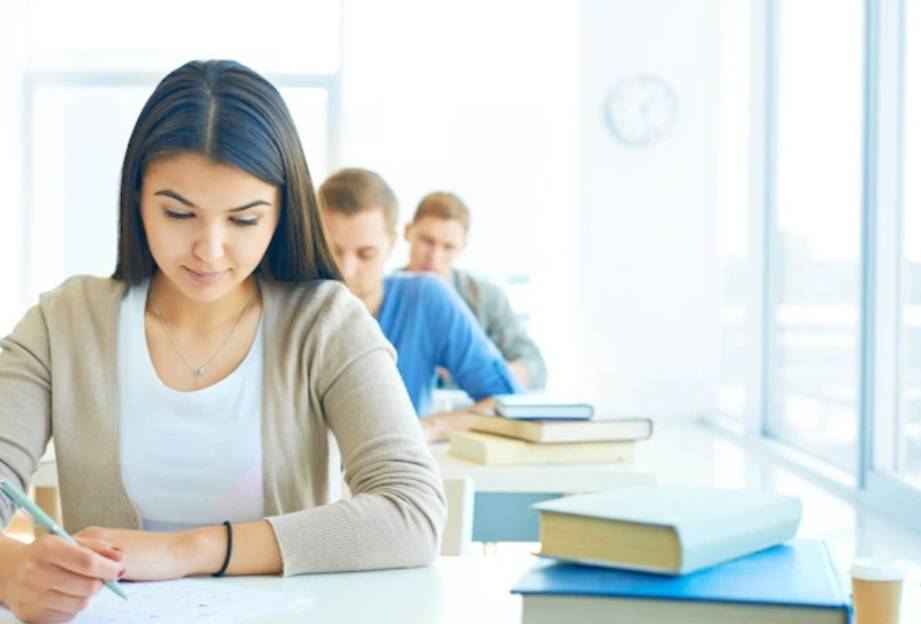 Begin your GRE preparation early | Know the score range
The typical student needs four to twelve weeks to prepare. Of course, depending on your learning style, you can study more each day for a shorter time. Everything depends on the amount of study time you have available and the deadlines for applying to university programs.
To go forward from the large pool of applicants to the interview stage at the University of Toronto, a solid GRE performance is necessary. You still can make it if your score is between 390 and 400 overall, but if it's 410 or higher, you may start preparing for the next round by focusing on requirements like essays, letters of recommendation, and resumes.
Importance of GRE scores for admission to the University of Toronto
Your GRE scores are often an important part of your application for admission. However, if other conditions aren't met, not even the best GRE scores can ensure admission to the University of Toronto. Additionally, most graduate programs are more interested in your work or research experiences, undergraduate transcript, personal statement, and letters of recommendation than your GRE test scores.
Institutions of higher learning also think these are more accurate ways to evaluate your personality and chances of success at their institution. Therefore, rather than concentrating just on achieving the best GRE scores, it makes sense to put more effort into enhancing those aspects of your GRE application.
Key takeaways
Many students could find the analytical writing component of the GRE difficult because they have to provide well-reasoned arguments.
Many universities, especially in Canada, require GRE scores as evidence of your language skills and assurance that you can function in both an academic setting and a business.
You can better plan your GRE test approach if you are aware of the particular GRE score criteria for the University of Toronto.
Like this blog? Also read: How to score better in GRE.
You already have all the information about the required score for the University of Toronto. To know more about the GRE or anything else related to studying abroad, Ischoolconnect can help.
FAQs
Question 1: How much time should I spend studying for the GRE?
Answer: Since this question depends on your desired score and your capacity, you are ultimately the one who can respond to it the best. We suggest you take a practice test to see where you stand and then create a study schedule to get your desired grade.
Question 2 What is the cost of taking the GRE?
Answer: The GRE General Test costs $220 worldwide, except for China and India, both of which have higher fees of $231.30 and $228, respectively.
Question 3: Can You retake the GRE?
Answer: You can take the GRE from once every 21 days to five times a year for the computer-based test. You can retake the paper-based test whenever you want to (3 times per year where computer-based testing is unavailable).