Your GMAT examinations are almost approaching. However, you do not feel adequately prepared for the exam. It is reasonable for you to feel this way because GMAT questions can be quite challenging. Therefore, you must start preparing for the exam using GMAT sample questions. This will provide you with an understanding of your strengths, weaknesses, and gap areas to work on during your preparation. These sample papers closely resemble the actual exam. Therefore they will assist you in becoming acquainted with the test pattern and topics covered in the exam.
GMAT Exam Sample Paper Structure
The GMAT Exam sample paper includes objective and subjective problems, and it is divided into four sections: quantitative reasoning, integrated reasoning, verbal reasoning, and analytical writing examination. The exam takes 3 hours and 30 minutes to complete, with two optional 8-minute breaks.
Here's a quick rundown of the GMAT exam pattern.
Analytical Writing Assessment
This portion consists of an English writing exercise. The topic of the debate can be anything business or broad. There is no requirement to have a specialized understanding of the issue because you will be evaluated on your ability to analyze, break down complex material, critically analyze a given topic, and explain your opinions with clarity and cohesiveness.
Quantitative Reasoning
This portion assesses your ability to solve quantitative problems rationally and analytically. It has two kinds of questions: problem-solving and data reliability. To evaluate the offered data and solve puzzles, you must use not only your mathematical skills but also your analytical and logical reasoning abilities.
Integrated Reasoning
This section assesses your critical thinking and logical reasoning abilities. It includes four sorts of questions: visual interpretation, cross-reasoning, table analysis, and two-part evaluation. To solve these complicated issues, you must assess your ability to analyze data and integrate information presented in a variety of formats, such as graphs, charts, and tables.
Verbal Reasoning
To answer the questions, you must use your English language skills as well as your critical reasoning skills. This is divided into three sections: Reading Comprehension, Critical Thinking, and Sentence Correction. To answer these questions, however, you will not require any subject area expertise because this portion mostly evaluates your command of the English language.
Advice concerning how to Answer Questions
Here are some helpful hints for answering GMAT example questions:
Do not become obsessed with a single issue. Spend your time wisely so that you can finish all the sections.
For the sake of time. Look at the answers to the questions provided.
Avoid wasting your time trying to answer a simple question. Make a wise assumption.
To answer the sample question paper, create an outline.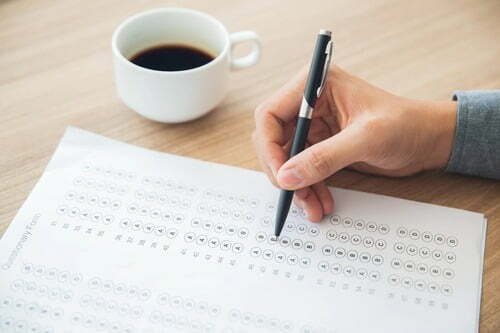 Check out our collection of GMAT sample questions here!
1. The cereal company retooled its plant to make several different cereal forms to better distinguish its product from generic brands after first hiring a marketing organization that specializes in developing campaigns to increase brand awareness.
(A) then retools its factory to make a variety of different cereal shapes
(B) retools its factory to make a variety of different cereal shapes
(C) retooled its factory to make a variety of different cereal shapes
(D) then retooled its factory to make a variety of different cereal shapes
(E) then, by retooling its facility, it makes cereal in a variety of shapes.
2. According to one food writer, cutting back on animal products in one's diet can improve health and well-being. According to this assertion, some people are cutting off all meat from their diets to improve their health.
Which of the following assumptions underlies the aforementioned argument?
(A) Increasing one's intake of grains and veggies can benefit one's health.
(B) Those who eliminate meat from their diets won't experience a proportionate rise in the consumption of dairy products.
(C) The majority of food experts agree that a healthy diet must include some animal products.
(D) A vegetarian diet is not necessary for all healthy lifestyles.
(E) Many people who choose not to consume animal products do so for health-related reasons.
Answer: (C)
3. Discrimination is mostly eliminated thanks to the Americans with Disabilities Act (ADA). This organization examined workplace discrimination against and wrongful termination of employees with disabilities. Many people did, however, continue to perceive an inconsistency in employing and terminating them after the act was introduced. As a result, there has been a noticeable increase in unemployment among those with disabilities.
Expected critical thinking question types on the GMAT –
What explanation fits a discrepancy the best?
Why did particularly differently-abled people decide not to work?
Why should businesses employ people with varied abilities?
What does a job guarantee mean for people with diverse abilities?
Why has unemployment been so high throughout time?
4. Christine de Pizan's masterpiece The Book of the City of the Ladies, which was written in 1405, is said to be one of the first widely read works by a female author in the Western world. It is a history of the Western world from the perspective of women.
(A)Regarded as one of the earliest Western authors whose works were widely read
(B)Written by one of the earliest Western authors whose works were widely read
(C)According to some, one of the first widely read female authors in the Western world
(D)Written by a writer who some consider one of the first widely read women in the Western world
(E) Regarded by some as one of the first writings by a woman who was widely read in the West.
Key takeaways
GMAT Sample Papers or practice tests are the most important study material.
The GMAT Exam sample paper is split into four sections: Quantification Reasoning, Integrative Reasoning, Verbal Reasoning, and Analytical Writing Exam. It contains both objective and subjective problems.
Your awareness of your skills, shortcomings, and preparation gaps will come from answering GMAT sample questions.
FAQs
Question 1: Cat, is it harder than GMAT?
Answer 1: The CAT's overall difficulty is higher than the GMAT's because the CAT's syllabus is less clearly laid out.
Question 2: What is the GMAT's maximum age?
Answer 2: 13 years old is the minimum age. For applicants between the ages of 13 and 18, a formal letter of authorization from their parents or guardians is required to take the test. Applicants who are older than 18 years old may apply without restriction. There is no maximum age for taking the GMAT test.
Question 3: Can I retake the GMAT?
Answer 3: You may retake the GMAT up to five times in 12 months.