IELTS writing task | An overview
The IELTS Writing Task is one of the four components of the IELTS exam. It consists of two tasks: Task 1 and Task 2. Task 1 is usually a graph, chart, diagram, or map that requires you to describe and explain the information provided. You will need to write at least 150 words for this task. Task 2 is an essay prompt that requires you to express your opinion or argue a point of view on a given topic. You will need to write at least 250 words for this task.
Both tasks are to be completed within a total time of 60 minutes. The Writing Task is assessed on four criteria: task achievement, coherence and cohesion, vocabulary, and grammar. Your overall score for the Writing Task will be an average of these four criteria.
Let's explore more about these two tasks and learn some useful tips along the way! Read till the end to find some bonus practice questions!
Academic writing task 1- You will be given a visual representation of information, such as a graph, table, chart, or diagram, and asked to summarize, describe, or explain it. Make sure you have three sections in your response-
Introduction
Overview
Important details
IELTS academic writing task 1 skill 
How to write an overview paragraph?
Your overview paragraph is the most important part of your Task 1 essay. As a result, this post will show you how to identify and incorporate crucial features into your overview. 
The overview should be the second paragraph of your essay where you identify the key features of the question asked.
Writing an overview before the details of the next paragraph will also help you better frame your answer.
What is the best way to paraphrase?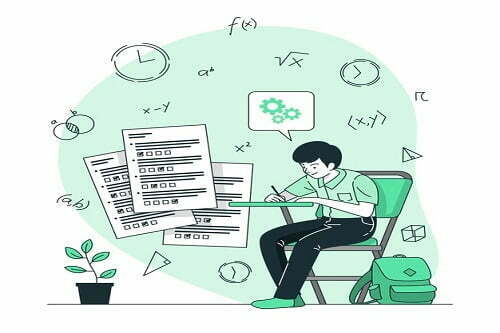 Paraphrasing is a crucial IELTS skill that may apply across the board, not just in writing task 1. 
You should paraphrase the question in every essay, and it is recommended that you do it in the first line of the paragraph.
Use synonyms when possible and shuffle the order of the sentence.
Change sentences to passive voice to paraphrase better.
What is the most effective way to write a complicated sentence?
Complex statements are actually very simple to generate and are not tough at all. All you need is loads of practice and it will come more naturally.
Write complex sentences by making a subordinate clause.
Since these sentences have over one clause, they can increase your marks in the grammatical range.
What is the total number of words?
In the IELTS writing exam task 1, you must respond to a graph, table, chart, or process with at least 150 words.
You will be given real data in less than 20 minutes and asked to identify and report the data's primary qualities.
IELTS writing task 1 tips
Synonyms can be dangerous, and they are extremely significant. However, if used wrongly, they can lower your grade.
Six Common Mistakes to Avoid-

Forcing the vocabulary when it doesn't match a sentence.
Minor grammatical errors.
Excessive use of cohesive devices.
Not answering both parts of the questions in the same manner.
Focusing on the question and not on the topic at hand.
Not generating new ideas.
Sample questions for task 1
1. QUESTION
The graph below shows the amount of money spent on books in Germany, France, Italy, and Austria between 1995 and 2005.
Summarize the information by selecting and reporting the main features and making comparisons where relevant.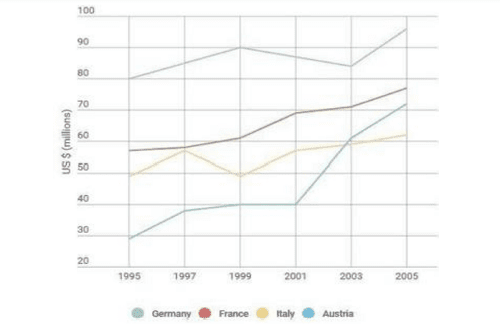 Here you will get a point of view, an argument, or a problem to solve.
Environment, immigration, culture, and even technology are all issues that could be discussed.
You can be asked to agree or disagree with a point of view or argument, compare and contrast two opposing ideas, write about the advantages and disadvantages of a topic, or explain a problem or its source and offer a solution.
Academic writing task 2 requires you to write an essay as your response.
IELTS writing task 2 skills
No matter how good your English is, you still need to learn IELTS writing skills before you take the writing task 2 test. These helpful guides will take you through each of these skills step-by-step.
How to plan an essay?
Making a good plan actually saves you time when you write your essay.
Analyze the question well and understand what points you want to talk about.
Set the tone of the essay and think of any relevant examples.
Understand what is the type of question being asked (agree or disagree, etc)
Avoid writing a general opinion and answer the questions specifically to what are your views on the matter.

How to think of relevant ideas?
Start with the simplest yet most effective – practice generating ideas. Instead of practicing the essay as a whole, just practice creating new and relevant ideas.
Think about what you need to discuss. What are your opinions on it, and how do you really feel about it?- start questing things more.
Read different essays and see what the plan of that essay was.
Break the question down and simplify it.
How to write a complex sentence?
Complex sentences are just two or more sentences put together. You have to use a dependent clause and an independent clause.
For example- I like to walk in the park while it rains.
"I like to walk in the park" is an independent clause as it makes sense on its own.
However, "while it rains" is a dependent clause, because it does not make sense on its own. It is 'dependent' on the first clause for the phrase to make sense.
Use complex sentences but don't complicate the sentence.
Complicated sentences lead to grammatical errors which will reduce your score drastically.
Break the sentence down to simplify the meaning.
How to paraphrase?
Read the passage thoroughly to understand the meaning before trying to paraphrase.
Learn what are the key concepts.
Write your version without looking at the original, compare the two and make adjustments.
You can start your sentence at a different point from that of the original.
Change the sentence structure, use synonyms, and break the information into different sentences and sections.
How to write a supporting paragraph?
Supporting paragraphs are the main body paragraphs. This is where you provide the details the examiner is looking for in the form of explanations and examples. 
Begin this paragraph by introducing the topic idea. This statement has to reinforce the point you are trying to make.
The entire paragraph should support your initial statement and not contradict it.
Use examples and even research if you know of any that can make a strong case for your argument.
How to write a thesis statement?
A thesis statement tells the examiner your opinion. It is nothing but your main idea.
This will contain your introduction, which should have your question that is paraphrased and an outline statement.
It has to be short, crisp, and clear as to what your opinion on the matter is.
To do this, see what are the action words in the question, such as 'do you agree or disagree?' Based on this thesis statement, state if you agree or disagree with the statement given to you.
How many words should I write?
Your essay should be in a formal style, at least 250 words in length, and you should aim to complete it in under 40 minutes.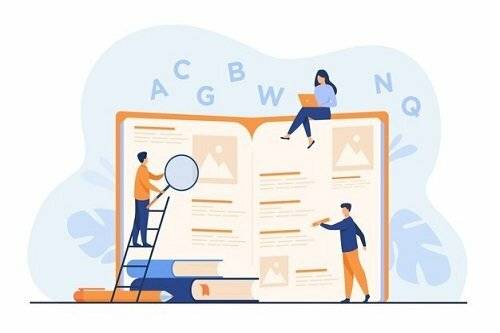 Pay attention to all the issues in the essay question.
State your opinion clearly instead of giving a general statement.
Identify your weak areas and work on them.
Practice as much as possible and get feedback to improve.
Sample questions for task 2
1. QUESTION (Opinion essay)
You should spend about 40 minutes on this task. Write about the following topic-
Some people think that a sense of competition in children should be encouraged. Others believe that children who are taught to cooperate rather than compete become more useful adults.
Discuss both views and give your own opinion.
Give reasons for your answer and include any relevant examples from your own knowledge or experience. Write at least 250 words.
Key takeaways
There are two writing tasks in the IELTS exam: writing task 1 and writing task 2.
In the first task, you have to explain a graph, describe an image or an overview paragraph. However, in the IELTS writing task 2, you have to support your stance on a statement with strong arguments.
Even though these writing tasks sound easy, you have frame your answer in an easy to read way.
We hope you enjoyed reading this blog. In case of any queries, reach out to us or drop a comment below.
Liked this blog? Read next: IELTS exam questions | Writing and Speaking sections!
FAQ
1. How can I achieve a good score on the IELTS writing task 1?
Answer- This question has a distinct response for each IELTS student because it depends on a variety of elements, such as your work ethic, English ability, and exam approach. However, practice as much as possible so you build your logical and analytical thinking skills.
2. Is it necessary for me to write a conclusion for task 1 academic?
Answer- Not at all. A conclusion is a synthesis of your thoughts and opinions. Task 1 requires you to just record what you see. Instead of a conclusion, you should write an overview.
3. Can I use idioms?
Answer- No, you should typically avoid using idioms in Writing Task 1.
4. Will I lose marks if I don't write enough words?
Answer- Yes. If you don't write the required number of words, you will lose marks in 'Task Achievement' for not answering the question fully.
5. Do you write a conclusion for Task 2?
Answer- Yes, it is very difficult to get a good score in Task 2 if you haven't finished your essay with a conclusion.
6. Is it okay if I use personal pronouns?
Answer- Personal pronouns should be avoided. However, they are acceptable when expressing your personal perspective.
7. Is it okay if I use contractions?
Answer- When writing an academic essay, you should avoid using contractions.