Best GMAT coaching in Delhi | An overview
Students who regularly participate in question-answer sessions do better in the final exam. Being in a competitive setting will improve your performance and advance your GMAT preparation. When it comes to absolute study preparation, there is no substitute for the top GMAT coaching facilities. The best GMAT coaching in Delhi will improve your chances and help you become a better performer.
Some of the top GMAT training centers in Delhi
The GMAT exam is competitive; thus, getting the right coaching is crucial. Your regularity and consistency are enhanced with excellent GMAT coaching. The grind is made easier by attending regular GMAT lessons with other students who share the same perspective. Professional coaching from instructors at coaching institutes like TIME – Triumphant Institute of Management Education, Career Launcher, and Jamboree can work wonders and put you on the proper path to GMAT preparation.
Each learner has unique requirements. Therefore, be sure to select the best GMAT coaching in Delhi based on your individual needs and the experience of the instructors. Here is the list of some of the best GMAT coaching courses in Delhi-
One of the top GMAT preparation centers in Delhi NCR is Edushastra. At relatively reasonable prices, EduShastra offers high-quality educational services. Additionally, it offers a supportive team and professionals with the necessary training to provide a pleasant environment for students. Here are some additional facilities for studying the GMAT at EduShastra-
There are GMAT courses offered on both weekdays and weekends.
Online classes, classroom coaching, group classes at home, and private tutoring are available.
Expert training of at least 60 hours.
Various tips and techniques to ace the GMAT exam.
Course fees-
Live Online lectures (60 hours): INR 18,999
Hybrid lectures (Classroom+Online-60hours): INR 29,999
Classroom lectures (60 hours): INR 28,999
Address– EduShastra Knowledge House Office number: 628, 3rd Floor, B-1 Block, Janakpuri, Delhi-58
Contact details– 011-47082205
E-mail address- contact@edushastra.com
Also read- GMAT exam dates 2022 – what you need to know.
T.I.M.E-Triumphant Institute of Management Education
TIME is one of the best GMAT coaching in Delhi that offers a comprehensive class schedule. The lesson covers all of the ideas and test-taking strategies. It provides an online exam series, a distance learning course, and a classroom program. Here are a few other benefits of taking the GMAT at TIME-
90 online practice sections
8 comprehensive computer-based exams
Complete study resources
Assistance with writing SOPs
66 hours of lessons in the classroom
Course fees– INR 21,950- 34,950
Batch size- 4-5 students
Address- 111/9, 1st floor, Kishangarh, Aruna Asaf Ali Marg, Vasant Kunj, New Delhi- 110070
Contact Details- 040-27898195, 040-40088300
Branches– Connaught Place, Barakhamba Road, Dwarka, East Delhi, Kalu Sarai, East of Kailash, Noida Sec-15, Rajouri Garden, Pitampura, Vasant vihar
E-mail address– info@time4education.com
Jamboree is a renowned educational institution offering GMAT coaching courses in Delhi. It offers live lectures, online training, private tuition, lesson plans, and demo preparation videos. It also provides a variety of facilities to the students like-
Classroom training for 60 hours
3 hours of each session
Concept videos are recorded over 44 hours.
Every weekend, one session for answering questions.
3000+ practice exercises and explanations are available on an online platform.
12 complete tests available online.
Extra focus on the GMAT Quant, problem-solving abilities, and data sufficiency.
Individual test consultation with the instructors.
180 or more webinar sessions.
Course fees– INR 43,000
Batch size– 35 students
Address– 2530, IInd Floor, Hudson Line, Kingsway, Camp, GTB Nagar, New Delhi. Delhi- 110009
Contact details– 08800638669
Branches– New friends colony, Adhchini, Hudson lane, Raja garden, Pitampura
E-mail Address– support@jamboreeeducation.com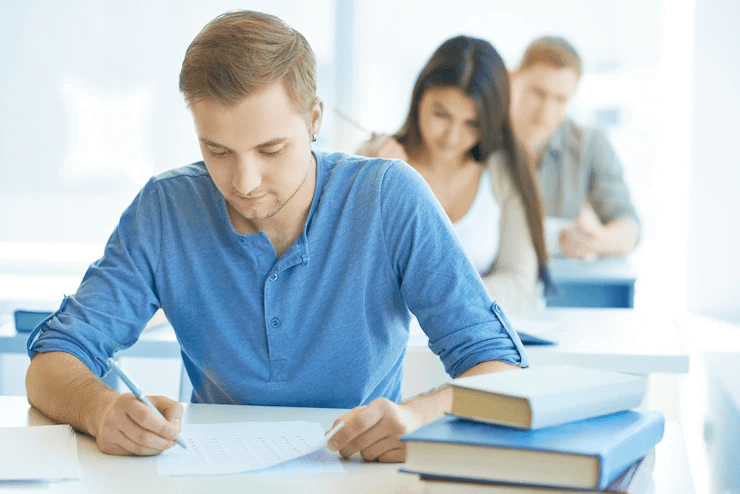 Advanced-level tutoring is the main focus of the IVY-Quest GMAT coaching classes. The GMAT pattern and syllabus are well illustrated, starting with fundamental, intermediate, and progressively advanced courses. They explain techniques for handling challenging questions that come up in the GMAT. The facilities that are offered by the IVY- Quest GMAT classes are mentioned below-
The planned 6-week online course.
Comprehensive- quantitative and verbal tests are conducted every week.
Live conversations and practice sessions are organized.
A 2 monthly comprehensive course is conducted.
There are weekly test series and practice sessions available.
Course fees– INR 25,000
Batch size- 30-35 students
Address– Devika Tower, Hub Oak, 7th floor, Nehru Road, New Delhi- 110019
Contact details– +91 9811324249
Branches– Nehru road
Website– ivy-quest.com
One of the first coaching facilities in Delhi for the GMAT is Career Launcher. It is renowned for its discipline, peer learning, and carefully crafted study materials. The benefits offered by the class are described below-
A 63-hour interaction program in the classroom is conducted.
Periodic doubt-clearing sessions are conducted.
On weekdays, online classes often start at night.
It emphasizes GMAT grammar.
54+ hours of live teaching are conducted online.
Live 10-plus-hour online workshops are organized.
Course fees– INR 40,000
Batch size– 20 students
Address- Career Launcher Corporate Office A-45, First Floor, Mohan Co-operative Industrial Estate, New Delhi- 110044
Contact details– 011-41281100
Branches– CP Center, Pitampura, Rajouri Garden, SDA, Kailash Colony, IIT center, Preet Vihar, Dwarka
Website– https://www.careerlauncher.com/gmat/
Global company Manhattan Review offers GMAT training in South Delhi. It is well known for placing a high priority on student involvement and excellent study materials. It has some skilled, experienced, and enthusiastic teachers to train the candidates.
GMAT In-person classes for 28 hours are conducted.
GMAT private tutoring is available for 12-48 hours.
GMAT private course facility is organized for 12 hours.
GMAT Online self-study package for 2 hours (1-on-1 online private tutoring) is included.
GMAT Online video library provides up-to-date study material.
Over 100+ GMAT practice tests are available to be solved.
Course fees– INR 1,08,259
Batch size- 25 students
Address- Sheraton New Delhi Saket District Centre New Delhi- 110017
Contact details- +91 99456 02222
Branches– Saket District
E-mail– info@review.in
Key takeaways
The level at which you are beginning your study is crucial to take into account because people take the GMAT exam at different times in their lives. You could modify your study strategy using this information together with an understanding of your strengths and weaknesses.
You could learn how prepared you are for the exam by taking a mock test online. Utilize it to determine whether you require expert instruction to pass this exam.
As mentioned above, making a strategy and carrying out the study is simpler if your target GMAT score is established. It won't take long to reach your target score.
Like this blog? Also, read more about GMAT scores
FAQs
Question 1: CAT or GMAT, which is more difficult?
Answer: The GMAT can be considered easier than the CAT exam.
Question 2: How many GMAT attempts are permitted?
Answer: The validity of scores is five years. The candidates can take the GMAT online test a maximum of two times.
Question 3: What qualifications must you meet to take the GMAT?
Answer: There are no explicit prerequisites for taking the GMAT. The student should be at least 18 years old. If they can produce written documentation of their parent's approval, applicants between the ages of 12 and 17 are permitted to take the test.