GMAT quant syllabus | A brief
The GMAT quant syllabus comprises two types of questions: problem-solving and data sufficiency. The problem-solving questions ask you to solve a problem that requires you to analyze information presented in a text passage. The data sufficiency questions ask you to determine whether or not the provided information is sufficient for a conclusion to be drawn.
Sections included in GMAT quant syllabus
According to the GMAT Syllabus, there are two sorts of questions in the Quant section: data sufficiency and problem-solving. There are 31 questions in total, and you have 62 minutes to finish them. The quantitative section of the GMAT is designed to measure your ability to solve problems, not just your knowledge of mathematics. You need to understand the concepts behind the question and apply them to solve the problem. Here's an overview of what you can expect from each type:
Data sufficiency questions
A problem statement and two factual statements follow each other in a data sufficiency question. You must assess whether the offered statement is sufficient to answer the problem statement's query. There are approximately 15 questions. These questions test your ability to understand concepts and apply them to real-life situations. The question stem will present a scenario and ask whether or not you can answer a related question. For example: "If x is positive, which of the following must be true?" The answer choices may provide additional information about x or suggest additional relationships between different variables that would help you arrive at an answer for the original question.
Problem-solving questions
Problem-solving problems account for half of the total problems in the GMAT quantitative section. It assesses candidates' ability to solve quantitative issues using logic and analytical thinking. There are approximately 15-16 questions. These questions test your quantitative reasoning skills by requiring you to analyze data sets, determine relationships between variables, and draw conclusions from data presented in tables or graphs.
GMAT quant syllabus | Topics included
In this section, you will see problems involving-
Basic arithmetic operations (addition, subtraction, multiplication, and division)
Proper and improper fractions
Integer properties (even and odd integers)
Algebraic expressions and equations
Percentages
Ratios and proportions
Permutations and combinations
Probability
The GMAT covers most of the topics from middle school and high school algebra, including solving equations and inequalities; factoring polynomials; solving systems of equations; calculating averages; working with rational expressions; factoring trinomials; solving quadratic equations by factoring or completing the square; solving quadratic equations graphically; graphing lines and parabolas, and simplifying radicals.
The GMAT math section includes a small number of geometry problems. These are often easy to solve, but you must remember the basics from high school geometry class principles. If you're rusty on your parallel lines, triangles, polygons, etc., brush up on those topics before taking the test. The following are the major topics covered under geometry-
Coordinate geometry
Angles
Circles
Polygons.
In GMAT, this topic is tested through the questions from each of the following subtopics-
Pythagoras theorem, triangle inequality, distance formula, area of a triangle.
Inverse variation.
Linear function, horizontal line test, the slope of a line, Intersection of two lines, and the slope of a line passing through the origin.
The average value of a function is the area between two curves and the area under a curve.
Maximum and minimum values of a function.
Chords, cylinders, triangles, spheres, pentagons, cross-sections, etc.
These questions test your ability to solve real-world problems. The questions will be covered from the following topics-
Simple and compound interest
Discounts, profit, and loss
Measurement
Time and date
Data interpretation
Pipes and cistern.
This is one of the most important topics in the GMAT quant section. You'll learn how to interpret and analyze data, including how to work with averages and other information. You'll also need to know how to test hypotheses (whether or not they're true) and make inferences based on data sets. The topics under statistics for the GMAT quant section include-
Mean, median, and mode
Sample variance, population variance, and standard deviation.
Central tendency, extreme values, and skewness.
Linear regression and correlation.
T-Test for means, independent samples t-test for proportions.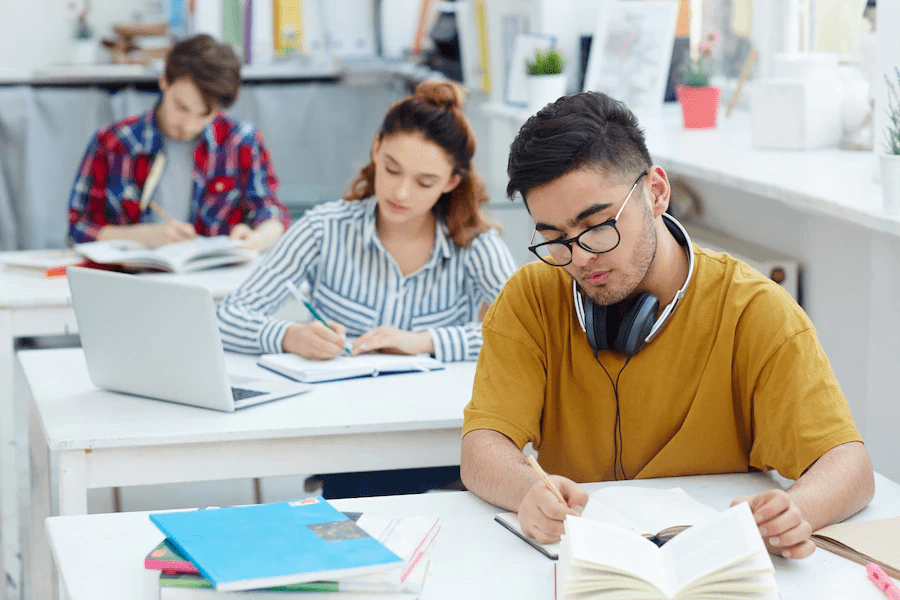 Quick tips on how to prepare for the GMAT quant syllabus
Set up a study schedule and stick to it. If you don't have time for regular studying, consider scheduling 30-minute sessions every day or even several times per day.
Do some pre-work before each session so that you have an idea of what topics might be covered during that session. You can do this by reading through the GMAT Guide or by going through past exam questions online.
Don't forget to review concepts you already know well—this will help build your confidence and make sure you're ready when it comes time to take the test!
Make sure you understand everything in each section before moving forward—if something doesn't make sense, go back and re-read until it does make sense!
Try not to spend too much time on each question because this will take away from other questions you could have answered correctly if they had been given more time and attention in the first place!
Take notes as you go through each question set—this will help reinforce what material was covered in each question type so when it comes time for the real deal, you'll know exactly what information needs to be recalled when dealing with similar questions!
Practice with different types of math questions—the more diverse your practice, the better prepared you'll be for what's on the test!
Key takeaways
When preparing for GMAT quant syllabus, make sure that you have brushed up on basic mathematical concepts at the high school level.
Make sure that you have the official copy of the GMAT quant syllabus with you while preparing so that you can plan your preparation based on your weak and strong sections.
Practice tests are the best way to prepare for the complete GMAT quant syllabus. They provide you with an idea of how much time each question takes.
If you liked this blog, read GMAT Prep — 4 types of questions to practice for a high score!
FAQs
Question 1: What are the topics in GMAT quant?
Answer 1: Quantitative Reasoning is the section of the GMAT that covers topics like algebra, geometry, probability and statistics, trigonometry, data interpretation, and word problems.
Question 2: How do I prepare for GMAT quantitative syllabus?
Answer 2: The most important thing you can do to prepare for the Quantitative section of the GMAT is to take a full-length practice test. This will help you understand the types of questions you're likely to see on the exam and how much time you need to work through each question. You'll also be able to see where your strengths and weaknesses are, so you can focus on studying those areas as much as possible.
Question 3: Is 47 a good GMAT quant score?
Answer 3: One way to look at it is your percentile rank. A score of 47 puts you above 65% of the people who've taken the test—which means that if you're looking for a program where other students average 40+ on the GMAT, you're pretty much there!