Over 2,400 business institutions worldwide regard the GMAT, Graduate Record Admission Test, as a valid measure of business management aptitude. The leading nations, including the UK, USA, Canada, Australia, and several other Asian and European nations, have universities accepting GMAT results.
In general, the cutoff for institutions that accept the GMAT exam depends on various factors, including the volume of applications, the availability of seats, the difficulty of the exam, etc. Therefore, if you're wondering what a decent GMAT score is? Reading this blog, you may learn more about the GMAT test and which colleges accept GMAT scores.
Top colleges accepting GMAT score
We have compiled a comprehensive list of top colleges which accept GMAT scores, including information on the best cities to live in if you want to get an MBA and the best colleges to attend if you want to get into business school. Explore the many international colleges that welcome GMAT scores.
United States of America (USA)
The United States of America is home to many prestigious universities that offer Master of Business Administration (MBA) programs that attract international students because of their extensive industry connections and access to top executives. An MBA in the United States provides access to a wide variety of top-tier educational institutions, from Harvard University to MIT, from which one may obtain a truly international perspective on the business world. On the other hand, the minimum GMAT score may be considerably higher. Here are the top 5 colleges accepting GMAT scores-
| | |
| --- | --- |
| University | Average GMAT Score |
| Stanford | 733 |
| Harvard | 727 |
| Massachusetts Institute of Technology (MIT) | 722 |
| University of Pennsylvania | 730 |
| University of Yale | 720 |
The United Kingdom features prominently on our list of top nations and its potential institutions for MBA courses due to the prominence of its business schools, such as the London Business School, the Said Business School, and the Warwick Business School. To study business administration in the United Kingdom, you'll need a strong GMAT score and a compelling application to stand out. Explore the best schools in the UK that accept GMAT-
| | |
| --- | --- |
| University | Average GMAT Score |
| London Business School | 708 |
| University of Oxford | 690 |
| Imperial College London | 600 |
| University of Warwick | 660 |
| University of Cambridge | 690 |
Studying in Canada is a popular option because of the country's welcoming immigration policy and low tuition rates. Canada has been routinely rated among the US and the UK for its MBA programs. Thanks to its top-ranked universities, such as the University of Toronto and the University of British Columbia. One can also choose from accredited Canadian colleges to earn a low-cost Master of Business Administration. Check out the minimum required score on the GMAT for admission to Canadian universities-
| | |
| --- | --- |
| University | Average GMAT Score |
| University of Toronto | 674 |
| McGill University | 675 |
| Queen's University | 650 |
| The University of British Columbia | 650+ |
| York University | 640 |
For individuals considering an MBA in Europe, nations like France, Germany, Sweden, Spain, and the Netherlands are rising to the top of the list. You may get a top-notch MBA education at a reasonable price. It is also known for its low cost of living and plenty of prestigious educational institutions. Moreover, Europe is well-known for its prestigious Master of Business Administration (MBA) programs, both one and two years in span. The following table provides details on the best European colleges that accept the GMAT-
| | |
| --- | --- |
| University | Average GMAT Score |
| INSEAD | 706 |
| HEC Paris | 690 |
| Bocconi University | 650+ |
| Roman Llull University | 668 |
| Copenhagen Business School | 645 |
| University of Navarra | 690 |
| Erasmus University Rotterdam | 640 |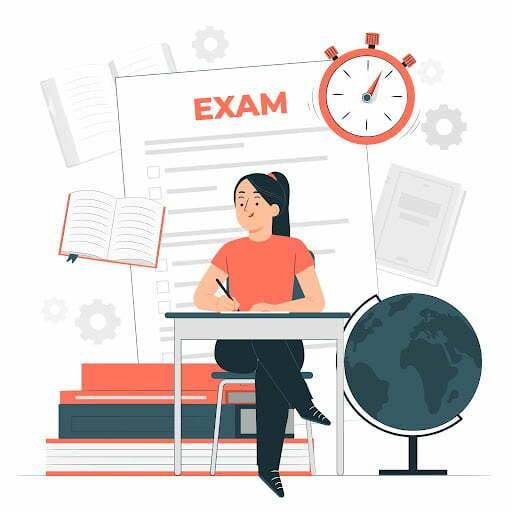 MBA students frequently travel to Australia. Especially the University of Melbourne and the University of Sydney, Australia's business schools, have carved out a substantial niche in the global university rankings due to their proximity to the city's thriving economic center, Sydney. The low cost of living and excellent educational facilities in Australia make it an attractive option for overseas students seeking an MBA that would give them a global perspective in their chosen field. Some of Australia's finest educational institutions that welcome GMAT scores are listed below-
| | |
| --- | --- |
| University | Average GMAT Score |
| The University of Melbourne | 705 |
| University of New South Wales | 650 |
| Australian National University | 600+ |
| The University of Sydney | 650+ |
| RMIT University | 550+ |
Key takeaways
The Graduate Management Admission Test, also known as the GMAT, is one of the admission tests that students who intend to pursue a management post-graduate degree take very seriously.
More than 110 nations throughout the world have top MBA colleges accepting GMAT scores. Earning an MBA from a prestigious business school will grow your career.
You must meet the appropriate university conditions to be accepted to the best Business School.
Like this blog? Read next- Which is easier, GMAT or GRE | A comprehensive comparison!
Frequently asked questions
Question 1: Is a GMAT score of 650 considered good?
Answer: MBA professionals have agreed that a GMAT score of 650–690 is good, and a score of 700+ is outstanding.
Question 2: Is the GMAT test difficult?
Answer: The GMAT is a challenging exam; achieving a score of 700 or above takes work.
Question 3: GMAT or CAT Which is the more difficult?
Answer: In contrast to the GMAT, whose curriculum and testing format are well laid out, the CAT is more difficult since its curriculum isn't well defined.