IELTS score for Australia | An overview
The IELTS score for Australia is incorporated into the point-based visa system and recognized by practically all professional entities. You can choose between taking the IELTS Academic or IELTS General Training to qualify for a visa for permanent residency in Australia. However, IELTS Academic is required for a professional certificate and employment in Australia.
IELTS score for Australia | Importance for admission to Australian universities
The IELTS exam is well-liked and respected among international students. Bands from 0 to 9 are used to represent the IELTS score results. The best score for IELTS in Australia is 7 or higher, considered excellent for further education overseas. The following details are provided regarding the significance of IELTS for Australia and the necessity of meeting the IELTS standard for an Australia student visa-
1. Access to opportunities for global employment
International corporations and multinationals recognize the IELTS exam and colleges as proof of English language proficiency. The General and Academic IELTS tests are the two different IELTS test categories. Candidates who want to begin their professional careers abroad and obtain an Australian work visa can take the General IELTS exam.
2. Access to permanent residency and immigration
Based on the candidates' IELTS scores, government organizations grant citizenship to get permanent residence in developed nations. The IELTS exam is extremely beneficial and required for students seeking an Australian student visa. It is a successful prospect for those who are meticulous. Australian immigration officials are careful in accepting visa petitions supported by IELTS results.
3. Universities with international programs
IELTS is an important test for admission to some of the top educational institutions worldwide since it serves as a universal English proficiency test score threshold for non-native English speakers.
Minimum IELTS score for Australian student visas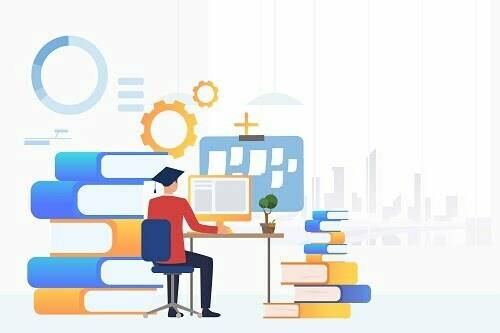 Students who want to enroll in a degree program at an Australian university must obtain an IELTS score of at least 6.0. The candidate must have at least a 5.5 band to be considered for immigration connected to employment. The minimal IELTS score needed to apply for an Australian student visa is as follows-
Minimum IELTS band required
Course
Overall band of 6 or 6.5
Undergraduate or Diploma
Overall band of 6.5, including a minimum of 6 in each of the
exam areas
Postgraduate courses
Australia's immigration policy is based on points, and there are three bands of IELTS scores that are matched to the points-
Competent English IELTS score
Proficient English IELTS score
Superior English IELTS score
IELTS per-section requirements for work and study visas in Australia are as follows-
| | | |
| --- | --- | --- |
| Score secured in IELTS | IELTS band score | Points |
| Competent | 6.0 or more | 0 |
| Proficient | 7.0 or more | 10 |
| Superior | 8.0 or more | 20 |
| | | |
| --- | --- | --- |
| Level of English language proficiency | IELTS test section | Minimum scored |
| Competent | Listening | 6 |
| | Reading | 6 |
| | Speaking | 6 |
| | Writing | 6 |
| Proficient | Listening | 7 |
| | Reading | 7 |
| | Speaking | 7 |
| | Writing | 7 |
| Superior | Listening | 8 |
| | Reading | 8 |
| | Speaking | 8 |
| | Writing | 8 |
IELTS cutoff for universities in Australia
Some of the best educational universities around the world are located in Australia. A minimum IELTS score is required for each university's admission to postgraduate and undergraduate programs. The IELTS score required for an Australian student visa is shown in the following tabular form-
Institution
World
rank
Minimum score for
Undergraduate Degree
Minimum Score for
Postgraduate Degree
University of
Melbourne
39
7.0
7.0
Australian National
University
24
6.5
7.0
University of Sydney
42
6.5
6.5
University of
Queensland
48
6.5
6.5
University of New
South Wales
45
6.5
6.5
Monash University
59
6.5
6.5
University of
Adelaide
114
6.5
6.5
University of
Technology Sydney
160
6.0
6.5
How to get a good IELTS score for an Australian student visa
A visa will likely be approved with a higher IELTS score band since larger points are guaranteed. Students who want to improve their IELTS score should use the following crucial advice-
Develop a preparation approach focusing on improving reading, writing, listening, and speaking skills at least three months before the exam date.
Candidates must always endeavor to expand their vocabulary by picking up new terms.
They should study English books, periodicals, journals, and newspapers and strive to speak English as much as possible.
Also, learn to use new words in sentences to improve your writing.
Candidates must be familiar with the test's structure and question format.
The test-takers will feel more at ease thanks to the question format.
People can converse with native English speakers on various topics to increase their fluency.
Candidates can take an online practice test to determine their strengths and shortcomings.
They might work on eliminating the shortcomings to boost their chances of receiving a better score band.
IELTS exams are given in a constrained time due to their highly competitive character.
To ensure they can finish all test portions in the allotted time, candidates must hone their time management abilities.
If necessary, one may decide to engage a qualified IELTS tutor.
Key takeaways
To be accepted into an Australian university, students must possess strong oral and written English communication abilities.
The IELTS score band is an important factor in evaluating eligibility for an Australian study.
Aim to surpass the minimum criteria to boost your prospects of admission and employment.
So, what are you waiting for? Head over and start preparing!
And if you get stuck or have any questions (or if you're still unsure about giving the IELTS exam), feel free to reach out or drop a comment below.
We would be very happy to help!
Like this blog? Then read: Top universities without IELTS | Canada, UK, US, and more!
FAQs
Q1. Why is IELTS important in Australia?
Answer – The IELTS exam is the first option for Australian educational institutions, businesses, and employers when determining the applicant's level of English language ability.
Q2. What is the minimum IELTS score needed for Australia?
Answer – International applicants must have a sectional cutoff of 5.5 or higher for undergraduate programs at Australian universities and an overall band score of 6. The minimum IELTS score requires for master's programs is 6.5 overall bands, with a minimum score of 6.0 in each of the four IELTS sections.
Q3. Which test is better for Australia, IELTS or PTE?
Answer – English language competency exams that gauge a candidate's command of the language include IELTS and PTE. Both exams are acceptable for an Australian student visa and immigration applications and are recognized by universities worldwide.