IELTS score calculator | Here's everything you should know!
Applying to a university abroad is an exciting experience. After all, who wouldn't be delighted to live and study in a foreign country? However, considering the enormous amount of documentation you must submit, it can also be overwhelming. Proof of English language competency is one of the numerous documents you will be requested to provide when enrolling to study in a nation with a large English-speaking population.
Standardized English language exams, IELTS, are regularly given for this reason all year round in places throughout the globe. However, to get admission to reputed global universities, you must always obtain a higher IELTS score and understand how IELTS bands are calculated. It is where an IELTS score calculator can be handy to help you understand how to calculate band scores in IELTS.
What is an IELTS examination?
One of the most widely used standardized English language competency tests, the International English Language Testing System (IELTS), attracts more than three million applicants annually. The test, which is given in collaboration with the British Council, is necessary for those who are not native English speakers (those whose primary language is not English) but want to work or study elsewhere in countries with large populations of English speakers.
In addition, students and working professionals can take the IELTS at any time at their convenience, as the test gets conducted four times a month at roughly 90 test centers. Moreover, the IELTS test results are acceptable for two years after they are made available. Below is a tabular overview of the IELTS examination.
Topic
Information
Exam Name
IELTS
IELTS Full Form
International English Language Testing System
Official Website
https://www.ielts.org/
Conducted By
IDP Education Ltd.
Work, Study, and Migration to English-speaking
Most popular for nations like New Zealand, Australia, and the UK
Also Accepted by
Canada and the USA
Mode of Test
Online and Paper–based test
Score Range
On a scale of 1 (the lowest score) to 9 (the Score Range highest score)
Fees for IELTS Examination
Online registration in India INR 15,500/-
Contact Information
IDP Head Office: 1800-102-4544/+91-124-4445999 
Email: ielts.india@idp.com 
British Council: 0120-4569000/0120-6684353/ Mon-Sat 09.00 to 06.00 
IELTS Contact Email: ExamsCustomerCare@britishcouncil.org
What do we mean by an IELTS score calculator?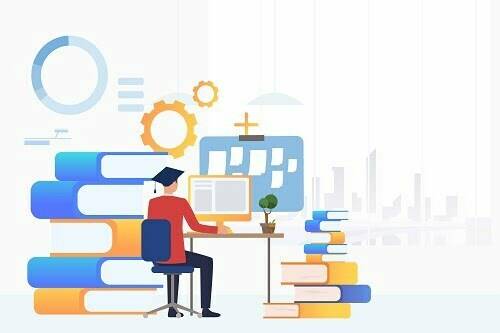 The IELTS score calculator IDP is a handy tool that helps you keep track of your examination score. Furthermore, the average of all the sections (listening, reading, writing, and speaking)scores are summed to get the IELTS overall band score.
Each section's score is equally given weightage and rounded off to the nearest full or half band to take out the final band score. For instance, your final score will rise to 7 if your average is 6.75. On the other hand, your final score will rise to 6.5 if your total average is 6.25 or drop to 6 if your overall score is an average of 6.1.
Furthermore, speaking, listening, reading, and writing is the four language aptitudes tested in the IELTS exam, and the candidate receives a score on a 0–9 scale for each section based on how well they perform. The candidates determine the overall IELTS band score based on the average of all four bands' results. Also, while the minimum score criteria are often in the range of 6.5 (total), this varies from university to university.
Understanding the types of IELTS tests
There are two separate test modules—the Academic and the General test because the IELTS exam is conducted for both immigration and educational purposes. So if you want to pursue higher education in an English-speaking nation, you should take this test.
Moreover, to clear the IELTS exam with good marks, you must have a strong command of the English language because the test's goal is to determine how well you can interpret and comprehend academic vocabulary.
Also, this examination is intended for professionals aspiring to open their practices in an English-speaking nation, like doctors, finance professionals, or nurses. People who want to receive non-academic training or gain job experience enroll in the General module.
In addition, the IELTS examination is used for immigration, and people must go for a General test that evaluates a candidate's ability to talk comfortably in various situations.
Key takeaways
The IELTS online examination is an English-language proficiency test.
People take the IELTS test if they wish to get admission to a university or get work opportunities in any native English-speaking country.
An IELTS score calculator online can assist you in acquainting yourself with the test format and obtaining a fair picture of how the scores are calculated in the final IELTS examination.
The IELTS academic and general training tests evaluate listening, reading, writing, and speaking aptitudes in non-native English speakers.
So, what are you waiting for? Head over and start preparing!
And if you get stuck or have any questions (or if you're still unsure about giving the IELTS exam), feel free to reach out or drop a comment below.
We would be very happy to help!
Like this blog? Then read: Top universities without IELTS | Canada, UK, US, and more!
FAQs
Q1. Can I write the IELTS exam at home?
Answer – Yes, according to the latest IELTS online home examination launched by the IELTS test-conduction administration, you can take this test online conveniently at your home, provided you have the device and internet connection set up as asked by the IELTS officials.
Q2. What is the score range of the IELTS examination?
Answer – IELTS scores vary from 0 – 9, and you can readily calculate your test score using an IELTS score calculator that helps you measure your language ability.
Q3. Can I apply for a Canada visa with a 5.5 band score in IELTS?
Answer – To get a study visa for Canada, you must obtain a score of a minimum of 5.5 in each IELTS band and a total score of at least 6.0 and more for diploma and undergraduate courses in Canada.