GMAT | An overview
Taking the GMAT exam is a significant step in your journey toward a successful business career. With more than 200,000 candidates globally every year, GMAT scores are an essential part of the admissions process for over 7,000 programs at approximately 2,300 graduate business schools around the world. Whether it's your first time or you're retaking the exam, knowing what to expect on the day of the test can significantly reduce anxiety and improve your performance.
GMAT exam format and structure
The GMAT pattern consists of four main sections: Analytical Writing Assessment, Integrated Reasoning, Quantitative Reasoning, and Verbal Reasoning. The total GMAT duration is approximately 3.5 hours, including two optional breaks. The test sequence starts with the Analytical Writing section, followed by the Integrated Reasoning, Quantitative, and finally, the Verbal section.
Analytical Writing Assessment: You'll need to write an essay that critiques a given argument. The time allotted is 30 minutes.
Integrated Reasoning: This section measures your ability to evaluate data presented in different formats. You will be allotted 30 minutes to answer 12 questions.
Quantitative Reasoning: Here, your mathematical skills will be tested. You have 62 minutes to answer 31 questions.
Verbal Reasoning: This section tests your skills in reading comprehension, critical reasoning, and sentence correction. You are given 65 minutes to answer 36 questions.
GMAT exam registration and fees
Booking the GMAT is straightforward. You can register for the GMAT exam online on the official GMAT website. The standard GMAT fee is $275 (approx. INR 21,000) in the United States and may vary in other countries due to taxes and currency exchange rates. The cost of the GMAT exam in India is approximately INR 21,000 as of 2023. Candidates are advised to book their GMAT dates at least three months in advance to secure their preferred date and location.
Booking GAMT slot
One of the most vital GMAT test day tips is how to select the right time for your test. Analyze these tips before selecting the time slot for your GMAT exam-
Begin by considering your personal preferences and lifestyle. Assess whether you are a morning person or perform better later in the day.
Take into account your daily routine and activities. If you usually take a nap at 3 PM, it is wise to avoid scheduling your test during that time.
Determine the time of day when you are most productive and alert. This is crucial for optimal performance on the GMAT.
Consider the travel time from your residence to the test center. If you anticipate heavy traffic during the morning rush hour, it may be more practical to choose an afternoon or evening slot.
Once you have identified your preferred time slot, visit the official GMAT website or contact the test center directly to check for available dates and times.
Follow the instructions provided on the website or by the test center to book your desired GMAT date.
Remember, selecting the right time slot for your GMAT test is a significant step towards success, so choose wisely based on your individual circumstances and preferences.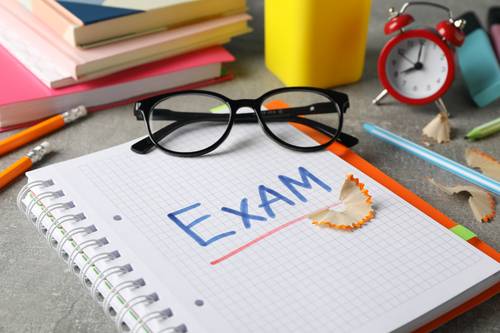 What to bring to the test center?
When going to the GMAT testing center, remember to bring the following items-
An approved ID: Ensure that your ID meets the local requirements as specified by the GMAT. Failure to comply may result in being unable to take the test and potential forfeiture of registration fees. Double-check that the name and date of birth on your ID exactly match those on your GMAT registration.
GMAT appointment confirmation: Carry the confirmation of your GMAT appointment to present at the test center.
Water and snacks: Bring a 1-litre bottle of water for hydration during the test. You can also keep energy drinks and healthy snacks like protein bars and nuts in your locker to consume during breaks.
Now, let's discuss the items that are not allowed at the GMAT test center-
Prohibited items: Firearms, knives, or any objects that can be used as weapons are strictly prohibited. This includes individuals with conceal-and-carry permits and off-duty law enforcement personnel.
Testing aids: Calculators, notes, study materials, blank sheets of paper, and stopwatches are not allowed inside the test center.
Restricted items: Certain everyday items can be stored in a locker at the test center but cannot be accessed during the test or breaks. These include watches, books, notes, phones, writing materials, earplugs, backpacks, wallets, purses, and handbags.
To ensure a smooth entry into the test center and timely commencement of your test, it is essential to avoid carrying any items from the list of banned or restricted items.
What to expect on the GMAT exam day?
The GMAT exam day can be a nerve-racking experience, but knowing what to expect can help ease your anxiety. Here are some crucial things to keep in mind:
Arrive Early: Plan to arrive at least 30 minutes before your scheduled GMAT time. This allows ample time for check-in procedures.
Identification: Carry an acceptable and valid ID proof. Without this, you will not be allowed to take the exam.
Test Center Rules: Be aware of the rules and regulations of the test center. Personal items, including mobile phones, notes, or watches, are generally prohibited in the testing room.
Breaks: There will be two optional 8-minute breaks. Use this time to refresh yourself.
Exam Interface: The GMAT exam online has an interface that allows you to highlight and strike out options, take notes, and navigate between questions.
GMAT exam scores and score reports
When it comes to the GMAT exam, your score report will reflect five scores: Analytical Writing Assessment, Integrated Reasoning, Quantitative, Verbal, and Total. This GMAT score ranges from 200 to 800, with the majority of test-takers scoring between 400 and 600. It's worth noting that the total score is derived only from the Quantitative and Verbal sections.
It takes about 20 calendar days after your test date for your official scores to be ready. This score report will also include a percentile ranking that indicates the percentage of test takers who scored lower than you over the past three years.
Key takeaways
Understanding the GMAT exam structure and pattern is crucial for adequate preparation and performance.
Familiarize yourself with the GMAT exam registration process and fees.
Preparation for the GMAT exam should involve a thorough understanding of the syllabus, practice with sample papers, and adequate rest.
Was this blog informative? If so, please share your thoughts in the comments below. Click here to reach out to us for more information on GMAT and other study-abroad entrance tests. We would be happy to assist you with your queries! 
Like this blog? Read next – GMAT score | Everything that you need to know about it
FAQs
Question 1: Is it possible to retake only specific sections of the GMAT exam?
Answer: No, the GMAT exam must be taken in its entirety and cannot be divided into separate sections. All four sections (Analytical Writing Assessment, Integrated Reasoning, Quantitative, and Verbal) must be completed during the test.
Question 2: Can I use a calculator during the GMAT exam?
Answer: No, the GMAT exam does not allow the use of a calculator. The test is designed to assess your problem-solving skills and ability to work with numbers without relying on external devices. You will be provided with an on-screen calculator for the Integrated Reasoning section only.
Question 3: Is there a limit to the number of times I can take the GMAT exam?
Answer: Yes, there is a lifetime limit of eight GMAT exams per test taker. However, there is a five-year rolling window, starting from the date of your first exam, during which you can take the test up to five times. After reaching the lifetime limit or the five-year window, you will need to wait before retaking the exam.