SAT exam syllabus | An overview
The SAT is not a test of academic excellence. It solely tests you on topics taught in high school math and English. It is possible to examine each subject and its question types to comprehend the SAT exam syllabus and the skills required to ace the exam.
SAT exam test pattern
The SAT exam was available in two formats: the General Test and the Subject Test. However, from January 2021, this exam has been discontinued and is no longer accepted by universities. Hence, students preparing for SAT only need to focus on the general test. Given below is the exam pattern of the General SAT exam.
| | | |
| --- | --- | --- |
| Section | Time allotted (in minutes) | Number of questions |
| Reading | 65 | 52 |
| Writing and language | 35 | 44 |
| Math (no calculator) | 25 | 20 |
| Math (with a calculator) | 55 | 38 |
A detailed insight into the SAT exam syllabus
The SAT exam syllabus contains the following topics – Reading section, Writing, and Mathematics, the details of which are as follows –
SAT reading section
The evidence-based reading component of the SAT consists of 5 paragraphs, each between 500 and 750 words in length. Each has 10-11 questions; thus, the entire section consists of 52 questions. The reading comprehension section assesses applicants' ability to absorb the written text and understand the meaning of various situations and their associated words.
The reading passages are derived from the documents listed below –
Work in sociology, social science, psychology, or economics
Literary passages from a fictional work
Excerpts from the United States Constitution and the establishment of the United States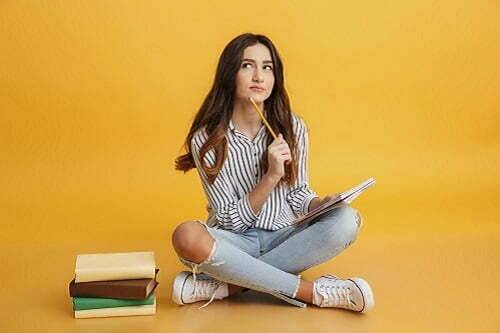 SAT writing and language section
The writing and language section contains four paragraphs, each accompanied by ten to eleven questions. The main focus is on the use and understanding of grammar. A candidate is supposed to identify flaws, remark/highlight sentences with better alternatives, and so on.
SAT mathematics section
Math questions need an understanding of arithmetic, geometry, algebra, statistics, and probability. It also entails data interpretation from tables and graphs and problem-solving. This section is divided into two fundamental sections: a 25-minute section (no calculator) and a 55-minute section (calculator allowed).
Some of the mathematics topics under the SAT exam syllabus are as follows –
Complex numbers
Radicals and rationalists
Polynomial and rational expression operations
Graphs and polynomial factors
Linear equations and inequalities
Linear Function Interpretation
Word problems with linear inequality and equations
Angles, arc lengths, and trig functions are all examples of trig functions.
Equations and theorems in a circle
Word problems with volume
Word problems involving the right triangle
Similarity and congruence
Data interpretation

Tips to prepare for the SAT exam
Make an SAT study schedule.
It may seem apparent, but studying for the SAT will boost your score. Many students take a few practice exams and then call it quits, leading to a low score on the exam. A detailed schedule made after looking at the SAT exam syllabus can help you stay on track and study consistently, thus, helping you obtain your target score.
Boost your reading speed
Reading the questions quickly and accurately is an essential aspect of the SAT. You want to get through big paragraphs while keeping track of essential ideas in the reading section. Furthermore, you will have more time to think about the answers if you reduce the time it takes you to read the questions and passages on the test.
Choose the best test preparation course.
SAT preparation classes can differ in various ways, including class size, teaching style, and face-to-face or virtual alternatives. According to test experts, college applicants should consider how much help they may need studying for the exam, how much they can pay for a class, and what their ideal learning environment is, among other things, before choosing an SAT coaching center.
Attend the test day well prepared
Your "day-of" preparation should center on getting the correct attitude and recharging your batteries for a long day. A quick review of arithmetic concepts or testing tactics will help wake up your brain. But make sure to avoid cramming in a lot of studying on the test day. You should obtain enough rest and eat a well-balanced breakfast. To lift your spirits, indulge in your favorite coffee or tea beverage. Another tip is to wear layers to accommodate the testing environment—plan to arrive early in case of traffic or other delays in arriving at the test site.
Key takeaways
The SAT is a gateway for students who seek admission to undergraduate schools in countries like the USA, Canada, the UK, Singapore, and Germany.
The SAT exam consists of concepts from high school math and English.
The SAT exam syllabus consists of 3 sections: reading, writing and language, and mathematics. The mathematics section is further divided into two sections: one that can be solved with a calculator and one without a calculator.
Make sure to answer as many mock tests as possible to get a good hold of the exam.
Keep everything handy so you don't stress out on exam day.
Also, plan to leave early to compensate for any road traffic delays.
Connect with us today for more helpful tips on preparing for the SAT!
Liked this blog? Then read IELTS writing tips | 10 quick and easy topics to practice!
FAQs
Question 1: What does SAT stand for?
Answer: The SAT is an acronym that stands for "Scholastic Aptitude Test."
Question 2: Is an SAT score of 1200 considered good?
Answer: A score of 1200 is above average, putting you in the 74th percentile of students taking the exam.
Question 3: How many times may the SAT be taken?
Answer: Students are allowed to take the SAT any number of times. It is advisable to take it at least twice, once in their junior year and once in the fall of their senior year.