Exams to study abroad | Introduction
For many Indian students, the allure of studying abroad is irresistible. The promise of world-class education, exposure to diverse cultures, and the opportunity for personal growth is enticing. However, the path to international education is paved with a series of exams. This comprehensive guide aims to demystify these exams and provide you with the information you need to succeed.
Importance of attempting exams to study abroad
Before you can even begin to envision yourself in a lecture hall halfway across the world, there are certain academic prerequisites you must meet. These come in the form of exams to study abroad, which serve as critical milestones in your educational journey.
Why are these exams indispensable?
Eligibility: These exams are designed to assess whether you have the academic and linguistic skills necessary for your chosen course. They are often the first filter in the admission process.
Scholarship opportunities: High scores in these exams can make you eligible for various scholarships, reducing the financial burden of international education.
Visa approval: Certain countries have educational benchmarks that you must meet to obtain a student visa. These exams often serve as those benchmarks, making them essential for your journey.
Top exams to study abroad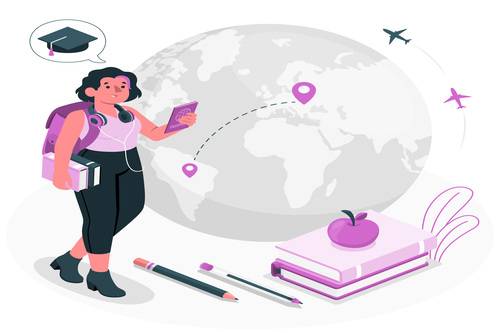 It is exciting to think about going abroad to pursue higher education, but it also comes with challenges. One of the most crucial steps in this journey is clearing the necessary exams. Below, we delve into the top 8 exams to study abroad that every Indian student should consider when planning your future!
International English Language Testing System (IELTS)
IELTS is the gold standard for English proficiency tests and is recognized by educational institutions worldwide. It's one of the essential entrance exams to study abroad. To excel, you need to be proficient in listening, reading, writing, and speaking. Mock tests and preparatory courses can help you get a high score.
Test of English as a Foreign Language (TOEFL)
TOEFL is another key player in the realm of English proficiency tests. It's especially popular among students aiming for American universities. The test is extensive, so time management is crucial. A strong foundation in grammar and vocabulary is essential for acing the TOEFL.
Graduate Record Examinations (GRE)
GRE is often a requirement for postgraduate courses, particularly in the fields of science and engineering. It's also one of the exams to study abroad after 12th if you're planning ahead. The test has a quantitative section that focuses on mathematics and a verbal section that tests vocabulary and comprehension.
Graduate Management Admission Test (GMAT)
GMAT is tailored for students aiming for business and management courses. This test evaluates your quantitative skills, critical thinking, and analytical writing abilities. Regular practice with mock tests is highly recommended to familiarize yourself with the test format and question types.
Scholastic Assessment Test (SAT)
SAT is a common requirement for undergraduate programs in the United States and is one of the major exams to study abroad. The test covers reading, writing, and mathematics. Consistent preparation is key to achieving a high score, and there are numerous online resources available for practice.
American College Testing (ACT)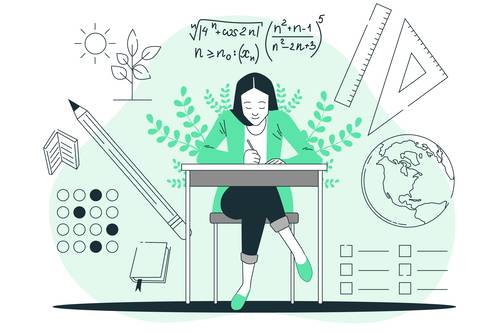 ACT serves as an alternative to SAT and is often preferred by students with a strong background in science. It covers English, mathematics, reading, and science, making it one of the many comprehensive exams to study abroad.
Pearson Test of English (PTE)
PTE is rapidly gaining traction as a reliable exam to clear to study abroad. It's computer-based and focuses on real-life English skills. Clear pronunciation and fluency are crucial for success in the PTE.
Medical College Admission Test (MCAT)
For those with medical aspirations, MCAT is a non-negotiable requirement. This exhaustive exam covers biology, chemistry, physics, and verbal reasoning. It's a must-pass, required exam to study abroad for medical courses.
Key takeaways
Various exams serve as essential prerequisites for acquiring admission to international educational institutions.
Each exam is designed for specific fields of study or educational levels, so it's crucial to choose the one that aligns with your goals.
Thorough preparation is vital for achieving high scores, which can open doors to top universities as well as scholarships.
High exam scores can significantly increase your eligibility for financial aid and scholarships, making your study abroad journey more affordable.
Some exams are mandatory for obtaining a student visa in certain countries, so neglecting them is not an option.
Navigating the complex world of standardized tests can be overwhelming, but with this comprehensive guide, you're well on your way to making informed decisions. Each exam has its unique set of challenges, but with diligent preparation, you can conquer them all. So, gear up and set your sights on those international campuses; they're closer than you think.
We hope this blog was helpful. For any assistance, feel free to reach out to us. We'd be happy to help you reach your goals!
Liked this article? Read more: Multisensory techniques | Engaging all your senses for effective study!
FAQs
Q1) Which exam is most important for studying abroad?
Answer: There's no one-size-fits-all answer. The importance of an exam depends on the country you're aiming for and the course you wish to pursue. However, language proficiency tests like IELTS and TOEFL are commonly required.
Q2) Can I study abroad without taking any exams?
Answer: It's highly unlikely. Most reputable universities require at least one of the exams to study abroad after 12th for admission and visa purposes.
Q3) How can I prepare for these exams?
Answer: Preparation methods can vary, but they often include a mix of self-study, coaching classes, and mock tests. Resources are abundant both online and offline.
Q4) What are the general costs of these exams?
Answer: Exam fees can vary widely. For instance, IELTS can cost around $185-$300, while GRE can set you back $205.
Q5) How long are the exam scores valid?
Answer: The validity of exam scores can differ. For example, IELTS and TOEFL scores are generally valid for two years, while GRE and GMAT scores can be valid for up to five years.